WHO slams China's lack of transparency on COVID infections
The World Health Organization (WHO) is calling on China to share more data on the pandemic as the world's most populous country responds to its national COVID-19 epidemic by reducing the publication of official statistics.
On December 29, WHO Director-General Tedros Adhanom Ghebreyesus defended the right of the United States and other nations to impose restrictions on travel from China. A dozen countries, including many of China's neighbours, now require negative PCR tests from passengers departing from Chinese airports.
"In the absence of comprehensive information from China, it is understandable that countries around the world are acting in ways they believe can protect their populations," he said. tweeted.
The caution, which Beijing says is unscientific, is linked to a general lack of information on the true scale of the spike in infections in China after its government dismantled three years of strict virus controls – lockdowns , mass testing and layers of contact tracing – within the span of a single month.
On January 8, China will officially downgrade COVID from a Class A infectious disease to a Class B infectious disease, paving the way for the end of all nationwide quarantine measures. That's before most epidemiological models expect the country's first wave to peak, when the government has already stopped releasing precise figures on infections and deaths.
Experts also question whether Beijing still has the ability to track the spread of the virus within its borders. People who return positive rapid home antigen test results are not required to report their infection to authorities.
On Friday, the WHO met virtually with Chinese health officials "to obtain further information on the situation and to offer additional WHO expertise and support," according to a statement.
"WHO has again called for the regular sharing of specific, real-time data on the epidemiological situation – including more genetic sequencing data, disease impact data, including hospitalizations, admissions and deaths in the intensive care unit (ICU) – and data on vaccinations given and vaccination status, particularly among vulnerable people and people over 60," the UN health agency said. .
"WHO has stressed the importance of monitoring and timely release of data to help China and the global community formulate accurate risk assessments and inform effective responses," he said. , noting that Chinese scientists were to present viral sequencing data at a separate technical conference. meeting on Tuesday.
Wang Wenbin, spokesperson for China's Foreign Ministry, responded to the WHO's call by calling the travel restrictions unnecessary. Since the start of the pandemic, China has been "open and transparent" about its data, he said.
Relevant departments "will continue to closely monitor whether the virus will mutate, share COVID information in a timely, open and transparent manner in accordance with law, and work with the international community to meet the challenge of COVID," he said. said Mr. Wang.
Beijing has chosen not to import Western mRNA vaccines that have been shown to be more effective than virus injections developed in China. A year ago, the WHO advised those receiving Chinese vaccines to accept a booster.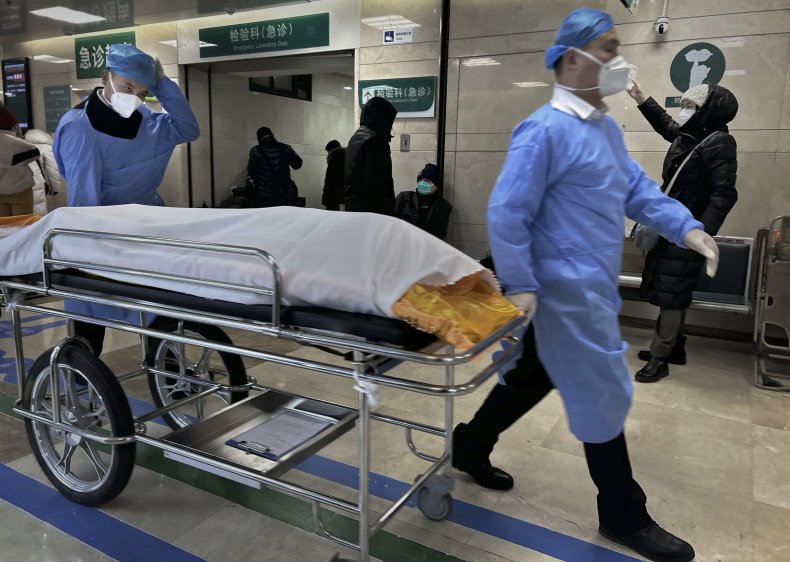 A new vaccination campaign is currently underway in China, where the vaccination rate was over 90% at the end of November. However, official figures showed that some 37 million people aged over 60 were unvaccinated, while 28 million were not vaccinated at all.
As a result, the current virus wave has hit the elderly and vulnerable in China particularly hard. On Dec. 6, a day before Beijing reversed its zero COVID policy, its national health authority narrowed the definition of COVID deaths to exclude deaths in people with underlying illnesses, further reducing the usefulness of the statistics. from the country.
On Monday, China reported one COVID death for January 1, bringing its pandemic death toll to 5,250.
In reality, however, the country was likely recording 1.8 million infections and 11,000 deaths a day, according to a report by British health analytics firm Airfinity, the latest private-sector attempt to gauge the scale of the outbreak. the epidemic in China.
Cumulative deaths likely totaled 110,000 between Dec. 1 and Dec. 30, the group said Friday.
Airfinity estimates that China will begin to experience a peak in infections on January 13, with daily deaths likely to peak at 25,000 around 10 days later. It predicts a second peak by March 3, with a total of 1.7 million deaths across China by the end of April.
Do you have a tip on a world news that Newsweek should cover? Do you have a question about China's COVID-19 policy? Let us know via worldnews@newsweek.com.
newsweek
Not all news on the site expresses the point of view of the site, but we transmit this news automatically and translate it through programmatic technology on the site and not from a human editor.