Viktor Orbán's right-wing nationalist government was seeking a fourth consecutive term in Sunday's general election, with unofficial polls suggesting it could be on course for a decisive victory in Hungary in a vote dominated by disputes over war in neighboring Ukraine.
Shortly after the polls closed at 7 p.m. local time, a projection by RTL, a private Hungarian television station close to the ruling Fidesz party, predicted that the government would win 121 of the seats in the 199-member parliament. A six-party opposition bloc, United for Hungary, which had come together in a singular effort to topple Orbán – who has held power for 12 years – was expected to win 77 seats.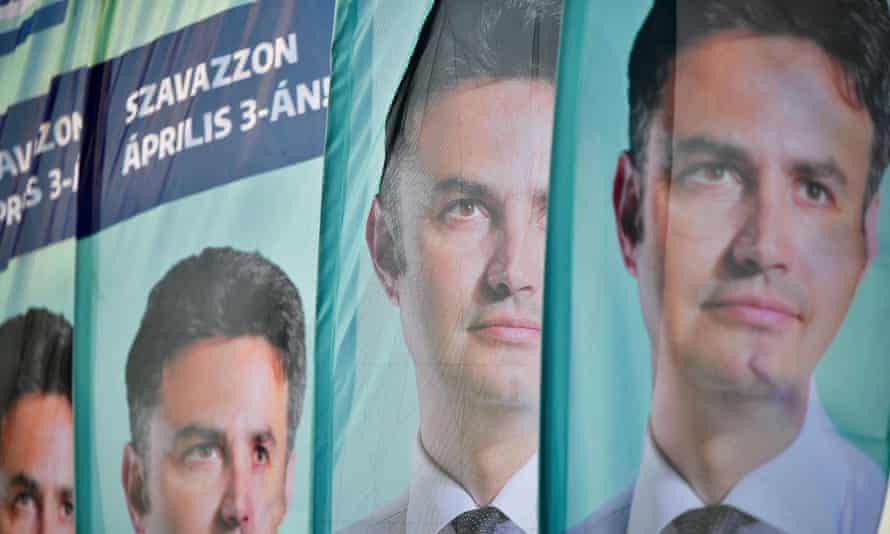 The result, if upheld, would represent a narrow margin for Fidesz from its current two-thirds supermajority – which has allowed it to enact constitutional changes unchallenged – but would be enough to further cement the already tight grip. d'Orbán on power.
It would be a blow to the United for Hungary opposition group led by Peter Márki-Zay, which put aside partisan differences last year in a bid to form a common front against Fidesz.
The opposition released a partial exit poll which indicated a potentially different outcome – saying they believed they were ahead 46% to 44% in the party list section of the poll, in which the mandates are assigned to proportional representation, following a survey of 8,000 voters.
Under the Hungarian electoral system, 106 deputies are elected by first-past-the-post in local constituencies, while the remaining 93 are elected through a complex list mechanism. The exit poll appeared unrepresentative and analysts warned that United for Hungary could win the popular vote while winning fewer seats than Fidesz.
Orbán's party has strengthened its grip on power thanks to a favorable media ownership structure and changes to the voting system that critics say make elections unfair. Marki-Zay, a 49-year-old economist, complained bitterly that he only had five minutes of airtime on public television to make his point.
The opposition has also complained that Fidesz has a huge advantage in election spending and communication. He said there were about 2,000 election billboards across the country compared to 20,000 for the ruling party.
Akos Hadhazy, an opposition MP, said: "Orbán can convey any of his lies to the Hungarian people. Even if we hire the best communications experts, the government will still win these races because they can get their messages across to far more people than we can. »
Even before polling stations closed, opponents drew attention to possible election fraud, prompting the Organization for Security and Cooperation in Europe (OSCE) to send a team of 200 election observers.
The OSCE's office for democratic institutions and human rights criticized what it said was blatant gerrymandering in several constituencies. Analysts predicted that gerrymandering would mean United for Hungary would have to win around 5% more of the popular vote than Fidesz to have a chance of securing a parliamentary majority.
The Clean Vote Coalition – a grouping of four Hungarian NGOs – said it had received numerous complaints of irregularities. They included voters being offered 10,000 Hungarian forints (£23) for their vote and, in another location, meat being offered as an incentive. Cases of illegal transportation of voters by bus have also been reported.
Fraud fears had been fueled ahead of Election Day after a large number of ballot papers – most of them intended for opposition candidates – were reportedly found partly burnt in a bag on a discharge last week in the Romanian region of Transylvania, where many ethnic Hungarians have dual citizenship and the right to vote.
Fidesz's predicted victory came after strong voter turnout – a factor that experts say will help the ruling party – despite freezing temperatures and wintry weather.
Orbán's fourth term, which would become his fifth overall, could also pose a conundrum for NATO and the EU amid growing concerns over Hungary's attitude to Russia's invasion of Ukraine and whether it is a reliable alliance partner.
Although Orbán has so far made no attempt to block sanctions and military responses to the attack, he has signaled a reluctance to consider measures that would reduce the supply of Russian oil and gas. He also refused to authorize the supply of arms to Ukraine or the passage of military aid through Hungarian territory, angering NATO allies and Ukrainian President Volodymyr Zelenskiy, who described as the only European supporter of Vladimir Putin.
Orbán, who has forged a close relationship with the Russian leader and met him 12 times, revamped his election campaign after the outbreak of war on February 24 to position Fidesz as the party of 'peace', vowing to stay apart from a conflict that he insisted had nothing to do with Hungary. He said reducing energy dependence on Russia – which supplies around 90% of its gas and 65% of its oil – would destroy Hungary's economy.
At the same time, he called Marki-Zay's opposition bloc, which has called for closer cooperation with the EU and NATO, 'warmongers' trying to send weapons and Hungarian troops in Ukraine.
There has been speculation that Orbán – who has consistently forged ties with Russia and China, portrayed the EU as an enemy and has presented himself in recent years as an "illiberal" leader – would swing to a position more pro-Western after securing his return. election.
However, Daniel Hegedus, a Hungarian analyst at the German Marshall Fund, played down those expectations. "There may be some realignment towards the west, but in general what he is looking for is a return to business as usual with Russia – both in terms of energy cooperation and economic cooperation. ", did he declare.
Orbán's stance on the war had left Hungary increasingly isolated among its Western allies, but proved popular among voters, especially those in rural areas.
Not all news on the site expresses the point of view of the site, but we transmit this news automatically and translate it through programmatic technology on the site and not from a human editor.