Valentina Orellana-Peralta: Devastated mother of teenager shot dead by police says daughter "died in her arms" as she pays homage to "sweet angel" | World news
| Local News | Usa news
The mother of Valentina Orellana-Peralta, a 14-year-old girl who was shot and killed by police in Los Angeles, said seeing her daughter "die in her arms" was one of the "deepest pains she has ever had. a human being can imagine ". .
Speaking at a press conference through a translator, Soledad Peralta said she begged the police to help her daughter immediately after the shooting, but they "just left her lying there ".
Valentina was in a locker room with her mom at the Burlington Coat Factory in North Hollywood on December 23.
A bullet hit her through a drywall that he is believed to have been fired by an officer who shot a suspect.
Recounting the times before and after Valentina's death, she said they were in the locker room when they heard screams and screams.
They sat down, hugged and started to pray.
Ms Peralta said she suddenly felt an explosion that knocked them both to the ground.
It was then that she saw white powder coming out of Valentina's body as her daughter began to have seizures.
In a written statement read by one of her attorneys, Ben Crump, she said she had "no idea" that her daughter had been shot.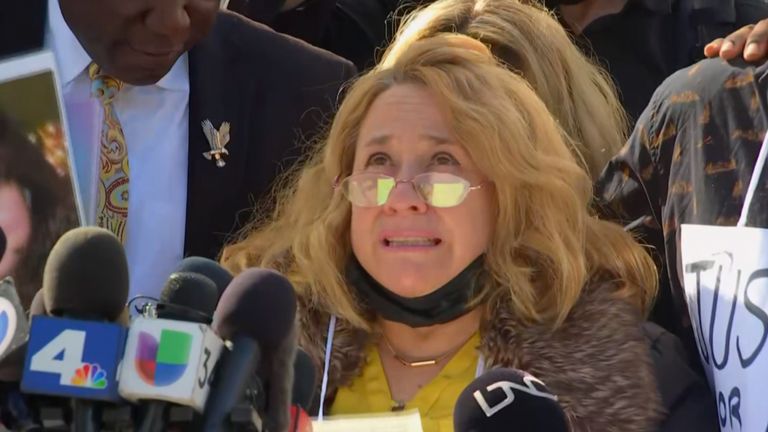 "The police did not come to help"
She said that Valentina's body "went limp" and that she "tried to wake her up by shaking her, but she didn't wake up".
"As I was lying crying for help, the police did not come to help me or my daughter," she said. "But I kept on screaming.
"When the police finally arrived, they took me out of the locker room and left my daughter lying there.
"I wanted them to help her, but they just left her lying alone."
She added: "She died in my arms and there was nothing I could do.
"To see a son or daughter die in your arms is one of the greatest and deepest pains any human being can imagine."
She said her "sweet angel" was "full of joy" and had "big dreams for her future".
As she rolled her eyes in tears, she said, "Please give us the strength, Valentina, to do you justice."
"She dreamed of becoming an American citizen"

The teenager was a very good student who wanted to become an engineer and an American citizen, her family said.
His father, Juan Pablo Orellana Larenas, said they planned to see a Lakers game together when they reunited over Christmas.
He said Valentina had ordered a skateboard to show off to her friends at school, and now will have to "take her to the grave, so she can skate with the angels."
He said he was "still in shock and disbelief".
"It is as if my whole heart has been ripped out of my body," he added in a written statement read by Mr Crump. "The pain of opening the Christmas presents for her that were delivered for Christmas Day cannot be articulated."
Top Stories Fox news Valentina Orellana-Peralta: Devastated mother of teenager shot dead by police says daughter "died in her arms" as she pays homage to "sweet angel" | World news
Not all news on the site expresses the point of view of the site, but we transmit this news automatically and translate it through programmatic technology on the site and not from a human editor.