Top 10 Scariest Movies That Will Give You Nightmares This Halloween
It's almost October 31, which means Halloween is coming up and there's no better way to set the mood than watching some horror movies.
With so many movies to choose from, it can seem overwhelming.
But homeware company Mattress Online scoured 34,037 IMDB reviews to find the horror movies most likely to give you nightmares this Halloween.
The company then analyzed the number of mentions of certain buzzwords, including "sleep(s)", "nightmare(s)", "dreams" and other sleep-related terms in their reviews. Mentions of these words were then used to rank films in a "fear score".
By their very nature, horror movies are designed to heighten emotions, triggering our "fight or flight" sympathetic nervous system.
Mattress Online CEO Steve Adams said: "Obviously this level of stress will make it difficult to fall asleep to a restful night's sleep. After all, the 'rest and digest' parasympathetic nervous system is temporarily out of order. action. If you're planning on watching a horror movie this Halloween, give yourself plenty of time to calm down and relax before you go to bed."
"Even with the most comfortable mattress and roomiest bed in the world, you can still have trouble sleeping after watching some of those Halloween horror movies!"
Here are the top 10 scariest moves that are sure to give you nightmares this Halloween.
10. Sinister (2012)
Ethan Hawke, James Ransome and Juliet Rylance star in this horror about a crime writer who moves his family to a house that has already witnessed gruesome murders. As his research progresses, the situation quickly takes a worrying turn.
Fear Score: 112
9. Halloween (1978)
The classic has been disturbing sleep since the late 1970s. The protagonist of the story is Michael Myers, a disturbed child who goes on a killing spree. The slasher franchise was so successful that it was released in 13 films. Nearly 120 IMDB reviews included references to how the film disrupted sleep.
Fear Score: 117
8. The Exorcist (1973)
The supernatural epic directed by Wiliam Friedkin and written by William Peter Blatty, is one of the best-known horror films in the world. Some 127 reviewers mentioned words associated with sleep, showing that all the demons left watchers nervous.
Fear Score: 127
7. The Grudge (2004)
This Japanese film tells the story of a curse that kills victims in its wake. The Williams family moves into a house where a brutal jealousy-triggered murder took place. The family quickly becomes haunted by the spirits staying there.
Fear Score: 136
6. The Texas Chainsaw Massacre (1974)
Another cult classic, this film saw 141 critics mention its impact on their sleep. It tells the story of three friends who are tormented and pursued by a chainsaw-wielding serial killer.
Fear Score: 141
5. Mother! (2017)
This Darren Aronofsky-directed horror starring Jenifer Lawrence and Javier Barden tells the dark tale of a couple whose home hosts uninvited guests. This film was so frightening that the sleep of some 154 people was affected.
Fear Score: 154
4. The Ring (2002)
Another Japanese film well known in horror circles tells the story of a videotape filled with terrifying images leading to a phone call announcing the viewer's death in exactly seven days. Journalist Rachel Keller, played by Naomi Watts, tries to break the curse that kills four teenagers, but only has seven days to do so after watching the video herself.
Fear Score: 155
3. The Blair Witch Project (1999)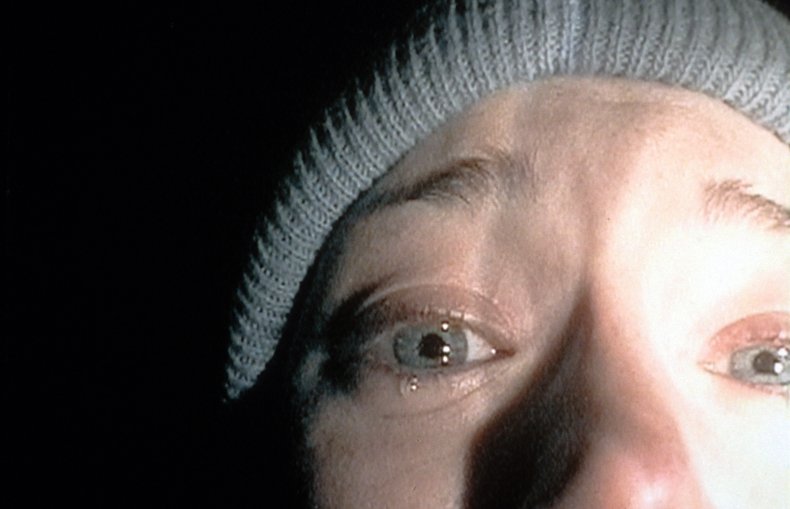 This low-budget classic has managed to get into people's heads and send chills down their spines.
The film had 74 sleep mentions and 54 nightmare mentions in reviews.
The film even took one person away from horror movies for life. "The disturbing scenes and sounds stuck in my head for weeks and [it took] weeks of sleeping with the light on to recover. I grew up knowing that I wasn't a fan of horror movies," they wrote in their review.
Fear Score: 166
2. Scream (1996)
This film had 196 IMDB reviews mentioning an impact on sleep – 92% of them discussing nightmares.
"The first time I saw it I had nightmares for weeks and couldn't sleep," wrote one unhappy reviewer.
Fear Score: 196
1. Insidious (2010)
The film had the highest scare score, generated 206 IMDB reviews related to a bad night's sleep.
One reviewer even wrote, "You know when a horror movie has done its job? When it scares the both of you at the cinema, and hours later when you're trying to sleep at night. Tonight I'll have very hard to sleep."
Fear Score: 206
If you become plagued with nightmares after watching these films, Adams has some advice on what to do about it.
"Nightmares often occur when we're feeling stressed and anxious, so a good way to reduce the risk of sleep-disrupting bad dreams is to focus on relaxation before bed," he told Newsweek. "The goal is to encourage your body to spend more time in the deep sleep phase, rather than the dreamy phases of sleep.
"You can do this by practicing certain mindfulness techniques each night during your bedtime routine and creating a sleep schedule. This will allow your mind and body to relax even before you get under the covers. "
He also encouraged nightmare sufferers to journal their thoughts to help eliminate anxious thoughts and avoid media stimulation in the hours before bedtime, allowing for a calmer emotional state for sleep.
Adams said there are habits to ensure good sleep, like establishing a consistent sleep schedule so you know when it's time for your body to relax before bed. Being strict about exposure to blue light, from devices like laptops and phones, will also help with sleep.
For those struggling to sleep due to loud noise, he recommended noise canceling headphones or listening to "brown noise" videos on Youtube. Brown noise is a faint natural sound, such as thunder or rain, which can focus the mind and help people fall asleep.
newsweek
Not all news on the site expresses the point of view of the site, but we transmit this news automatically and translate it through programmatic technology on the site and not from a human editor.