Tire Nichols' mother and police chief are women on both sides of the tragedy
MEMPHIS, Tenn. (AP) – Tire Nichols' mother was steps away from her son but could not hear his anguished cries.
Beaten and broken, struggling to survive, Nichols had called her as five Memphis Police Department officers punched, kicked and hit him with batons after a traffic stop Jan. 7.
Nichols, 29, who lived with his mother and stepfather, had escaped police after he was arrested, dragged from his car and hit with a stun gun. Taken a few minutes later near their home and savagely beaten by five officers, he shouted: "Mom! Mom!"
Moments later, police knocked on the mother's door, but not to alert RowVaughn Wells that her child had been badly beaten, according to Rodney Wells, her husband and stepfather to Nichols. They said Nichols was arrested for driving under the influence and was being taken to hospital. Police said they couldn't go to the hospital because their son was under arrest.
Memphis Police Superintendent Cereyln "CJ" Davis, herself a mother, also did not find out what her officers did to Nichols. The lack of police supervisors on the scene would be noted by many after Nichols' death on January 10.
The fact that no one felt compelled to fill her in until the next day raised questions about her department's culture that she would have to answer in the days ahead, even as she asked them herself.
"There were failures as to who was supposed to provide assistance, who should have notified, who went to the mother, how they communicated," Davis told The Associated Press in a Jan. 27 interview. . "Why was the chief notified at 4 a.m. and the incident happened at 8 a.m. the night before?"
It was around that same 4 a.m. time that RowVaughn Wells received a call from a doctor at the hospital where he had been taken, Rodney Wells said. The doctor told them to go to the hospital immediately.
When she arrived, she found Nichols on life support. As Wells viewed his son's battered body for the first time, the Davis Police Department turned to damage control.
The hours and days ahead in Memphis would set the tone for America's latest toll on police brutality, with RowVaughn Wells and Cerelyn Davis on opposite sides of the same tragedy. Their lives would be changed, in radically different ways.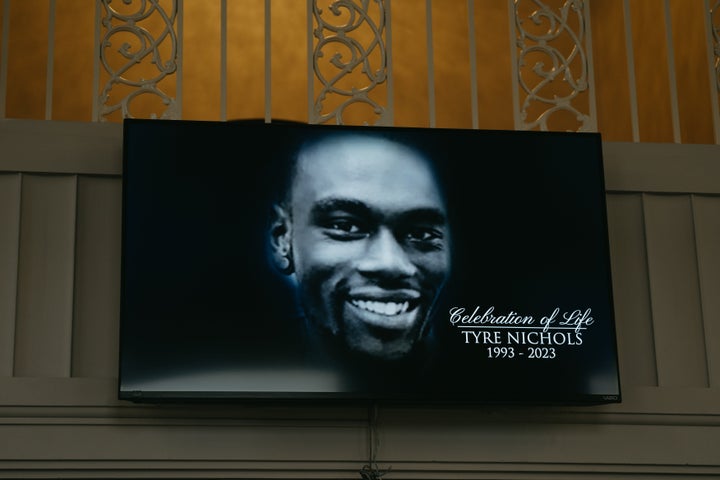 Wells and his family bubbled, cried and cried for Tire Nichols, the carefree skateboarder and amateur photographer who came to Memphis from California about a year ago. She eventually clung to the hope that her son's fate might mean something, taking his place as he did in the long line of young black men who died at the hands of police.
Davis, the first black woman to lead the Memphis Police Department, has come under heavy criticism. As she and other city officials understood what had happened, they gradually took steps to hold officers accountable, share the horror of the case with the public, and try to minimize the possibility that the incident could spark unrest in Memphis and beyond.
But she would be called out in strong terms at Nichols' funeral as the beneficiary of the progress the Reverend Martin Luther King Jr. was in Memphis fighting for when he was shot more than half a century earlier.
At 6:03 a.m. on Jan. 8, the police department released a vague statement on social media saying Nichols had had two "confrontations" with police. He had "complained of having shortness of breath, at which time an ambulance was called to the scene," the statement said.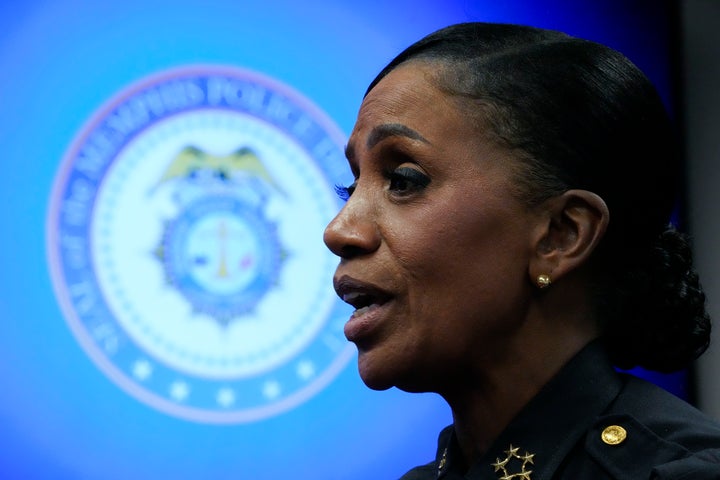 Wells knew better then. She had seen him bruised, swollen, hooked up to machines.
Memphis firefighters later revealed that 27 minutes elapsed between the time emergency medics arrived on the scene and the time an ambulance took him to the hospital.
"When I walked into that hospital room, my son was already dead," Wells said at a Jan. 23 news conference.
Doubts about the police department's initial story only grew. A photo of a bruised tire in the hospital was released to the media. Activists questioned the department's account and lobbied for the release of the arrest video.
Nichols' family has hired attorney Ben Crump, known for representing the families of others beaten by police, including George Floyd. Floyd's death at the hands of Minneapolis police in 2020 led to nationwide protests and increased calls for police reform.
Wells wept throughout a Jan. 17 memorial service for her son, but won't speak publicly until later.
Gradually, a fuller portrait of Nichols emerged. He had lived with his mother and stepfather and made boxes at FedEx alongside Rodney Wells. He had two brothers, a sister and a 4 year old son. He was an amateur photographer who loved sunsets and skateboarding.
Tyr had his mother's name tattooed on his arm.
"This man walked into a room and everyone loved him," said Angelina Paxton, a friend who traveled from California for the service.
That same day, Memphis officials pledged to release video of the attack.
The five officers were fired on January 20 after an internal police investigation revealed breaches of police rules, including excessive use of force and failure to intervene and help.
In a statement, Davis called their actions "flagrant."
The family met with authorities to view the video – gruesome footage that RowVaughn Wells said she was unable to watch during that meeting. She later warned parents to avoid showing it to their children.
Wells said she was inside her house at the time of the beating, waiting for Tyr to come home and happily greet "Hello parents!"
"For a mother to know that her child was calling her in need, and that I wasn't there for her, do you know how I feel right now?" Wells told the media at a Jan. 27 press conference.
"I wasn't there for my son. I was telling someone I had this really bad stomach pain earlier, not knowing what happened," she said. "But once I found out what happened, it was my son's pain that I felt."
She also shared how an ordinary day turned horrible.
Tyr, on the day of the arrest, had seen her out of the chicken before leaving the house around 3 p.m. to take photos of the sunset in a suburban park, she said.
"He said, 'Mom, are you cooking chicken tonight?' I said yes."
"He said, 'How do you cook it?
In a late-night video statement released Jan. 25, Davis said she met with the Nichols family and offered her condolences. She promised to continue to investigate the actions of the other officers.
"I'm a mother, I'm a caring human being, who wants the best for all of us," Davis said. "It's not just a professional failure. It is a basic human flaw.
Officers Tadarrius Bean, Demetrius Haley, Emmitt Martin III, Desmond Mills Jr. and Justin Smith were charged the following day, 19 days after Nichols' arrest. It's a term that Crump says should be a "model" for other police departments to follow when dealing with similar situations.
Asked about the charges, Rodney Wells told the AP the family was "all right".
He also said his wife thought Davis was doing a "great" job.
Friday, Jan. 27 was the day Memphis and the nation had been waiting for — the release of the video.
Hours before it was released by the city, Davis told the AP the footage did not show what still remains a mystery – why Nichols was arrested in the first place.
The officers were "already amplified, at about 10," she said, when the video started. Members of the crime-fighting team known as the Scorpion Unit were "aggressive, loud, using profane language and likely frightened Mr. Nichols from the start".
"We don't know what happened," Davis said. "All we know is that the force applied in this situation was exaggerated."
Rodney Wells, Davis and community leaders had called for peaceful protests, in honor of King's belief in nonviolent action.
Protesters blocked an interstate bridge, but there was no violence. No material damage. No arrests.
Davis disbanded the Scorpion unit on January 28, after "listening carefully" to the Nichols family, community leaders and other officers on the team.
Crump said the Nichols family viewed the decision as "appropriate and commensurate with the tragic death of Tire Nichols."
He also called it a "decent and fair decision for all citizens of Memphis."
Tire Nichols was buried on February 1. The funeral at the Mississippi Boulevard Christian Church, delayed by freezing weather, featured a rousing choir, a eulogy from the Reverend Al Sharpton and a visit from Vice President Kamala Harris.
Also present were relatives of Eric Garner, Breonna Taylor, Botham Jean, Jalen Randle and Floyd – black people who had also been shot dead by police.
Harris praised Nichols' parents for their extraordinary strength, courage and grace throughout the ordeal.
In his eulogy, Sharpton said he took his daughter Ashley early that morning to the site of the former Lorraine Motel, a black-owned business where King was shot on April 4, 1968. The motel is now the National Civil Rights Museum.
Sharpton noted that the civil rights movement led by King opened doors for black workers in the city of Memphis and elsewhere and said the five black officers insulted King's legacy by beating Tyr to death.
Sharpton called the officers and Davis, reminding them of those who marched, went to jail and died fighting for racial equality.
"You didn't join the police department alone. The police chief didn't get there on her own," he said.
Despite her grief, RowVaughn Wells also spoke. Speaking from a pulpit in the large church, she wiped away tears and said she believed her son 'was sent here on a mission from God'.
"And I guess now his mission is complete. He was taken home.
Someone in the audience shouted that Nichols was going to change the world.
"Yes," her mother said, nodding her head. "Yes."
And then, again, she praised Davis for moving quickly.
The Huffington Gt
Not all news on the site expresses the point of view of the site, but we transmit this news automatically and translate it through programmatic technology on the site and not from a human editor.