'They're all terrified': Patients 'freak out' at last Mississippi abortion clinic | American News | Breaking News Updates
News Today | Usa news
Beyond the protests at the last remaining abortion clinic for hundreds of miles, patients are arriving one after another.
Deeply personal decisions are made and procedures undertaken quickly before this choice becomes illegal in the state of Mississippi.
As the Jackson Women's Health Organization closed for the day, we sat down with nurse Stephanie Battle.
She gave us a glimpse inside.
"It's been very chaotic. The phones have been ringing. Everyone is everywhere. We're trying to stay calm because we already knew this was coming.
"But it's hard to keep calm…"
Stéphanie is a technician in the operating room. She stands with patients for their procedures by providing emotional support and medical support to doctors.
She says: "We have people who are crying. They are fragile, they are in pain. These patients are in pain.
"It's very, very sad to see them and hear them crying on the phone because they can't have an abortion in the state of Mississippi."
I ask how busy it was over the weekend.
'Everyone is panicking. Even the men panic'
Is there a sense that patients are rushed, panicked?
"Yes, they are very terrified. They are panicking. Everyone is panicking. Even the men are panicking," she said.
"They're calling because they're trying to figure out what's going on. So, yeah, it's very scary for women in Mississippi, Texas, Louisiana, wherever it's going on.
"Everyone is very, very worried. I can see the desperation on their faces. I try to keep them calm, like, 'hey, it's going to be okay. Other places, you know, you might have to travel '."
Once this clinic closes, the next closest for many southern women will be hundreds of miles north in Illinois.
Stephanie said: "I feel like it's been ripped away from us by not even having a choice to say 'hey, that's what I want to do. It's my choice ".
"I feel bad for the next generation…when you've been doing something for so long and now you can't do it anymore."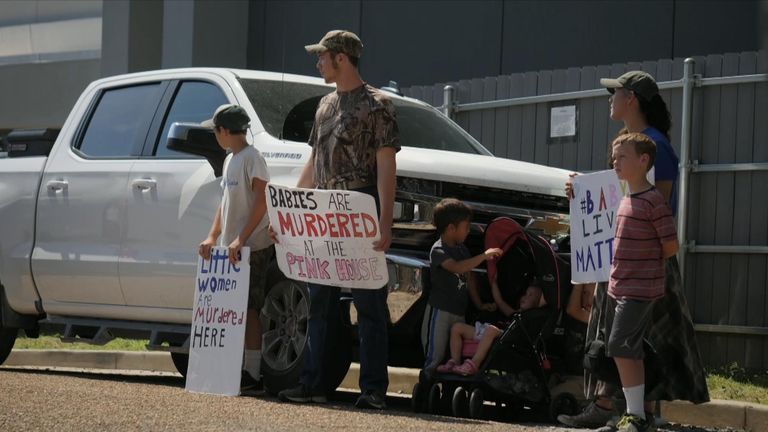 "It's all a game for lawmakers"
What message does she have for the The Supreme Court justices who made this decisionI ask?
"They made a very bad decision and I hope they think about it. It was a very, very bad decision, and it's all games.
"I feel like these people don't care if these women come to the clinic. They just say, 'Oh, you're killing your baby.
"That's how the state of Mississippi handles women's reproductive care. It's sad. It's a game for lawmakers, all those people, the governor.
"It's a game for them to say they've won. That's all they want to say, 'We won' instead of really looking at women's health.
"Patients suffer because they want to win this political game."
Stephanie revealed that she and other clinic staff regularly receive hate calls and death threats from anti-abortion activists.
And looking ahead, his record is grim.
"I can only imagine what will happen. My heart is so sad because I can only hear the phone calls we are getting now about what they are going to do.
"I just hope they don't take matters into their own hands and go about it in the proper and safe way to do it.
"So yeah, it's a tough pill to swallow, but we're going to do whatever we can to help these ladies."
Breaking News Updates Google News
Yahoo
Not all news on the site expresses the point of view of the site, but we transmit this news automatically and translate it through programmatic technology on the site and not from a human editor.