"The worst update in the history of the game", Fortnite alienates players, but nevertheless, it starts from a good feeling
Game news "The worst update in the history of the game", Fortnite alienates players, but nevertheless, it starts from a good feeling
According to players, the latest Fortnite update is the worst ever released! However, the intention was noble, but we will have to consider going back…
Fortnite is seeing its biggest spike in players since launch in recent times, thanks to a glorious update. Indeed, it's the return of the original map, that of the first version of the game! During the 24 hours following its launch on November 2, the game reached 3.9 million players simultaneously, almost double the normal time when the number is around 2 million. Unfortunately, one of the most successful updates followed one of the worst in the history of the game. Indeed, on November 16 Epic Game attacked player skins and it did not please at all.
It is no longer possible to wear certain skins on all maps!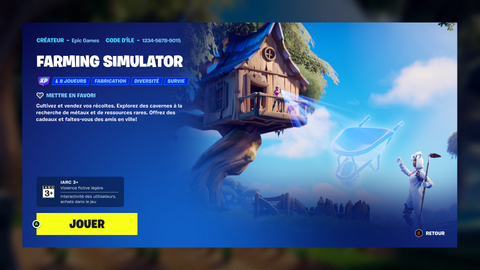 Everything starts from a good intention, Epic Game has rated all its maps and game modes in age category. Thus, some are considered suitable for all audiences and others only for those over 12 years old for example. An initiative that allows parents to better understand what their children are playing. But now, the skins have also been rated! In this way, it is logically impossible to play a skin considered intended for those over 12 years old on a general public map! As a result, some skins are unusable in many games even though they have been purchased by players. They are furious and they are making it known!
might be the worst update in the history of the game

restricting cosmetics that you have to PAY for is insane Epic

even Music Packs and Loading Screens are restricted, and only YOU can see those. pic.twitter.com/zZCYEb2QeP

— archer | Fortnite: Save the World (@archer_fortnite) November 16, 2023
On Twitter, everyone is tweeting to criticize this new decision: "The worst update in the history of the game. Restricting cosmetics that we have purchased is insane Epic. (see above)" Currently, there are three classifications: 3 years and over, 7 years and over and 12 years and over. Around 7% of skins are only usable in the last category, which is a small part of the game. Imagine having paid around twenty euros for a cosmetic that you can no longer use most of the time.
Disgruntled players even created a petition to reevaluate the age restriction so that it is more permissive. At this point, it has reached 5,543 signatures for a goal of 7,500. This could indeed be an acceptable compromise that would satisfy both sides. In any case, Epic Game will have to speak out soon about this new feature so as not to alienate players, especially at the moment when the game is in the spotlight.
Gn Fr tech
Not all news on the site expresses the point of view of the site, but we transmit this news automatically and translate it through programmatic technology on the site and not from a human editor.