The United States may soon end the operation to help Afghan refugees leave the United Arab Emirates. Thousands are still there.
At least 7,000 Afghans who were evacuated to the United Arab Emirates after the Taliban took control of Afghanistan last summer are still in Emirates Humanitarian City, a temporary shelter in Abu Dhabi, and no one knows s they will be able to leave before departure programs are suspended in the coming weeks.
They have been waiting for months to be taken to their final destinations – mainly the United States, as many of them have a clear legal pathway or ties to the United States. The prolonged uncertainty combined with the ambiguity surrounding the process has sparked anxiety and despair among those still in the Emirates.
Flights to the United States from Abu Dhabi as part of Operation Welcome Allies are still running, but are widely expected to stop as early as the end of July, leaving thousands of Afghans in a precarious situation with no clear route to the United States.
The US State Department did not tell HuffPost when it planned to end its operation.
The International Organization for Migration, which helps Afghans in Abu Dhabi with special immigrant visas to make independent departures, is expected to wind down operations by the end of August.
The Emiratis received and housed around 12,000 Afghans last summer; of these, about 5,000 moved to the United States. A five-month hiatus due to a measles outbreak and other testing requirements slowed the process. But only eight flights have taken place since the State Department resumed operations in late March, a pace that has alarmed Afghans who fear they won't be able to leave before the program ends.
"We are working diligently to facilitate the relocation of all eligible individuals to the United States," a State Department spokesperson told HuffPost. "The pace of scheduled flights has been adjusted so that potential travelers can complete all screenings and verifications required by U.S. immigration law and medical examinations required by public health guidelines."
But many of the remaining Afghans have not yet been screened and assessed, meaning they are not considered for flights from the United Arab Emirates.
There is also a lack of clarity as to who has priority for these flights. "It's unclear who will be picked up on the next plane because some have cases with the United States and some don't," Hussain Jan Rasa, who has lived at the facility since October, told HuffPost.
Raha's former employers in the United States helped him and his pregnant wife leave Afghanistan. Once they arrived in Abu Dhabi, they were first promised that they would be transferred to the United States within 14 days. He had hoped to go to the United States before his son was born, but he is now 6 months old.
After many broken promises, Raha loses hope that her family will make it to the United States before the resettlement operation is complete.
"I fear being left out of planes and stuck here for years," he said, noting he cannot return to Afghanistan.
Raha said her contacts in the United States told her they had submitted a humanitarian parole application on behalf of her family in hopes it would expedite their ability to leave the UAE.
However, the majority of Afghan parole applications are pending. Since July 2021, U.S. Citizenship and Immigration Services received more than 46,000 applications from Afghans hoping to come to the United States through the parole process. As of June 2, only 297 Afghan parole applications have been approved by USCIS and 4,246 applications have been denied, CBS reported.
Raha said he was grateful to the UAE government for temporary accommodation, food and other necessities, but many Afghans in the Emirates Humanitarian City are suffering: domestic violence, hostility, suicidal thoughts, depression and anxiety are on the rise among frustrated Afghans.
"It doesn't matter when, we can mentally prepare if they give us a timeline," he said, but added: "We are all living in total uncertainty.
Different fates
The majority of Afghans who were evacuated to the United Arab Emirates on US military aircraft in August have already arrived in the United States. However, Afghans who were flown to Abu Dhabi on private planes organized by US veterans and non-governmental organizations from August to October met a different fate.
"The State Department finally began to process [them] differently," said Joseph Robert, an American veteran and president of the Black Feather Foundation, which helped bring thousands to Abu Dhabi and is now at the EHC premises helping Afghans.
Robert and his team took numerous civilian-chartered flights to Kabul's Hamid Karzai International Airport last August in an effort to save the lives of the people they were tasked with finding and bringing to safety. But because of the chaos at the airport, he couldn't get the majority of them through the gate. Once on the ground, US officials cleared their private plane to help them rescue as many Afghans as possible. Robert said the State Department welcomed the help and gave his team a hangar to use.
Robert's team ended up bringing thousands of people to the UAE, some of whom intended to board American planes – including 1,000 who were already on manifests for MoD flights , 600 members of the CIA-backed Afghan forces known as Zero Units and their families, and 500 members of the Afghan Security Forces.
The US airlift ended on August 31, but private flights continued to carry people – most of whom had direct ties to the US, including Afghans at various stages of special immigrant visas and priority visas – until the end of October. Some others had no connection to the United States, but left Afghanistan because they were members of ethnic or religious minority groups, members of the LGBTQ+ community, journalists, activists or judges, and therefore had to fear for their lives.
In total, about 6,500 of the 12,000 Afghans flown to Abu Dhabi at the end of October were flown there on private charter flights rather than as part of a US military evacuation mission.
"It was expected that the State Department would continue to treat these people, just as it did for those who arrived on an American plane, [but] they stopped processing them. They had the position of not my plane, not my problem. said Robert.
Third country
As the United States grows fearful of ending its relocation operation from Abu Dhabi, non-governmental organizations (NGOs) are ensuring that the remaining Afghans have temporary shelter in the United Arab Emirates and can explore further. other destinations including Australia, Brazil and Canada.
"The UAE promised that no one would be forced to return to Afghanistan against their will," Robert said. "[Although] people are still afraid of being deported.
NGOs are troubled by the lack of clarity and communication about the process. It is unclear who will be relocated and who will be left behind by the United States.
"We don't know where to focus our efforts," Robert said. "We don't know what the United States will or will not take, and then we put ourselves in the difficult position of trading third country options."
NGOs also lack the bargaining power that countries have. Additionally, Afghans in Abu Dhabi do not have refugee status — and without refugee status, NGOs cannot take advantage of third-country options through government-funded refugee programs.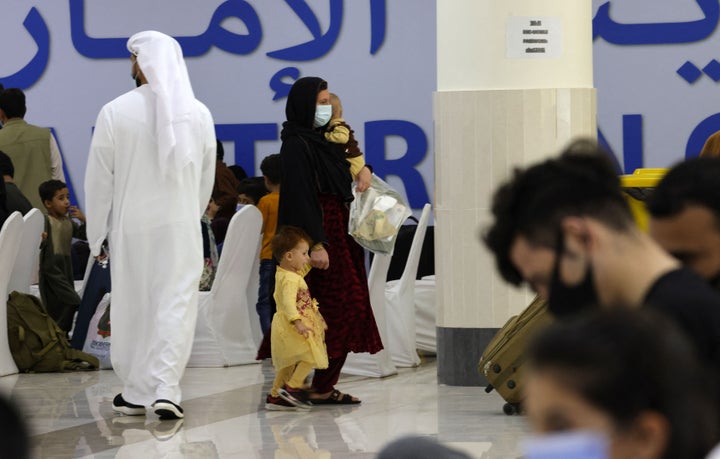 "We tried to meet with the UN Commissioner for Refugees because they have an office here, but they chose not to participate in that in any way. So they won't offer refugee referrals," Robert said. "We have only been able to negotiate privately sponsored refugee programs in other countries."
Only a few hundred people have so far been relocated to other countries through private negotiations.
"The large-scale private sponsorship programs that are capable of taking in the hundreds have not budged, although all the preparation and groundwork has been completed. It is now in the hands of this country's process" , said Robert.
The Huffington Gt
Not all news on the site expresses the point of view of the site, but we transmit this news automatically and translate it through programmatic technology on the site and not from a human editor.