Russian forces 'increasingly separated' from Ukrainian realities (ISW)
Russian forces continue to prioritize 'meaningless' offensive operations in eastern Ukraine instead of focusing on defending against advancing Ukrainian counteroffensives in eastern Kharkiv region, think tank says leading.
The Institute for War Studies said Russian troops were attacking Bakhmut and villages near the city of Donetsk which "have emotional significance for the pro-war inhabitants of the Donetsk People's Republic (DNR) but little of other importance," in an assessment on Saturday.
They appear to be directing "some of the very limited reserves available in Ukraine towards these efforts rather than the hastily erected vulnerable Russian defensive lines along the Oskil River in eastern Kharkiv Oblast", the ISW added. .
Russia suffered a major setback in its war against Ukraine last week when a Ukrainian counteroffensive forced its troops to retreat from large swathes of the country's northeast.
The ISW said the Russians cannot hope to make large enough gains around Bakhmut or the city of Donetsk to derail Ukrainian counter-offensive operations, but appear "to be pursuing an almost robotic effort to gain ground in Donetsk oblast which seems more and more separated from the global realities of the theatre". ."
The failure of Russian troops to rush large-scale reinforcements to the eastern regions of Kharkiv and Lugansk leaves most of the Russian-occupied northeast "highly vulnerable" to continued counteroffensives by Ukrainian forces, it said. said the ISW.
It comes as British defense officials say Russia is likely to mount a 'stubborn defence' of Luhansk Oblast but may not have the resources to handle a further push by Ukrainian forces. .
The British Ministry of Defense said on Saturday that Russian troops had established a defensive line between the Oskil River and the town of Svatove along the Luhansk border.
"Russia likely considers maintaining control of this area important as it passes through one of the few major supply routes that Russia still controls from Russia's Belgorod region," the ministry said in its assessment. .
This line is along the border of Luhansk Oblast, officials noted, and "any substantial loss of territory" in Luhansk "will unambiguously undermine Russia's strategy."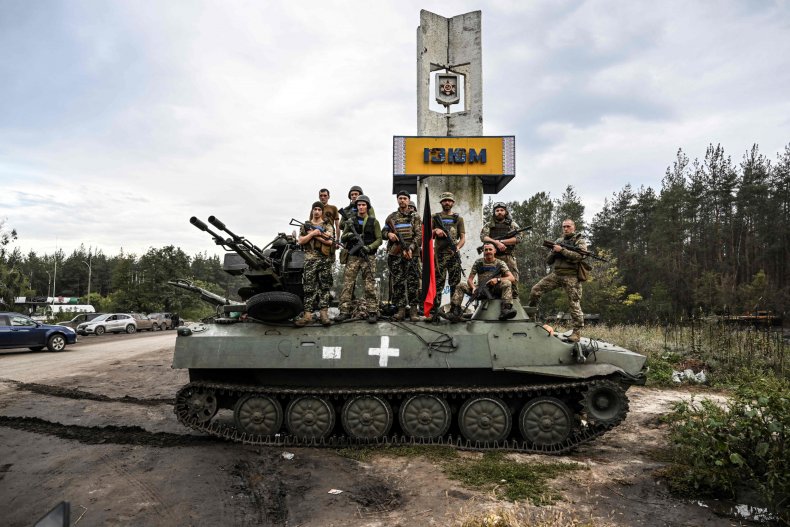 "Russia will likely attempt to mount a stubborn defense of this area, but it is unclear whether Russian frontline forces have sufficient reserves or adequate morale to withstand another concerted Ukrainian assault."
In Sunday's intelligence update, British defense officials said Russia had increased its targeting of civilian infrastructure "even where it is unlikely to perceive any immediate military effect" over the past seven days.
"As it faces setbacks on the front lines, Russia has likely expanded the locations it is prepared to strike with the aim of directly undermining the morale of the Ukrainian people and government," officials said. .
newsweek
Not all news on the site expresses the point of view of the site, but we transmit this news automatically and translate it through programmatic technology on the site and not from a human editor.