Ron DeSantis announces he is running for president : NPR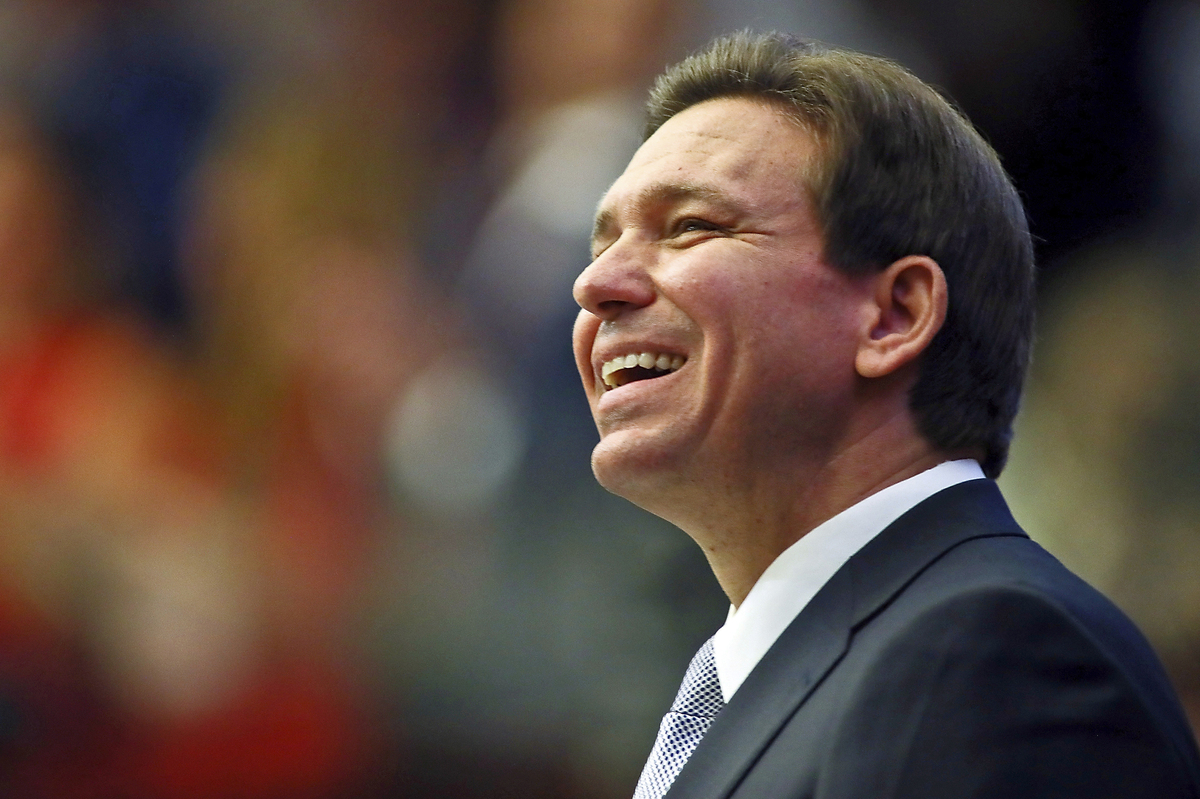 Ron DeSantis, the arch-conservative Florida governor and culture warrior who ironically saw his political career take off defending and channeling former President Donald Trump, decided to challenge him for the GOP presidential nomination.
He made the announcement on Twitter, ahead of a scheduled conversation on Twitter Spaces with Twitter chief Elon Musk, who has become popular on the right since taking over the platform. DeSantis' use of Twitter as a platform for his announcement is almost certainly pointed at the former president.
"I'm running for president to lead our great American comeback," he tweeted, along with a video.
"Righting the ship requires restoring sanity to our society, normalcy to our communities, and integrity to our institutions. Truth must be our foundation – and common sense can no longer be a rare virtue. In Florida, we have proved it could be done," he said in the video. "We chose facts over fear, education over indoctrination, law and order over riots and disorder. We stood our ground when freedom was at stake."
Earlier Wednesday, DeSantis, 44, made the formal decision to file paperwork with the Federal Election Commission to run for president. The main campaign committee, "Ron DeSantis For President", lists DeSantis as the Republican Party's nominee for president.
DeSantis' decision comes after months of speculation, but Trump didn't wait to begin the attacks. Trump and a political action committee that backs him have spent millions of dollars hammering the Florida governor, and DeSantis' polling numbers have plummeted, putting him in a deeper hole than he and his allies realize. had planned.
Trump had appeared vulnerable – with multiple legal threats and a poor showing among Trump-backed candidates in the midterm elections. Polls had shown that a significant number of Republicans were looking for someone else to be their standard bearer. And DeSantis was the first name on many conservatives' lips. But this is no longer the case.
Trump's position has improved dramatically over the past three months, and if DeSantis is going to beat Trump, he's going to have to turn the tide in his favor quickly just months before the first state nominating contest in Iowa.
One thing DeSantis does have, however, is money. He has about $90 million left from his gubernatorial re-election bid last year, and a super PAC backing him expects to have a budget of $200 million, half of which is spent voter education in key early states and some 2,600 organizers on the ground.
Not exactly "the anti-Trump"
DeSantis' entry should not be confused with an anti-Trump or "Never Trump" effort. He was seen as a more disciplined and calculating version of the former president – even though he owes much of his success to Trump.
It is not an easy task to go from congressman to governor. DeSantis was helped greatly in the GOP primary due to Trump's endorsement — and he clung to Trump to initially win the governorship.
He even ran an ad showing him playing and reading to his children, helping one of them "build the wall" with pads and reading excerpts from Trump. The art of the marketnoting that he likes the part where Trump says, "You're fired."
Trump used that against him, hitting DeSantis for disloyalty in a widely publicized ad.
DeSantis now says his ad was "satirical", "tongue-in-cheek" and "many years ago".
DeSantis has gained popularity with the GOP base — though others have backed off — because of his governance in Florida.
DeSantis became one of the loudest voices defiantly opposing the expert advice of Dr. Anthony Fauci at the start of the COVID-19 pandemic; he did stunts, shipping migrants to Martha's Vineyard and other liberal enclaves and Democratic-run towns; and DeSantis has pugilistly taken on universities, school districts and even Disney over how sexual orientation, gender identity and race are taught in schools.
DeSantis has made the culture wars central to his political identity — and intends to run that way in the GOP primary race for president.
His right-wing Trumpian leanings have at times put him at odds with his potential base of Republican supporters, the kind of Republicans who would be open to voting for anyone other than Trump. Trump is hard to beat, and people inclined to take a different path to Trump in the primary tend to be college-educated, wealthier Republicans, according to the February NPR/PBS NewsTime/Marist survey.
On foreign policy, DeSantis' initial stance on Ukraine echoed Trump, but set him at odds with GOP traditionalists. DeSantis called his war with Russia a "territorial dispute" in which the United States should not be involved.
He backed down after criticism. He went on to call Vladimir Putin a "war criminal" and added: "It's just – it's a complicated situation. But Russia had no right to go to Crimea or to go there in February 2022. And that should be clear."
A wasted potential opening?
DeSantis' policies have sparked national controversy, but also raised his profile with conservatives.

This made him a primary alternative to Trump at a time when the Trump brand was suffering.
Trump's continued lies about the 2020 presidential election he lost, the accumulated defeats of candidates he backed in swing states and competitive districts, and myriad multi-state investigations were sobering. Republicans on the 76-year-old former president.
The February NPR/PBS NewsTime/ A Marist poll even found DeSantis to be more popular than Trump, especially among pro-GOP independents.
That was until Trump and his allies assaulted DeSantis. There were countless attacks that went unanswered and left DeSantis' allies wringing their hands.
The brutal attacks — from serious, related to taxes, Social Security and Medicare to superficial, poking fun at DeSantis for the way he allegedly ate pudding — showed Trump is willing to do whatever he wants. it takes to win.
DeSantis, on the other hand, hasn't been tested on the national stage and, at this point, has yet to show the same degree of ruthlessness in return.
He has so far only drawn delicate lines with Trump, for example, on the right to abortion. After Trump took credit for overthrowing Roe vs. Wade During a town hall on CNN, DeSantis took a stance to Trump's right after Trump called Florida's six-week ban "too harsh."
DeSantis was also only mildly critical of Trump's legal entanglements and style of government. He implied problematic "underlying conduct" and said he "didn't know what it was about paying silent money to a porn star to get silence on some type of alleged affair".
Without naming Trump, DeSantis praised his own "no daily drama" approach to being governor.
Another point that the candidates didn't make a bigger deal of was the fact that Trump is constitutionally restricted. If he were to win in 2024, he could only serve four more years.
For many conservatives, 44-year-old DeSantis offers a younger, less chaotic, longer-term alternative, but DeSantis himself has yet to really make that argument explicitly.
DeSantis is also already trying to combat a narrative that he lacks a certain charm as a candidate. The stories highlight how he did retail politics in the early states.
Unlike Trump, who can make his rallies look like a comedic routine for the MAGA base, DeSantis tends to appear more austere at public events. He can also be thorny, like when he berated students for wearing masks behind him accusing them of "COVID theater".
A growing field
DeSantis is now the sixth major GOP candidate to announce his presidential candidacy. In addition to Trump, also in the running are former Florida Governor Nikki Haley, South Carolina Sen. Tim Scott, former Arkansas Governor Asa Hutchinson and former tech CEO Vivek Ramaswamy.
As many as half a dozen others are planning to enter, including former Trump Vice President Mike Pence, New Hampshire Governor Chris Sununu, former New Jersey Governor Chris Christie and Virginia Governor Glenn Youngkin.
There are cautionary tales of GOP candidates who have risen and fallen sharply. During the 2016 Republican primary campaign, for example, former Florida governor and political scion Jeb Bush, then-Wisconsin governor Scott Walker and even neurosurgeon Ben Carson had fleeting moments at the top of the polls.
Ultimately, Trump won in the crowded field because of his stronghold on a significant portion of the GOP base, much of which he retains.
The same is possible this time around.
Because Trump has such a firm grip on a sizable slice of the GOP pie, the bigger the field, the better for Trump if Republican voters other than Trump don't coalesce around an alternative.
The crowded field could certainly also point to an extended GOP primary if no one sweeps the early states.
A lot can change by then, because the real campaign has only just begun.

npr
Not all news on the site expresses the point of view of the site, but we transmit this news automatically and translate it through programmatic technology on the site and not from a human editor.