Puppy Bravely Protects Owner From Rogue Frog Statue In Hilarious Video
Anyone who owns a pet will attest to the playful little moments of joy it brings, and a pup's reaction to an unexpected garden ornament delighted its owner this week in an adorable video shared with Newsweek.
Ruth Sherman Moore of Ocean Pines, Maryland shared the video of her 6-month-old puppy Uncle Nicky.
A mixed breed comprising part Poodle, Belgian Malinois and German Shepherd, Nicky is the pup of one of Moore's friend's dogs and recently moved into her new home.
The American Kennel Club (AKC) says that dogs between the ages of six and 12 months have firmly entered their teenage phase. The AKC says, "Dogs at this age are beginning to test boundaries and many will try to assert themselves in the pack. They can challenge their humans and other household pets."
It's also likely that when your dog reaches this age, he will become a true explorer. "Walks around the neighborhood become an adventure for him as he uses scent to learn about his surroundings," says the AKC.
For Nicky, the new things to explore and the importance of asserting his dominance became clear, especially when it comes to an outdoor frog statue he is seen barking at in the video.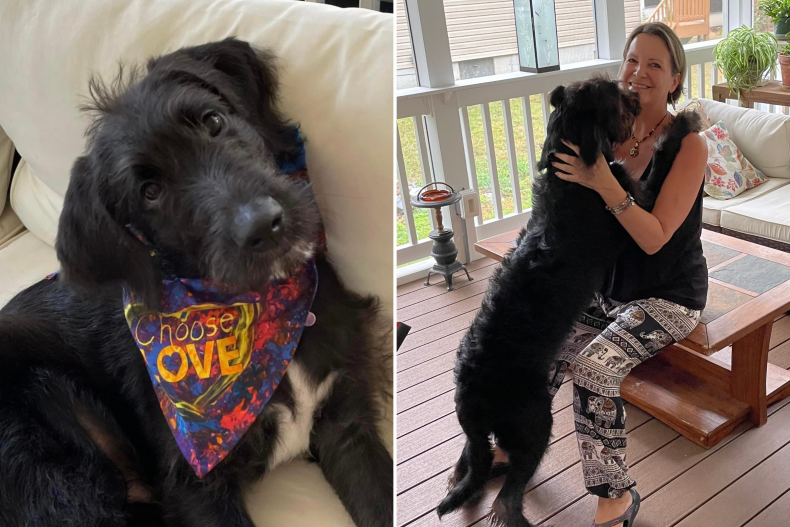 Moore said Newsweek"That was the first time Nicky noticed the frog statue. He only saw it yesterday, and we haven't passed that house since. He also barked at a few scarecrows the day before, and the next day when he ignored them."
Adorable pup Nicky cares deeply for his owner and Moore says he's usually "attached to me like Velcro and doesn't like being separated from me".
"He's goofy and silly and makes me laugh a lot," she said. "He hates car rides, but he loves long walks sniffing the whole way. A path we would take would take me 20 minutes to walk. It takes Nicky and I at least 40 minutes because of all the smells ."
When he's not exploring the neighborhood and warning those around him of rogue statues, Nicky enjoys playing with toys, playing with a ball, and asking his owner to chase him around the house.
"He has a toy puppy that I bought for him when he was only about 15 pounds," Moore said. "He now weighs around 65 pounds. The pup has a battery-powered heart beating inside. He grabs this pup when he's tired and sucks his tail until he's ready to sleep."
Do you have funny and adorable videos or photos of your pet that you want to share? Send them to life@newsweek.com with some details about your best friend and they could appear in our Pet of the Week range.
newsweek
Not all news on the site expresses the point of view of the site, but we transmit this news automatically and translate it through programmatic technology on the site and not from a human editor.