Pug Is Owner's Best Friend Lookalike Dog Statue: 'A Good Listener'
A pug has struck up an adorable friendship with his lookalike dog statue.
Maggie, who lives with her owner Kamerin Bazemore and two other dogs in Macon, Georgia, was filmed enjoying a moment of quiet contemplation next to the statue, which looks more like a pet dog. The video was posted on TikTok where it has already been viewed over a million times.
The one-year-old pup's older brother, Willow, 9, is nearly identical to her, so it's entirely conceivable that the pooch just assumed she was spending quality time with her canine companion.
Then again, maybe she's just looking for someone willing to listen to her rather than bark at her. Either way, Maggie, who also resides with 14-year-old dog Merlin, has always had a unique connection to the statue.
"She's been with her statue friend since we brought her home," Bazemore said. Newsweek. "She's quite spectacular and we like her a lot."
According to Stanley Coren, professor of psychology at the University of British Columbia and author of books like How to speak dogour canine friends have been "genetically manipulated" by humans for thousands of years to "be almost indiscriminately friendly".
Write about psychology todayProfessor Coren explained: "Dogs that have been properly socialized will pleasantly approach virtually anything living, regardless of species, and unless they receive hostile signals, they will attempt to establish a good-humored relationship."
So Maggie probably saw what she thought was an animal friend and, after approaching it and feeling no indication of hostility, has since turned towards the statue.
Bazemore said encounters with the statue were definitely among her pug's favorite activities. "She likes to watch TV, eat, lie on her back, chew her fingers, play with her tennis ball, sit like a human and hang out with a statue friend."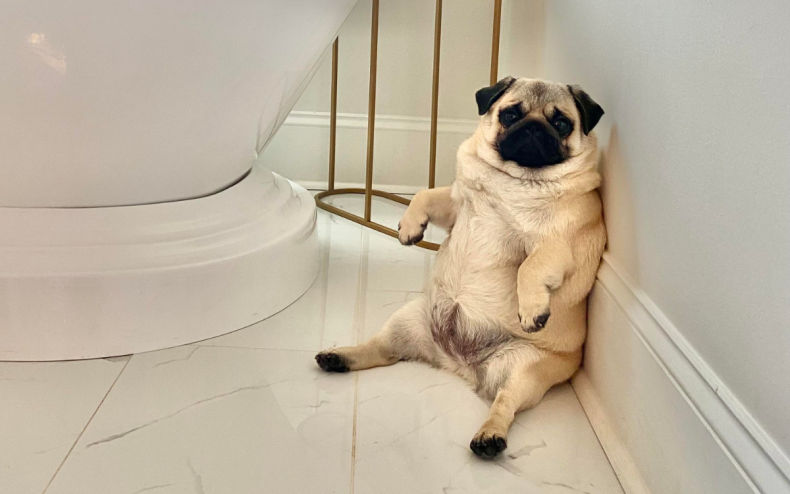 The dog's owner was finally able to share a glimpse of the unique link in images posted to TikTok under the_squish_biscuit handle.
Sneaking out the back door, Bazemore catches Maggie sitting next to the inanimate object. Startled by her arrival, Maggie turns to the camera with Bazemore asking, "Oh, did I catch you with your statue friend?"
"What are you doing?" she asks, Maggie seeming to respond by nodding in the direction of the statue. "Are you hanging out with your buddy? Bazemore asks with the unspoken answer obviously being a yes.
" Would you like to come inside ? she says. Still, Maggie is impassive, visibly happy to spend time with her doppelganger. The video also sparked an outpouring of elated responses from dog lovers on social media. Tashluvz commented, "My kind of friend…no expectations, good listener, relax. Your dog is just an introverted companion," with Logan H agreeing, "He doesn't talk much, but that's a good listener."
Although there were plenty of jokes, many were just enamored with the cuteness of it all. Emvygwen said: 'Awww that's super healthy' with Glenda Salaver agreeing that it was 'so cute'. Maliree, meanwhile, wrote, "I would chill with my statue too."
Bazemore said she shared the video because she "thought it was hilarious and wanted others to see how funny it was." She added, "Didn't expect it to explode like this! I'm so glad Maggie can share her joy with others."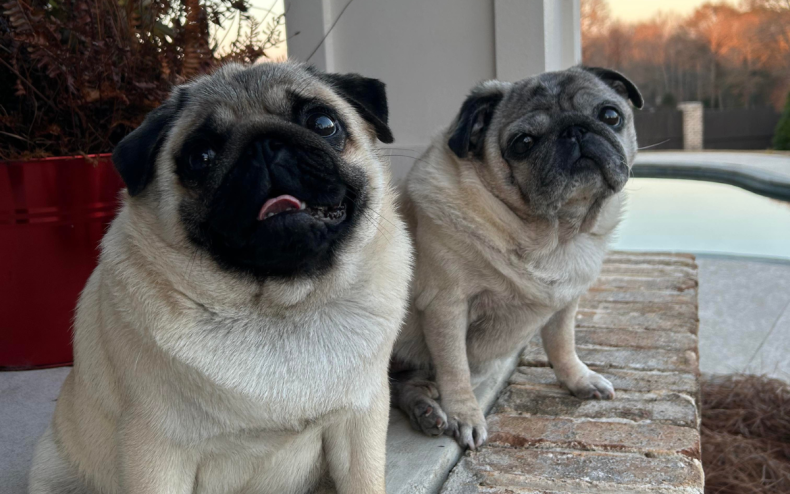 While some thought the clip was proof that Maggie needed a companion, her owner was keen to point out that she and Willow were "inseparable" dog friends and she was certainly not alone.
Explaining the popularity of the video, Bazemore concluded, "In a world of such negativity, a video of a pug is a welcome change and something healthy."
Do you have funny and adorable videos or photos of your pet that you want to share? Send them to life@newsweek.com with some details about your best friend and they could appear in our Pet of the Week range.
newsweek
Not all news on the site expresses the point of view of the site, but we transmit this news automatically and translate it through programmatic technology on the site and not from a human editor.