Only 1 in 13 deaths in SoCal blizzard are storm-related
Herbert Perez had lived in Big Bear Lake for nearly three decades, but he and his wife, Brenda, had rarely seen a snowstorm as relentless as last winter's.
The snowstorm, which began Feb. 24, buried mountain communities in San Bernardino County, preventing Perez, 61, from reaching his three-times-weekly kidney dialysis appointment at a Yucca Valley facility. The California Highway Patrol twice turned away his driver, saying only residents were allowed in, even though the trip was for a medical appointment.
When Perez had trouble breathing, his wife called an ambulance to take him to Bear Valley Community Hospital — only to learn upon arrival that the facility did not have a dialysis machine.
Nine hours later, staff decided to transport Perez to another hospital, but he suffered a heart attack in the parking lot. He was brought back inside, where he died around 2:45 a.m. on March 2.
Back-to-back storms buried roads under up to 12 feet of snow, trapping residents in their homes – in some cases for more than two weeks – and stranding some without access to food, electricity and life-saving medicine. .
The snow fell faster than road crews and snow removal equipment could respond, forcing officials to scramble to find more resources to respond to the growing emergency.
When the quarters were finally dug up, 13 people were dead. Most were found at home.
But the San Bernardino County Sheriff's Department, which includes the coroner's office, has ruled only one of the storm-related deaths — something many family members and neighbors have questioned.
The number of deaths in mountain communities during the storms, Feb. 23 to March 9, more than quadrupled what the coroner's office recorded during the same period last year, based on data provided to the Times via a registration request. However, almost a third of deaths in 2022 were missing location information, making it difficult to know if there were additional deaths in the region. A spokesperson for the sheriff's department declined to comment on the missing data or the difference in deaths from year to year.
Ten of the 13 deaths listed the location of death as residence, according to coroner's data. Three others died at Bear Valley Community Hospital, including Perez.
Facing increasing scrutiny, coroner's officials examined nine of the 13 deaths to determine whether the storms were a factor, but determined their initial findings were accurate: Only one death was storm-related. The other four, including Perez's, were not further investigated because they were among the residents who died at a hospice or medical facility, Sheriff's Department officials said.
Perez's death was ruled natural, caused by cardiac arrest, congestive heart failure, respiratory distress and chronic kidney failure, authorities said.
But Brenda Perez, 60, disagrees.
"For me, it was caused by the storms," she said. "They were choosing who they let up because of the snow."
CHP officials did not respond to a request for comment on Perez's death, and Bear Valley Community Hospital declined to comment, citing state and federal privacy laws. A hospital spokesperson said the facility now has dialysis machines, thanks to a donation from the foundation.
The only storm-related death was attributed to a traffic accident that occurred on Feb. 26, the day before the county declared a state of emergency.
Snow had buried a friend's car, and as Barbara "Barbie" Hughes, 39, tried to help dig it out, she was run over by another vehicle.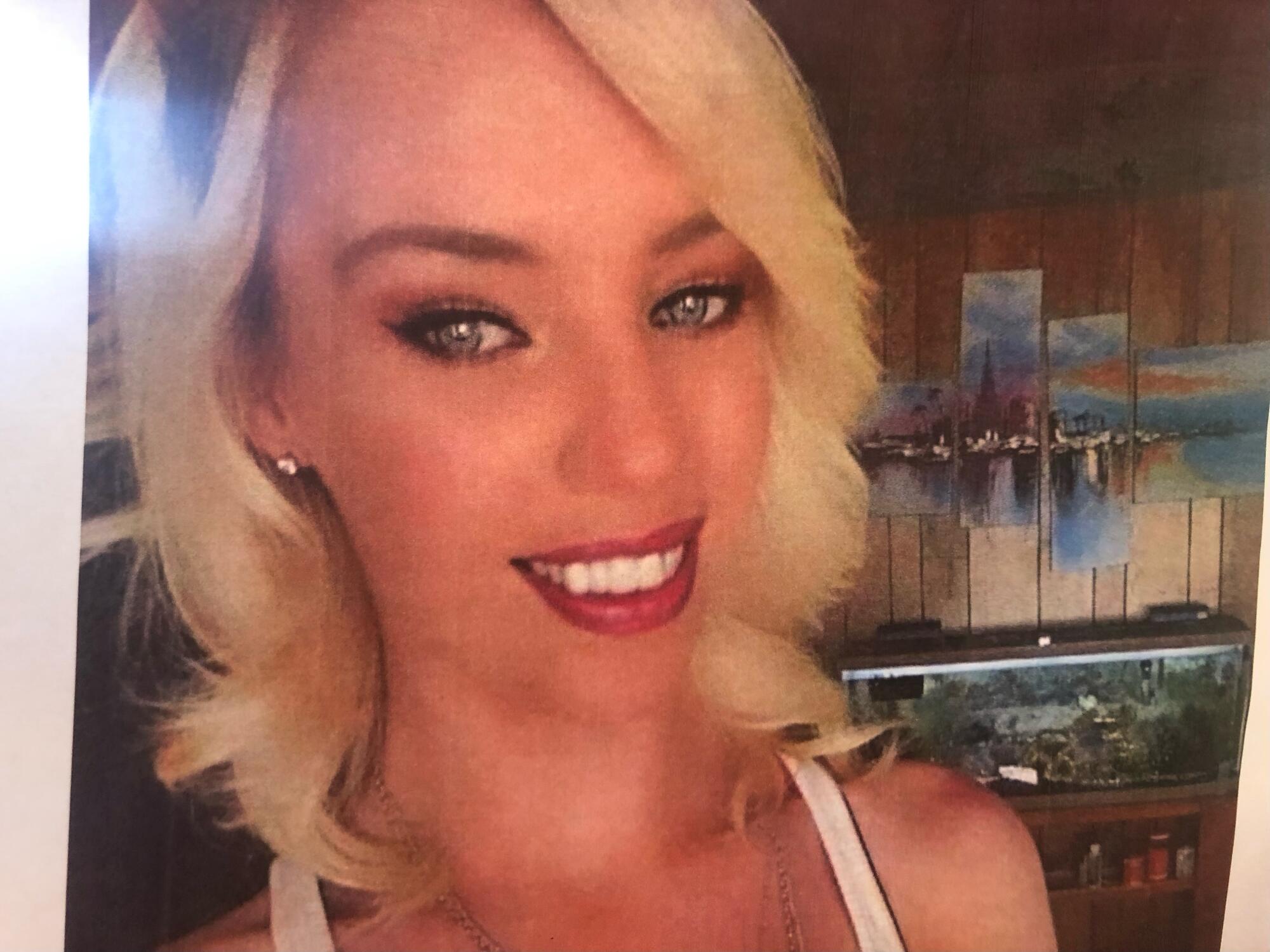 Her mother, Sheree Heisley, said rescuers were unable to get through the excessive snow to reach her daughter.
Instead, the Sheriff's Department escorted Hughes, who was being driven in her friend's car, to Bear Valley Community Hospital.
Heisley said the hospital did not have trauma surgeons and relied on transporting patients in more serious condition to other facilities. Hughes' lungs had collapsed and his ribs had punctured his heart, his mother said. An ambulance was available to take Hughes to a hospital in Loma Linda, but the California Department of Transportation had closed the highways.
Heisley arrived at the hospital in time to say goodbye. She told her daughter she loved her, and Hughes shook her hand and said, "I love you too, Mom."
Bear Valley Community Hospital also declined to comment on Hughes' death.
"If you're the only hospital, you need to be prepared, especially if you know there's a storm and you know people can't fly out," Heisley said. "I don't know if my daughter could have been saved because she was so badly broken. I don't know if they could have helped him. But there was no sense of urgency with anyone there.
Among the deaths this winter was Felicia Beardsley, whom her daughter called a "super healthy" 65-year-old.
Teresa Beardsley said her mother complained of flu-like symptoms and being snowed in during the blizzard. His body was found at his Wrightwood home on February 28. The coroner said she died of possible viral pneumonia or atherosclerotic cardiovascular disease.
Beardsley said she thought her mother's death might be linked to the storm. She believes the flu-like symptoms were warning signs of a heart attack her mother may have suffered while trying to shovel snow from her property.
Judy Pons said she is convinced that dangerous conditions amid the unprecedented storms contributed to the death of her aunt, Elinor "Dolly" Avenatti.
Pons spoke with her aunt on Feb. 27, when the 93-year-old former Alhambra police officer happily described the weather in her Crestline home as a "winter wonderland."
A day later, the Avenatti neighborhood lost power. Pons said her family was no longer able to reach her aunt's landline, and although some neighbors tried to check on her, no one was able to. Avenatti's body was found in her home the following week.
"Aunt Dolly would have come out of the cabin if she could have opened the door," Pons, 79, said. "I don't think anyone has the slightest doubt that she froze to death."
While autopsy results indicate Avenatti died of aortic stenosis due to hyperlipidemia, a heart valve disease linked to high cholesterol, Pons said she did not know her aunt had health issues.
"She was not a helpless 93-year-old woman," Pons said. "She was healthy, courageous and had a zest for life. »
"I don't think it's his time."
Susan Neufeld's landlord found her dead March 2 in her Crestline home after she failed to pay her rent on time, which was unusual. Jeffrey Walker found the 77-year-old woman's body in a pool of blood, as if she had fallen and hit her head. He immediately called 911, but still wonders if she would have survived if he had been able to check on her sooner.
The coroner's inquest found there was "no trauma or suspicious circumstances" surrounding Neufeld's death and instead pointed to cardiac arrest, listing other contributing health conditions.
The sheriff's department did not respond to questions about the investigation into Neufeld's death.
Other family members and friends acknowledge their loved ones were not in the best health, but say their deaths may have been hastened by the storms.
Randolph Stein found his roommate, George Swisher, dead March 8 in their Cedarpines Park home. He said Swisher, 68, suffered from heart problems and it proved difficult to keep him warm and fed during the weeks of storms.
Swisher's death was ruled natural, caused by chronic methamphetamine abuse and emphysema, coroner's investigators found.
While deaths from snowstorms have dominated headlines, medical emergencies have also been a growing challenge.
Kim Kuhm, 40, was shoveling snow from her roof in Crestline when she fell and hit her neck — near where she had previously had surgery. She called 911, but was told they couldn't send an ambulance because of the snow.
For two weeks, she waited in pain, fearing the injury would become serious and she wouldn't even know it.
"They basically said, 'You're on your own,'" Kuhm said. "They came to collect the bodies. That was it."

Los Angeles Times
Not all news on the site expresses the point of view of the site, but we transmit this news automatically and translate it through programmatic technology on the site and not from a human editor.