A dramatic image of clouds resembling a stormy sea has gone viral on Reddit.
The photo, captured by Minnesota resident Theresa Birgin Lucas, was shared on Reddit by user u/Harvickfan4Life in a post that garnered more than 88,000 upvotes. It shows a thick, gray cloud towering over a road, making the entire ocean appear to hover just a few dozen feet above the ground.
Clouds, which are plumes of condensed water vapor in the sky, come in many shapes, sizes, and colors depending on atmospheric conditions, temperature, and water droplet size. According to the National Weather Service, there are four main cloud types, namely cirro form, cumulo form, nimbo form, and strato form.
Cirro-shaped clouds are tall and wispy, cumulo-shapes are usually detached clouds resembling fluffy white cotton balls, strato-shaped clouds are broad blanket-shaped clouds , while the nimbo form is a category of rain clouds combining elements of the other three types.
Experts are torn over what type of cloud may have made the sky appear as it does in the photo, with doubt over its authenticity.
"The photo looks fake to me," said Katja Friedrich, a professor of atmospheric and oceanic sciences at the University of Colorado. Newsweek. "First, there appears to be a light source in the lower left and upper right – perhaps we now have two suns? Second, it appears that the lower clouds are moving in from the left, while that the upper cloud is thicker on the right, which could suggest that it is moving from the right.
"I also don't know why a cloud should be tilted towards us – it almost looks like a wall cloud but why is the upper part so far in the background?"
Others, however, have suggested that the strange ocean cloud may be a rare form of cloud that was only added to the International Cloud Atlas as an additional feature in March 2017.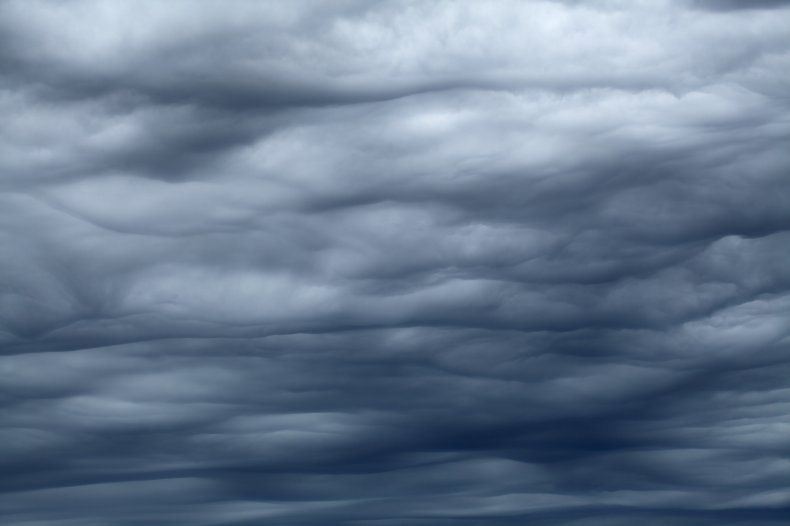 "The image appears to be real and the cloud formation is called asperitas," said Tero Mielonen, atmospheric scientist at the Finnish Meteorological Institute. Newsweek.
According to the International Cloud Atlas, asperitas are well-defined wave-like structures in the underside of a cloud, with localized waves in the base of the cloud, "as if looking at a rough sea surface of downstairs".
Ed Gryspeerdt and Paulo Ceppi, cloud scientists at Imperial College London, said Newsweek that they also thought the image could capture an asperitas cloud.
"We could imagine that if the lighting conditions were perfect and the photo was cropped correctly, you might be able to get something like this. However, we can't imagine the 3D structure in our heads, so we're not not sure I can make a good judgment on this. Asperitas clouds often have this kind of strange lighting, so it would be a good candidate," they said in a joint statement.
"One thing we would say, after taking many, many photos of clouds, is that it's quite difficult to produce this very dark blue. It's not impossible, but clouds are usually overexposed if you also have ground in the picture, so they're usually very white, unless you're trying to do something to increase the contrast. Maybe HDR on a phone could do that."
Newsweek has contacted Theresa Birgin Lucas for comment.
newsweek
Not all news on the site expresses the point of view of the site, but we transmit this news automatically and translate it through programmatic technology on the site and not from a human editor.