On a rainy day 50km west of Moree in NSW, Brisbane-based artist Jane Milburn navigates through the dripping black soil that is quintessential to this farming region.
Pure white cotton is draped over his shoulder, the only thing that distinguishes his bone from Driza against the brown background. With panache, she lays it down, painting the fabric with the mud that has contributed to its growth.
The slow fashion advocate plans to convert farm-grown cotton into a dress to wear and tell a story about where it comes from: Keytah Farm, the carbon footprint farm owned by Sundown Pastoral.
"Many farmers are naturally cautious when it comes to opening gates and some of that can be subject to criticism," says Milburn.
"But I think the transparency and the bright light and showing the good things they're doing here is important."
Just 100 meters away, other artists take shelter from the rain under a row of grain silos as they paint the landscape.
Leo Robba is among them. He is a lecturer at the University of Western Sydney and leads the city's artists' pilgrimage that travels west each year.
The tour is part of the Painted River Project, which combines creativity and science to highlight the importance of healthy waterways.
The project began in Parramatta in Western Sydney in 2017 and expanded to the Moree area in 2021 through a collaboration between Western Sydney University and Bank Art Museum Moree (Bamm).
According to Robba, artists come not just to create but to contribute and understand the carbon conversation.
"As climate change takes hold, people are becoming more aware," he says.
"It's important for city dwellers to have a different understanding of how rural people live and where their food comes from, how it's grown, how we might work together to understand each other's perspectives and work for a collective approach around this."
license to cultivate
Keytah Farm manager Nick Gillingham does not care about the business the project generates and the possibility of getting direct consumer feedback.
"It reminds us of how we need to make sure we do what it takes to keep our public sector farming license," he says.
"We have to keep pushing and trying to do the best job we can and improve what we do."
The operation uses sustainable farming practices, including minimal soil disturbance, incorporation of stubble and reduced fertilizer use, and according to Sundown Pastoral, it has improved water efficiency so far. at 235%.
In 2019, the 65,000-acre (260 km2) agricultural property underwent a carbon emissions audit which found that growing cotton and other crops on the property reduced carbon emissions.
"We were one of the first farms to do a really in-depth study. We compared 2013 to 2018 – we had increased our levels during that time and hopefully over the next few years we will be on the rise," says Gillingam.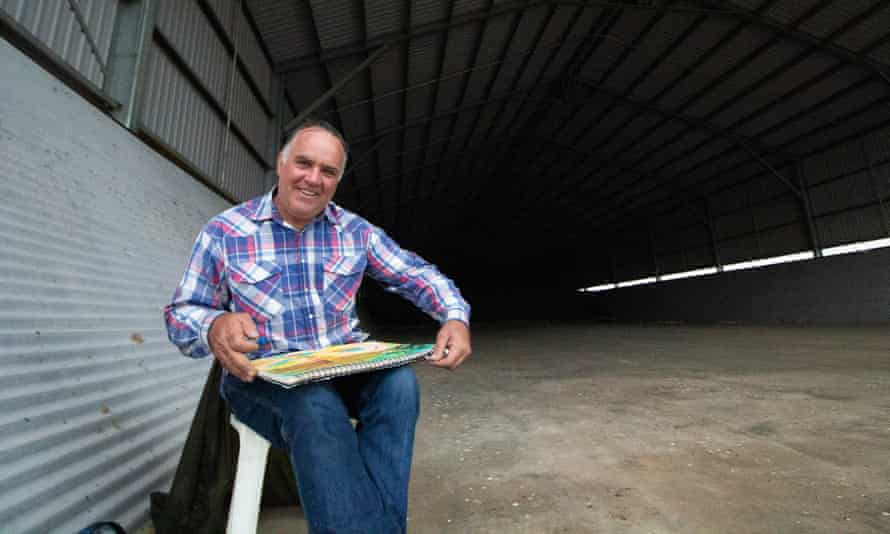 Consumer responsibility
According to Robba, the view that farmers waste water is simplistic.
"They run businesses, so it's in their own interest to be responsible," he says.
Many in the large-scale agriculture sector are now using minimal soil disturbance practices and slowly building soil health to increase yields, but Gillingham says sustainable decisions are always driven by consumer demand and " at the forefront of every political discourse".
In a pre-budget announcement, the federal government recently offered tax cuts to farmers and landowners receiving income from the production of Australian carbon credits, to encourage greater participation in carbon offset projects and practices. .
But as Milburn returns to the grain shed with her mud-soaked masterpiece, she talks about her own responsibilities as a consumer in the agricultural supply chain to make more sustainable choices.
"It's actually how we as wearers use cotton so if we wear it longer until it wears out then there's really no problem because we have to wear something," she said.
In the next shed, artist Moree Nick Osmond sat in a chair watching the rain to inspire his colorful figurative piece on paper.
While the presence of the artists on the farm is a juxtaposition, Osmond's self-reflection would make you think he might be a farmer.
"You set yourself up in your ways, you really do. You should continually research different aspects of your work," he says.
Bamm recently held an exhibition of work done as part of the 2021 Painted River Project.
Not all news on the site expresses the point of view of the site, but we transmit this news automatically and translate it through programmatic technology on the site and not from a human editor.