Kick-off for Saturday's Champions League final between Liverpool and Real Madrid in Paris had to be delayed by 36 minutes for security reasons. There were chaotic scenes as security checks bottlenecked and police deployed pepper spray or tear gas, again raising serious questions about UEFA's hosting of an event major.
Video footage showed supporters standing outside a locked gate about half an hour after the scheduled kick-off time of 9 p.m. local time at the Stade de France. One of them sadly holds up a ticket only to be repeatedly pepper sprayed by a constable in full riot gear standing on the other side of the fence.
UEFA said Liverpool fans "who bought fake tickets that didn't work" were to blame for blocking the turnstiles and said it would look into the events that led to police using tear gas.
Liverpool said they were "extremely disappointed" with what had happened. "Fans shouldn't have to experience the scenes we witnessed tonight," the club said. "We have officially requested a formal investigation into the causes of these unacceptable issues."
It had appeared about two and a half hours before the start of the match that there were problems. Liverpool supporters approaching the south-west corner of the ground from the Stade de France-Saint-Denis RER station were parked on a road closed to traffic and in a location which was later partially blocked by two police vans. They were then routed to a ramp that led to the stadium lobby where bags and tickets were checked.
Given the chaos at Wembley during the Euro final last July when thousands of fans showed up without tickets (and what happened when ticketless Liverpool fans charged despite insufficient security during of the Champions League final in Athens in 2007), perhaps a pre-ticket check made sense, but the bottleneck quickly caused a dangerous build-up of fans.
As the situation became dangerous, the initial check was cancelled, allowing supporters to make their way to the fence surrounding the stadium hall. There were images of some, presumably without tickets, climbing the fence and past the stewards, but the vast majority remained in the crowded queues for security checks. Many were pepper sprayed, apparently because they had failed to disperse, although it was far from clear where they should have dispersed. Unsurprisingly, fans who had paid hundreds of pounds for tickets were reluctant to pack up and head home.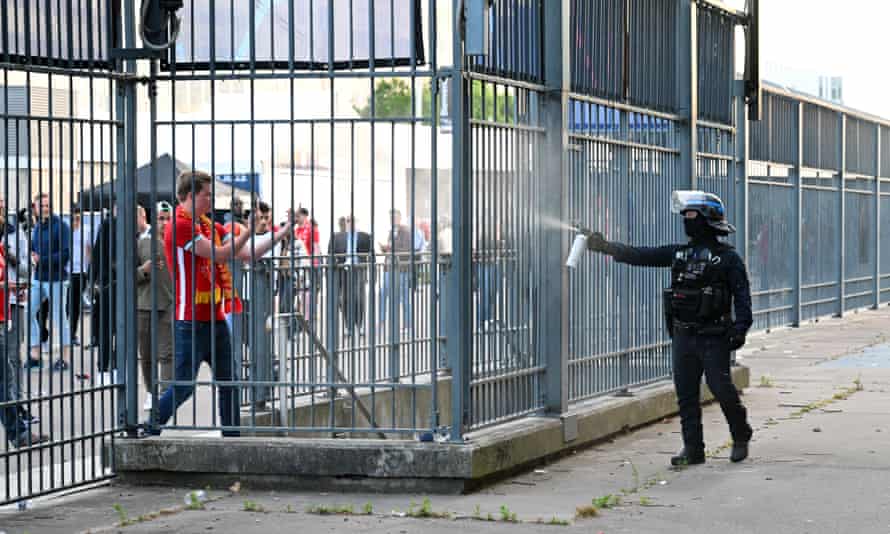 At around 8:45 p.m. local time, at that time the Real Madrid end of the stadium was full but there were still strips of empty seats at the Liverpool end, an announcement was made that the kick off shipment would be delayed. In Spanish, "security issues" were blamed but the English announcement was clear in pointing the finger at the "late arrival" of fans. That clearly wasn't the problem, though. If they were late getting into the ground, it was because of the disorganization outside. Former Liverpool CEO Peter Moore called it 'victim blaming at its best'.
Former England international Gary Lineker was one of those who struggled to enter the stadium. "I'm not sure it's possible to have a less organized event if you try," he tweeted. "Absolutely shambolic and dangerous."
UEFA said: "During the match, the turnstiles at the Liverpool side were blocked by thousands of fans who had bought fake tickets which did not work in the turnstiles. This created a build-up of fans trying to get in. As a result, kick-off was delayed by 35 minutes to allow as many fans as possible with real tickets access.
"As the number of people outside the stadium continued to pile up after kick-off, the police dispersed them with tear gas and forced them away from the stadium. UEFA are sensitive to those affected by these events and will urgently review these issues with the French police and authorities, as well as with the French Football Federation.
It is understood that Liverpool officials requested a kick-off delay after pressuring UEFA and raised security concerns with UEFA on several occasions before the game.
Associated Press reporter Rob Harris reported that UEFA staff intervened to prevent security personnel from attacking the media to stop them filming as tear gas was deployed. His colleague Steve Douglas tweeted: "I was locked in a hut by a security guard, told to withdraw my accreditation, then I was forced to delete video footage of the crowd problems, otherwise I would not be allowed to return."
French police said fans had "tried to enter the stadium". Reuters TV footage showed riot police chasing supporters outside the stadium as they fled, with others being escorted away. "We intervened to repel the supporters who were trying to force their way through," French police said.
Young residents reportedly caused trouble and scuffles, with police using tear gas, batons and shields to force them out. Liverpool supporters outside said hundreds of locals jeered at riot police, causing the gates to close.
Incidents were taking place at the start of the game and it was reported at half-time that tear gas was still being used outside and police had locked down the stadium.
Liverpool West Derby MP Ian Byrne tweeted: "Just had one of the worst experiences of my life. Horrible security and organization putting lives at risk.
For UEFA, this constitutes a major embarrassment. During the Euro 2020 final, thousands of fans passed through security at Wembley and there were fights in the halls. Then in Sevilla a week last Wednesday, there was a stewardship shortage at the Estadio Ramón Sánchez Pizjuan, leading to Rangers and Eintracht Frankfurt fans wandering aimlessly in search of their seats. Worse still, with temperatures over 30C at kick-off, the water ran out, leading to fans trying to drink from toilet taps and then sprinkler heads.
Questions should also be asked of the French authorities. There were serious outbreaks of violence during Euro 2016, notably in Marseille, and Manchester United fans may remember firing tear gas into a crowded enclosure during a group match of Champions League against Lille in Lens in 2007.
Not all news on the site expresses the point of view of the site, but we transmit this news automatically and translate it through programmatic technology on the site and not from a human editor.