Libyan protesters set fire to mayor's house in anger over deaths caused by floods in Derna | Floods in Libya in 2023
Protests broke out in the Libyan city of Derna on Monday, with hundreds of people expressing anger at authorities and demanding accountability a week after a flood that killed thousands of residents and destroyed entire neighborhoods.
Later in the evening, angry protesters set fire to the house of the man who was mayor of Derna at the time of the flood, Abdulmenam al-Ghaithi, his office manager told Reuters.
Hichem Abu Chkiouat, a minister in Libya's eastern government, said Ghaithi had been suspended from his post. The Reuters news agency could not immediately reach Ghaithi for comment.
Monday's protest marks the first major demonstration since the floods, which swept through Derna when two dams in the hills outside the town burst during a powerful storm, unleashing a devastating torrent.
Protesters also targeted officials, including the head of Libya's eastern-based parliament, Aguila Saleh, during a demonstration outside the Sahaba mosque. Some sat on the roof in front of its golden dome, a symbol of Derna.
The eastern Libyan government said Prime Minister Osama Hamad had fired all members of the Derna municipal council and referred them for investigation.
"Aguila, we don't want you. All Libyans are brothers," protesters chanted, calling for national unity in a country politically fractured by more than a decade of conflict and chaos.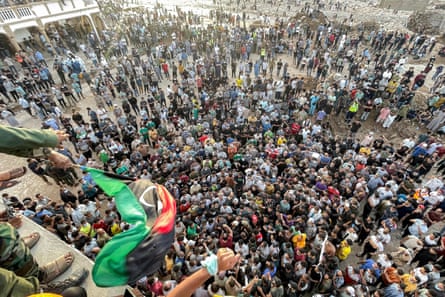 Mansour, a student participating in the protest, said he wanted an urgent investigation into the dam collapse, which "caused us to lose thousands of beloved people."
Another protester, Taha Miftah, said the demonstration was a message that "governments have failed to manage the crisis", adding that Parliament was particularly responsible.
He called for an international investigation into the disaster and "reconstruction under international supervision".
The exact extent of the death toll has not yet been known and authorities have given widely varying figures. The Libyan Red Crescent said at least 11,300 people had died and more than 10,000 were missing. The World Health Organization has confirmed 3,922 deaths.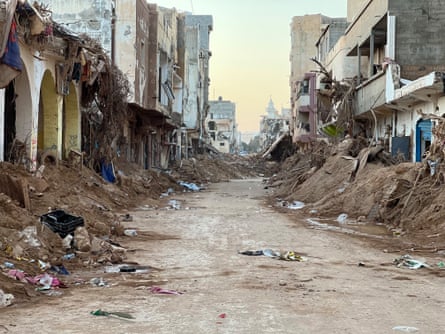 Saleh last week sought to deflect blame from authorities, calling the flood an "unprecedented natural disaster" and saying people should not focus on what could or should have been done.
But commentators have drawn attention to advance warnings, including an academic paper published last year by a hydrologist highlighting the city's vulnerability to flooding and the urgent need to maintain the dams that protected it.
Derna is located in eastern Libya, a part of the country controlled by military commander Khalifa Haftar and overseen by a government established alongside the internationally recognized administration in Tripoli to the west.

theguardian Gt
Not all news on the site expresses the point of view of the site, but we transmit this news automatically and translate it through programmatic technology on the site and not from a human editor.