Killer of professional cyclist Anna Moriah Wilson sentenced to 90 years | Texas
A Texas jury on Friday sentenced a woman to 90 years in prison for the May 2022 shooting death of rising professional cyclist Anna Moriah "Mo" Wilson in a case that sent investigators on an international 43-day search for the killer .
Jurors deliberated for a little more than three hours before sentencing Kaitlin Armstrong, who investigators say followed Wilson to the apartment where she was staying and shot her three times. It took them just two hours Thursday to find her guilty of murder.
"As a family, we believe justice has been served," Eric Wilson, the victim's father, said after the sentencing. "There are really no winners here. This is not a time of celebration, but a time of prayer. A time to pray for our family, our friends, and the Armstrong family and their friends.
He added that although the family's life has been changed forever, "with this difficult ordeal now behind us, we are ready to move forward and continue our healing."
"And we will do it with the strong, determined, gentle and kind spirit of Moriah," Wilson said.
Prosecutors said Armstrong shot Anna Wilson, 25, in a jealous rage. The cyclist had briefly dated Armstrong's boyfriend several months earlier. Wilson had gone swimming and had a meal with him the day she was killed.
Armstrong's defense attorneys had urged the jury to consider something less than life in prison. Under current Texas law, Armstrong, 35, will be eligible for parole in 30 years.
Her defense attorney, Rick Cofer, said, "The loss of Moriah Wilson is a tragedy, and our hearts go out to the Wilson family and the family of our client Kaitlin Armstrong. »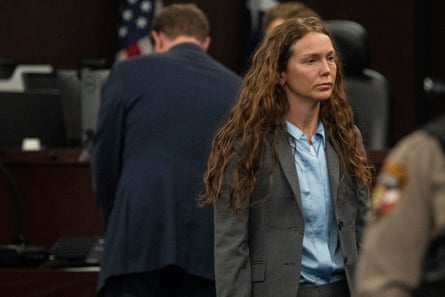 After Armstrong's sentencing, sobs could be heard coming from the area of ​​the courtroom where his family was seated. Her father stood up to look at her and wiped the tears from his eyes.
Members of Wilson's family exchanged hugs after the jury announcement and his mother, Karen Wilson, issued a statement directly to Armstrong.
"When you shot Moriah in the heart, you shot me in the heart… all the people who loved him pierced their hearts," she said, looking at Armstrong as she left the witness stand. Armstrong didn't seem to stare back.
A Vermont native and former alpine skier at Dartmouth College in New Hampshire, Anna Wilson was an emerging star in professional gravel and mountain bike racing. She was visiting Austin before a race in Texas, where she was among the favorites to win.
Armstrong tracked Wilson to the apartment where she was staying through a fitness app and shot her three times, twice in the head and once in the heart, investigators said.
"I would have done anything to get in the way of that bullet," Karen Wilson told jurors Thursday at the start of the penalty phase of the trial. "She didn't deserve such a death."
Armstrong did not testify on his own behalf during the trial.
Caitlin Cash, the friend who found Wilson's body and attempted to perform CPR, told jurors she had texted Wilson's mother earlier in the day with a photo of her starting a bike ride with a note: "Your daughter is in good hands here in Austin. »
"I felt a lot of guilt about not being able to protect her," Cash said. "I fought for her with everything I had."
Armstrong's younger sister, Christine, had told jurors that her older sister "is not a bad person" and that "she always cared about other people."
Kaitlin Armstrong's Jeep was seen near the apartment where Wilson was staying at the time she was shot, and bullet casings found near Wilson's body matched a gun owned by Armstrong. Armstrong briefly encountered police before selling his vehicle and using his sister's passport to travel to Costa Rica.
There, she spent more than $6,000 to get a nose job and changed the color and style of her hair to evade authorities before being arrested at a beachfront hostel, investigators said.
Armstrong again tried to evade authorities during an Oct. 11 medical appointment outside the prison. She faces another charge of felony escape.
Gn En usa
Not all news on the site expresses the point of view of the site, but we transmit this news automatically and translate it through programmatic technology on the site and not from a human editor.