Judge allows Alex Murdaugh's financial crimes as evidence in murder trial, a landslide victory for the prosecution
At a pivotal moment in the double murder trial of Alex Murdaugh, a South Carolina judge ruled on Monday that he would allow the financial crimes allegedly perpetrated by the once powerful attorney to be admitted into evidence for the jury to hear.
The move comes after Circuit Court Judge Clifton Newman received testimony from multiple witnesses, including former colleagues at Murdaugh's law firm and banking associates, without the presence of the jury so he could decide on the relevance of the allegations.
Murdaugh, 54, is charged with fatally shooting his wife, Margaret, 52, and their youngest son, Paul, 22, on the evening of June 7, 2021. State prosecutors say the murders were committed to cover up a slew of financial misdeeds by Murdaugh, who they say stole an estimated $8.5 million from more than a dozen victims and sought to elicit sympathy before being publicly exposed.
"I conclude that the jury is entitled to consider whether Mr. Murdaugh's apparent desperation due to his dire financial situation and the threat of exposure for committing the crimes with which he was later charged resulted in the commission alleged crimes," Newman said. "Although motive is not a necessary element, the state must prove malice and evidence of motive can be used to prove it."
Murdaugh's defense team opposed the judge's decision. His lawyers have previously said in court that his finances are only used to defame him and that the state has provided no evidence showing Murdaugh reaped a financial windfall from the deaths of his wife and son, as a life insurance payment, nor that they were aware of an alleged impropriety, which he was trying to cover up by killing them.
"They have a lot more evidence of financial misconduct than evidence of guilt in a murder case. And that's what this is about," defense attorney Jim Griffin said Friday.
Newman said last week that it was the defense that "opened the door" to scrutiny of Murdaugh's financial situation when they questioned witnesses on the stand about his character and whether there was any why they could think that Murdaugh would kill his wife. and son.
"Evidence of other crimes or wrongdoing is required if it is an essential part of the crimes being tried," Newman said.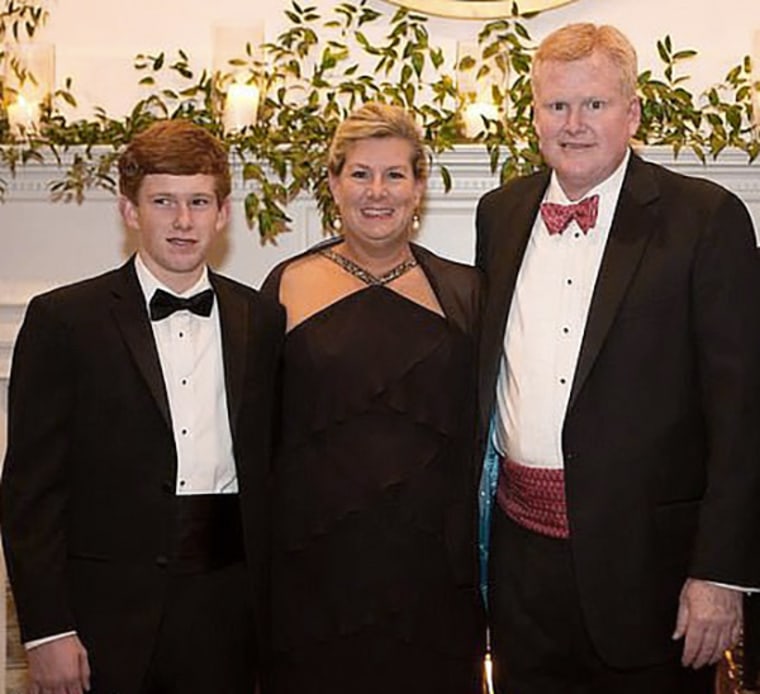 The trial, now in its third week, has drawn attention as a sprawling saga that began as an unsolved double homicide in 2021 but eventually escalated into broader allegations of financial fraud, conspiracy of hitman and drug addiction, and relaunched the review of other deaths. related to the Murdaughs, a prominent legal family in the Lowcountry of South Carolina.
At the time of his death, Paul Murdaugh was awaiting trial on three counts of boating under the influence in a 2019 boating accident in which a 19-year-old occupant was killed. Prosecutors say the case only brought more attention to the Murdaughs and put financial pressure on Murdaugh as the family faced a wrongful death lawsuit.
Dennis Bolt, a retired attorney from Columbia, South Carolina, who is not affiliated with the case but has previously been involved in cases with members of Murdaugh's defense team, said the The judge's decision gives the prosecution a clear advantage "because it allows the state to try to prove that if you are a thief, you are ipso facto a murderer."
But Bolt said he does not believe the financial evidence presented so far is proof that Murdaugh committed the murders.
If Murdaugh is found guilty, however, the defense could cite the judge's ruling as grounds for appeal.
"It's interesting for me to think about how the prosecution will use it in their closing argument," Bolt said of the financial crime allegations. "They can't discuss anything that isn't evidence or law. Since there's no evidence factually linking the financial wrongdoing to the murders, what will they tell the jury?"
A sprawling saga surrounds Alex Murdaugh
Chief prosecutor Creighton Waters said he plans to start presenting the alleged financial misconduct to the jury from Tuesday.
Among those who testified on Monday was Muschelle Smith, a carer for Murdaugh's mother, Elizabeth. Murdaugh said he visited his sick mother the night of the murders as part of his alibi.
Smith said Murdaugh stayed for about 20 minutes, but a few days after the murders she said Murdaugh visited his mother for about 30 to 40 minutes.
On cross-examination, Griffin established for the defense that Smith saw no evidence of blood when he visited his mother.
nbcnews
Not all news on the site expresses the point of view of the site, but we transmit this news automatically and translate it through programmatic technology on the site and not from a human editor.