Is a Florida pastor charged with fraud by pretending to be sick to avoid jail?
The mystery over the health of a Florida pastor accused in a Covid relief scam has deepened after a court-ordered psychiatrist prepared a report suggesting he may be faking some of his symptoms.
The pastor, Evan Edwards, has been hospitalized since December, when he and his son were arrested for fraudulently obtaining $8 million in pandemic loans for a bogus ministry.
A judge ordered a psychiatrist to examine Edwards, 64, after he refused to attend his first court appearance and mumbled incoherently during another. But the psychiatrist, Dr Ryan Hall, was unable to shed light on the pastor's health.
Edwards was "unable or unwilling" to engage with the psychiatrist, Magistrate Judge Leslie Hoffman Price said during a Jan. 26 court hearing, according to a transcript obtained by NBC News.
Hall ultimately determined that Edwards was unfit to stand trial. But the judge said there were questions about whether the accused fraudster was faking illness.
"I know there is a suggestion of potential simulation in some aspects, but there are medical issues that are completely verifiable," Price said.
The judge gave no further details as details of Edwards' health issues, as well as Hall's report, are still under seal. Hall came to the conclusion that Edwards was incompetent after spending just 15 minutes with him.
Hall was "unable to determine if it's a medical issue or if it's a mental issue or a combination of the same," Price said.
Edwards' court-appointed attorney Brian Phillips told the judge he thought the report was inconsistent and raised more questions than answers. He said he believed the matter should be resolved at a jurisdictional hearing.
"I can't take Dr. Hall's report at face value," Phillips added.
The judge then raised the question of how to proceed with a detention hearing with Edwards' mental fitness in question. She asked Phillips if he was able to communicate with his client.
"In the most limited way, your honor," Phillips replied.
He said Edwards communicated only through "monosyllabic responses or gestures to simple binary questions".
"I am able to discern from this that he would prefer not to be handcuffed, ankle and wrist, to the hospital bed he has been in since December," Phillips said. "That I am certain of."
A jurisdictional hearing is scheduled to take place later this month.
Phillips did not return a request for comment.
Edwards was in a wheelchair when federal agents arrested him and his son, Josh, 30, at their New Smyrna Beach home, where his wife and daughter also lived. They each face up to 30 years in prison if convicted of conspiracy to commit bank fraud.
During the initial court appearance, a lawyer for Josh Edwards told the judge that he was having trouble communicating with his client, prompting the judge to ask a series of basic questions, including "Do you evil?"
Josh Edwards didn't say a word and the judge ordered a psychiatric examination.
But then a prosecutor stepped in, noting that the officers who arrested him earlier in the day said he "spoke to them and responded to them very well."
If the Edwards were faking illness or exaggerating symptoms, it wouldn't be the first time accused felons have done so to avoid jail time.
In perhaps the most famous case, mobster Vincent "The Chin" Gigante delayed his racketeering trial for years by acting strangely – a move that earned him a second nickname, "Oddfather".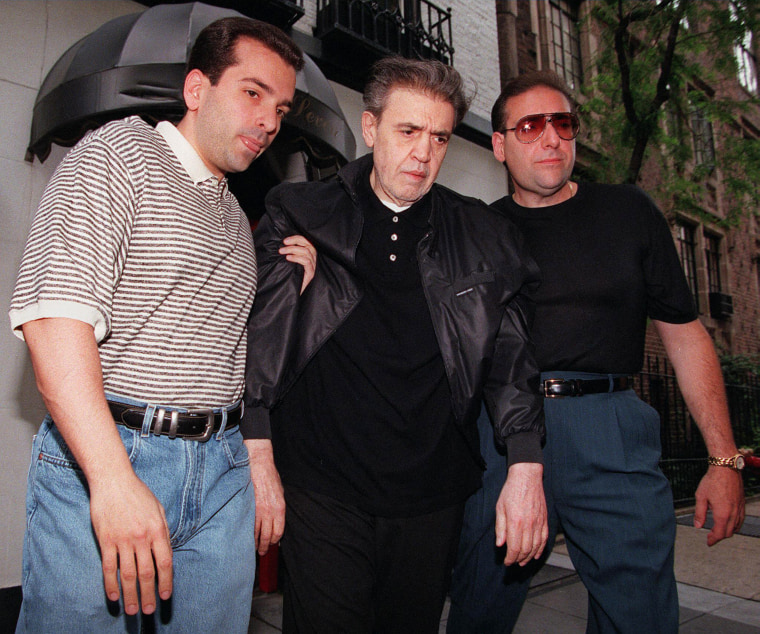 The arrest of Edwards and his son came more than two years after federal agents showed up at the home to conduct a search.
Later that day in September 2020, Florida police stopped the family's Mercedes SUV as it traveled north on a central Florida highway, about 150 miles from the family's home, according to a police report.
Evan Edwards, sitting in the front passenger seat, had a laser printer in his lap. In a rear passenger seat, next to his wife and daughter, were two clear trash bags filled with shredded documents, according to the civil forfeiture complaint.
The family's personal electronics were stuffed into a Faraday bag, which blocks radio frequencies to prevent the devices from being tracked.
There were also suitcases full of financial records, two other Faraday bags with laptops and tablets inside, a paper shredder and several backpacks containing external hard drives and USB drives, according to the complaint.
The Edwards were taken into custody but released the following day.
The case involves a $6 million Paycheck Protection Program loan application filed by Josh Edwards to cover payroll, rent and utilities for his family's religious organization, ASLAN International Ministry. .
The documents said ASLAN had 486 employees and a monthly payroll of $2.7 million. ASLAN International was eventually approved for an $8.4 million loan.
But federal investigators later found that his offices had been abandoned, his website donation links disabled and his salary expenses and income "significantly lower or completely non-existent," according to a civil forfeiture complaint.
The family had tried to use the money to buy a $3.7 million, 4,700 square foot home in a new Disney World development called Golden Oaks, prosecutors say.
But the case never came to fruition. Authorities seized the $868,000 that had been set aside for the down payment.
In court late last month, a prosecutor said the government believed Edwards posed a serious flight risk and would oppose his home release.
'This is a difficult situation and a set of facts, but there is a history of running away, and the family was involved in this – the same family who would be caring for him,' the judge told Assistant U.S. Attorney Kara Wick, according to the transcript.
The U.S. Marshals Service worked with Orange County officials to find a local correctional facility that could accommodate Edwards given his complex medical issues.
He was released from hospital in December, but all detention centers in the area refused to house him, prosecutors said in a February 3 filing.
According to an Orange County jail health official, Edwards requires "total daily care," consisting of "attendance at least hourly or every two hours; and assistance with daily living tasks, including a feeding tube," the filing reads.
While a South Carolina facility agreed to put Edwards on a special program, his attorney said he believed the best option was for him to return home to be cared for by his family.
"According to the defendant's family, the family has been formed to care for him at home due to his medical conditions which came to light last summer," Phillips wrote in the filing.
The response from the U.S. Attorney's Office for the Central District of Florida was unambiguous.
"The government's position is that surrender to the family of the accused is inappropriate," prosecutors wrote.
nbcnews
Not all news on the site expresses the point of view of the site, but we transmit this news automatically and translate it through programmatic technology on the site and not from a human editor.