Inspired by their mother, these sisters share the same dream. The Taliban broke it for one of them
Inspired by their mother, Afghan sisters Sadaf and Zolheja dream of becoming businesswomen. But for now, only Sadaf seems ready to realize this ambition, while Zolheja has been thwarted by the Taliban's ban on women from attending universities.
"It seems like I have to bury all my goals," Zolheja, 19, told NBC News via WhatsApp from her home in the Afghan capital Kabul earlier this year, adding that she had been forced to give up her business management courses after the ban came into effect last month. (NBC News has verified the sisters' identities but agreed not to use their last names because they fear retaliation from the Taliban.)
She said she now spends her days "thinking, crying, searching and trying to apply for scholarships for the chance to go study somewhere else".
"I'll go anywhere," she said.
Her older sister, Sadaf, 21, said she was evacuated from Afghanistan in August 2021, shortly after the Taliban seized power. She added that she was eligible to emigrate to the United States because of her work in an education-focused non-governmental organization and is currently studying business management on a scholarship at the University of Tulsa. in Oklahoma.
"I had to do this, I had to come here to support my family," she said.
Although the Taliban initially promised more moderate rule and pledged to respect the rights of women and minorities, they have implemented their strict interpretation of Islamic law, or Sharia, since taking control. . As a result, the country has become the most repressive in the world for women and girls, deprived of many of their basic rights, the United Nations said on Wednesday.
Women were barred from most fields of employment, ordered to wear head-to-toe clothing in public, and barred from using parks and gymnasiums. After banning girls from middle school and high school last spring, the Taliban began imposing a ban on women from higher education in December by blocking their access to universities.
Zolheja said she found out about the ban when she arrived at her university and was barred from entering, along with many other female students.
"The day they announced the ban I felt like they killed us," she said. "We are humans, we have to live as we want, not as the Taliban want us to live."
Her mother was particularly sad for her as her own dreams were dashed after the Taliban implemented a ban on female education after they came to power in 1996, she said.
"She's been through this before and knows how much it hurts," Zolheja said.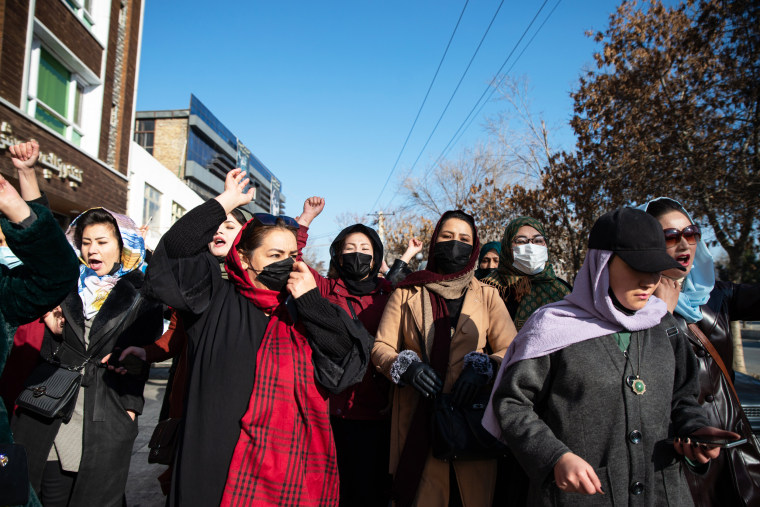 Sadaf added that their mother wanted to go back to school after the US-led invasion in 2001, prompted by the Taliban's refusal to hand over Osama bin Laden, the leader of al-Qaeda and the mastermind of the terrorist attacks in the September 11th.
At the time, access to education became available to women across the country but, Sadaf said, she was unable to obtain documents proving that she had already completed the majority of her studies and didn't want to start over.
Instead, Sadaf said, their mother stayed home and took on the chores "just so we could focus on our studies."
Their father was also supportive of their educational efforts, she said, adding that he didn't want them to be "women who are just inside the house, cooking and cleaning."
"I'm so grateful to have parents like them," she said.
That support didn't wane after the Taliban took over, and after some emotional family conversations, they decided it was best for her to leave the country with the help of her NGO.
"I was just trying to get away from Afghanistan," she said, adding that their goodbye was rushed as she embarked on what would be her first trip outside the country from Afghanistan International Airport. Kabul.
Through tears, her mother told her to "stay safe", Sadaf said, crying as she remembered their separation.
She added that she called her mother from the plane and told her: "I'm flying".
After landing in Qatar, she flew to Ramstein Air Base in southwestern Germany, before heading to Washington, DC. From there she went to Texas and then to a camp in New Mexico where she stayed for nearly two months. Finally, she says, she headed to her new home in Tulsa, where she knew people affiliated with the NGO she was working with in Afghanistan. (A US official with knowledge of Sadaf's trip confirmed this to NBC News.)
His first real home in the United States was a dormitory at the University of Tulsa, which had started a support program for fleeing Afghans. A job as a case manager and interpreter at a resettlement agency soon followed, before she was accepted to college on a full scholarship.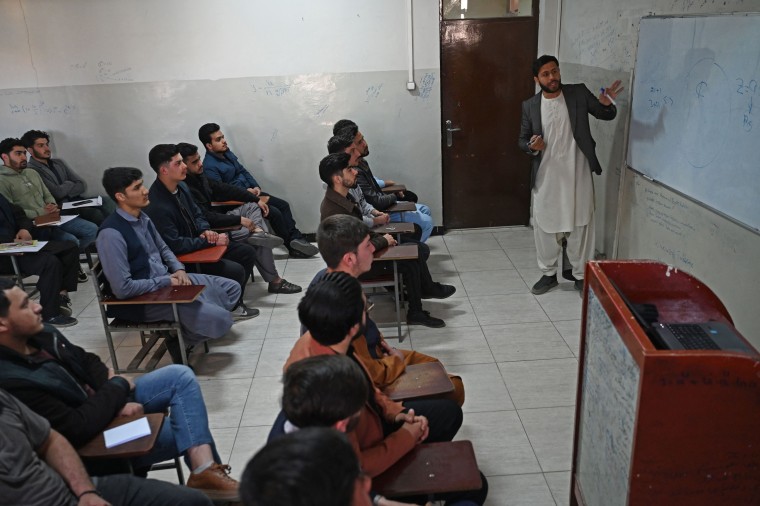 Sadaf said she had missed "everything" about her homeland, especially her family, and adjusting to life in Oklahoma had been difficult. But while studying English, she got a 4.0 GPA her first semester.
Currently in the United States on humanitarian parole, she said she is seeking asylum and hopes to apply for a green card. Eventually, she said, she hopes to bring her family to the United States and there are several ways to do this, including the new Welcome Corps program, launched by the State Department last month, which will allow American citizens deprived of sponsoring refugees.
Back in Afghanistan, the ban on female education remains in place despite international condemnation from Western countries, as well as harsher Muslim-majority nations. Along with Turkey, Qatar and Pakistan, Saudi Arabia – which until 2019 applied sweeping restrictions on travel, employment and other crucial aspects of their daily lives, including women's driving – has urged the Taliban to change course.
The ban has also sparked several protests in Afghanistan, where just over 100,000 of the country's 20 million women were enrolled in higher education in 2021, according to data collected by the country's education ministry and released. by its National Statistics and Information Authority in May.
So far, the Taliban has shown few signs of reversing the policy, along with a separate ban on Afghan women working in non-governmental organizations which they also introduced last month. The group claimed that female workers did not wear the Islamic headscarf properly.
Several senior Taliban officials declined to comment when asked if they would restore education for women and girls. They also declined to say whether women and girls would be allowed to work for NGOs.
While some Western institutions are holding virtual classes for Afghan students, in 2020 only 18% of Afghans had internet access, according to the latest data available from the World Bank.
As a result, Zolheja said she felt like "a bird in a cage that wants to fly but can't", adding, "I feel like I have no reason to live and no good future to look forward to. ."
While Sadaf's future looks much brighter, she remains saddened by the fate of her sister and that of other women in her homeland.
The sisters chat by text when they can – but Sadaf said when she's alone, thoughts flood her mind about the future of her family, especially Zolheja's.
"Staying at home and doing nothing bothers me and my sister a lot," she said. "I can't do anything for her, that's what saddens me."
nbcnews
Not all news on the site expresses the point of view of the site, but we transmit this news automatically and translate it through programmatic technology on the site and not from a human editor.