Inside the Hilton Park Lane – a photo essay | UK News
HWelcoming more than 200,000 guests a year, the Hilton Park Lane hotel is one of London's landmarks. It was here in 1967 that the Beatles met their guru, Maharishi Mahesh Yogi. A decade later, two people lost their lives and many more were injured when the Hilton was rocked by an IRA bomb, and in 2012 the International Olympic Committee set up shop there during the London Games . The first skyscraper hotel to be built in the capital, it will celebrate its eventful 60th anniversary next April.
Behind the £1,500-a-night rooms and lavish banquets is a small army of staff who keep the vast operation going.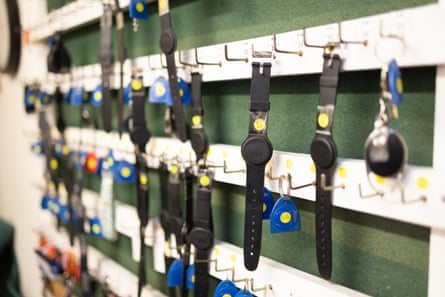 Each morning, the operation springs into action with a meeting between Hilton's senior executives, chaired by Matthew Mullan, the general manager. They start with updates on the number of guests staying, discuss any issues, and share feedback.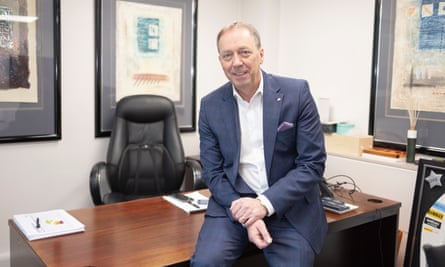 Mullan has worked at Hilton for nearly 35 years, having helped manage hotels around the world, including Egypt, Barbados, Malta and Abu Dhabi. But he got into the hotel business completely by chance. "It was an accident more than anything," Mullan says. "I had no idea what I wanted to do, but I started working in the food industry and then joined the company as a trainee manager. And I really enjoyed that. »
One particular memory that stands out for Mullan is hosting a US presidential visit to Belfast. "It was Bill Clinton's last international trip before he left office," he recalls. "He just carries this fabulous aura around him, and when he walked into the hotel lobby, the whole place went silent."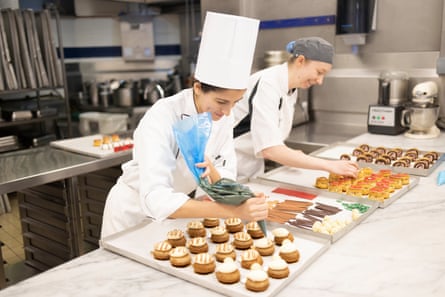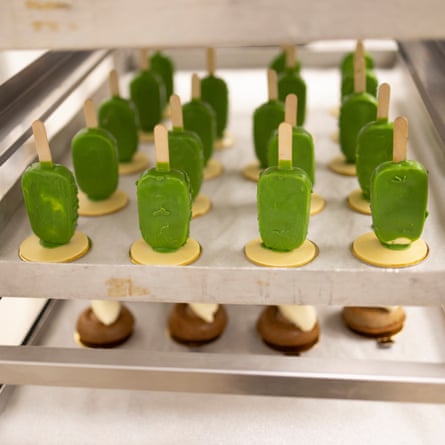 While there, Clinton was specific about what he wanted for dessert. "Clinton wanted blueberry cheesecake, so we went over and over and every day it was replaced."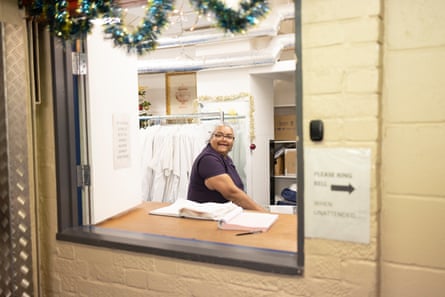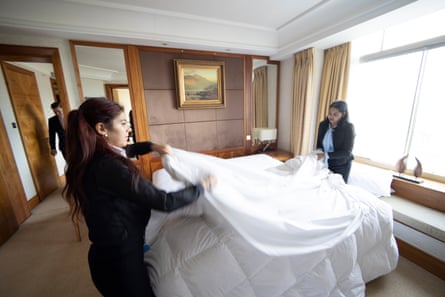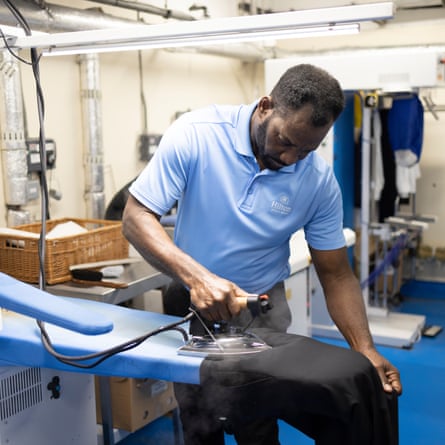 Natalila Brodiak has worked in events at the Hilton for over a year, alongside her daughter-in-law, also known as Natalila. Having left Ukraine for the UK in 2000, Brodiak still has family at home she supports, including her parents and eldest son. On her uniform, she wears a pin of the Ukrainian flag. "I'm proud of my country and wear this pin as a sign of support," Brodiak said. "It is very important for me."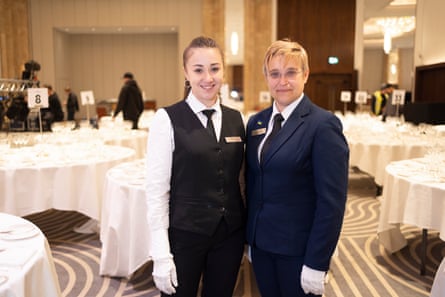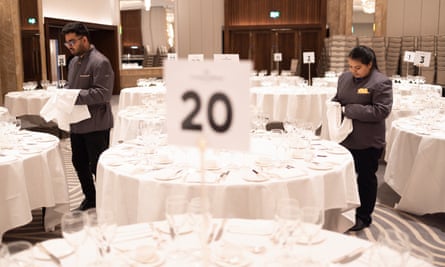 Filipe Seabra is also part of the events team. At 79, he is one of Hilton's longest-serving staff, having worked at the hotel since 1967. Born in Portugal, Seabra moved to the UK in the 1960s and began his career at the Four Hotel of the seasons. "It's my life. Here, Hilton is my life. The company, the people I work with, that's what I love," says Seabra. I've met, and it's really a team effort to make sure everything runs smoothly."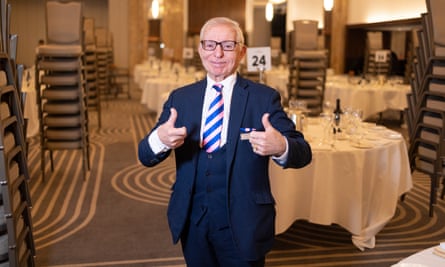 Roy Firth, who was a doorman here for about 11 years, says the highlights for him are the people he has met and worked with.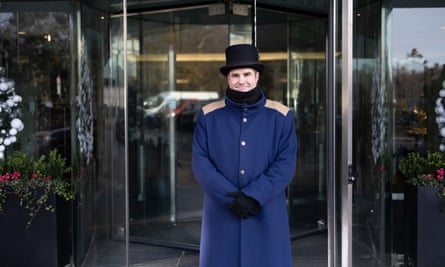 "I don't think I could have had such amazing experiences anywhere else," says Firth. "Moments in my career, like meeting the Dalai Lama, welcoming the Olympic committee and celebrating the Diamond and Platinum Jubilee. I feel truly blessed to have shared that.
"Our hotel has such a rich history and I am extremely proud to be a part of it. Having so many positive experiences with everyone I have met from all walks of life is an incredible bonus.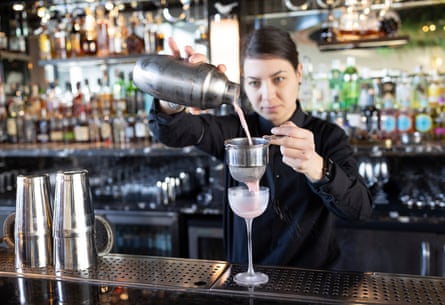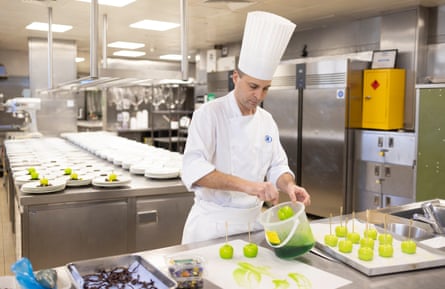 On the 28th floor, the Galvin at Windows restaurant offers panoramic views of the London skyline. Its managing director, Peter Avis, began his hospitality career as a dishwasher in Miami aged just 17, after moving to the United States from his hometown of Liverpool.
"I had no formal education, and my school told me I had to get a council job and sweep the streets," Avis said. "But when I was 17, my sister got a modeling contract in Miami, and I got a chance to date her for three weeks and decided to stay there."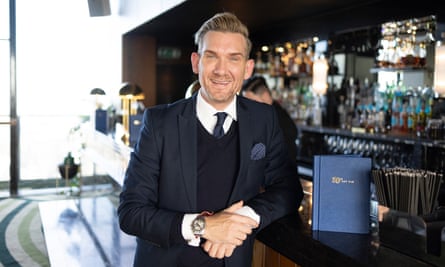 From there, Avis worked in a range of hotels and restaurants before taking up his role at Windows in 2020. His biggest challenge since then has been the current staff shortage – experienced hospitality workers have been in short supply since european workers went home during coronavirus. pandemic and have been discouraged from returning by Brexit.
"There's a hole in the workforce and there's a recruitment crisis in the hospitality industry," says Avis. "But we've developed opportunities to bring in young people who might not have had the chance to work in our industry, like people with disabilities, not because it's the right thing to do, but because it's the right thing to do. "

theguardian Gt
Not all news on the site expresses the point of view of the site, but we transmit this news automatically and translate it through programmatic technology on the site and not from a human editor.