I have no hands or feet, but I can fly
I was born a quadruple amputee, which means I'm missing my hands and feet. I am also adopted and have 18 siblings. My mother has an orphanage in Monrovia, Liberia, but I am Nigerian. Growing up, I had to adapt very quickly to my environment.
My mom told me that I didn't realize I was missing my hands and feet until I was about eight years old. The reason was that I had to keep up with my siblings, whether we were climbing a tree on the farm, whether we were skateboarding, jumping on a trampoline or fighting for the last bit of pizza.
Being a pilot has always been one of my dreams. My mother traveled a lot when I was a child. I remember my dad driving me to the airport and seeing all these big planes flying over Minneapolis. I remember thinking, "Oh my God, I want to do this." My father was also an airplane enthusiast, which inspired me even more to become a pilot.
In my senior year, when I told people I wanted to be a pilot, they said things like, "Zack, that's a bit extreme for your condition, why don't you do something a bit safer?" My counselor at school advised me to go to law school instead, but I refused. I'm a little stubborn sometimes, which can be good for me.
In 2017, I applied to five flight schools and received an acceptance letter from one of them. Of course, I was filled with joy and excitement. I was raised in Wisconsin, but following my acceptance letter, I moved all the way to Oklahoma in early 2018 for flight school.
But I faced many challenges. I failed my medical examination five times because I am a quadruple amputee. This is where my stubbornness came into play, of course, with the help of God and my parents to get me through this struggle.
I needed an opportunity to show people that I could learn to fly a plane. After the Federal Aviation Administration (FAA) turned me down five times, I kept calling them, to the point where the receptionist at the front desk, who speaks to hundreds of people a day, said, "Is this Zack ?"
She was shocked that I wasn't giving up, and because of that, I finally had the opportunity to take what we call a SODA – a statement of demonstrated ability – which meant I had to do something different from normal. for pilots.
Normally a pilot would see an aviation doctor and get a medical license, but I had to fly to Tulsa, do three hours of training, then go to Oklahoma City and fly with an FAA Designated Airman just to get my medical license.
That day, I was very nervous. I remember thinking, "Okay, well, that's it." If I failed the SODA, I could no longer become a pilot. But I was hopeful because after five rejections, heartaches and courage, I finally had the opportunity to show people what I could do.
Fortunately, I passed my SODA. I remember being told: "Congratulations, you can learn to fly!" I was so happy.
That day, some FAA employers asked me what would be my toughest challenge as a pilot. I said, "Put on a tie," and then their jaws dropped. But I was just being honest. I don't know anything different from what I have right now.
To put it lightly, if I were to wake up with hands and feet tomorrow morning, I would freak out; I don't know what to do.
Once I started flight school, I was finally working on the plane and achieving my dream. But I still had challenges because I had to figure out how to get the plane to work properly. There are lots of radios on an airplane, along with buttons and switches. We also have rudder pedals and brakes that are on the floor of the aircraft. So I had to adjust my position to a specific position and had to use a seat cushion to get closer to the controls.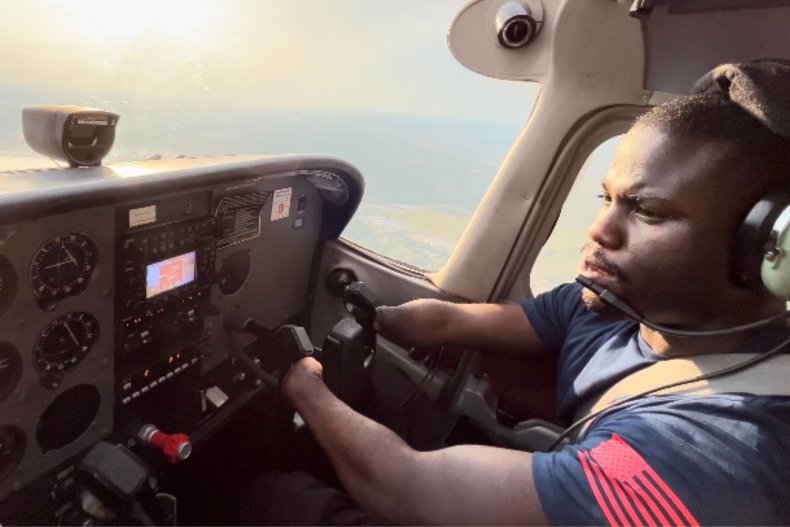 My instructor, the chief pilot of the flight school I work for, is a very good guy. He was patient with me and told me that we would make my dream possible.
In 2019, I was named the world's first commercial quadruple amputee pilot. It was such an honor and a real privilege. I'm just happy to be able to break that barrier for the next person.
I now send people to take their SODA tests. A gentleman from California had lost his arm and the FAA contacted me and asked if I could help him prepare for his test, and now he's a pilot.
It's cool that I can educate people and help them achieve their dreams.
I'm happy to be able to give back because I had a lot of people in my corner who helped me along my journey. It was a long process, but it was definitely worth it. I'm glad I continued. I am very grateful for the gift of perseverance.
Zachary Anglin is a professional pilot and flight instructor.
All opinions expressed in this article are those of the author.
As told to Newsweek associate editor Carine Harb.
Do you have a unique experience or a personal story to share? Email the My Turn team at myturn@newsweek.com
newsweek
Not all news on the site expresses the point of view of the site, but we transmit this news automatically and translate it through programmatic technology on the site and not from a human editor.