"I fell in love at first sight – 4 days after the start of the meeting, I proposed"
In 1996 I started flying for an Icelandic airline as a co-pilot, and in 1997 a woman named Sigga Nanna started working there as a flight attendant.
His father was a pilot, and I had flown with him before, he was a very nice guy, but he had never told me about his daughter, Sigga. He was very interested in Icelandic nature, so he always told me about the country and the names of the mountains.
The first time I saw Sigga, something clicked in my heart. I just knew it was her. I felt it in my stomach, but I didn't say anything at first. I think the fact that I knew her father personally attracted me even more to her.
A few months later, towards the end of 1997, we were flying with the domestic part of the airline, in Iceland, and since we were a small group of people, I decided to organize a small party with fifty of our colleagues in my apartment . Of course, I invited Sigga, and after the party we all visited the local pub. As we walked around town together, I felt people turn their heads, not to look at me, but at Sigga. I thought it wasn't just me who thought she was very beautiful, it was everyone else too.
The next day I asked her out for the first time and she said no. I felt like it was a big miss for me, but I kept trying. I found out later that she didn't want a relationship at the time.
Three months later, in January 1998, I decided to throw another party and invited Sigga. I didn't want to give up because I was in love with her. Again, we all went to a bar afterwards and I asked Sigga to come home with me, and to my surprise she agreed. We chatted and got to know each other better that night. The following Monday, I asked her about our first date, and she said yes.
This whole week has been very memorable for us. On Tuesday I picked her up at noon and we went to the same bar and had a few drinks. At the time, I really liked Jean-Paul Gaultier's Classique women's perfume, it was very popular then. I asked her if she owned a bottle, and she said no. So we went to a store and I bought him one. She thought that was very nice. We then went to a bookstore, and I bought her a magazine with memorabilia of Princess Diana, who had died a few months earlier. We ended our evening by going to a swimming pool. There are many natural pools in Iceland because we have thermal water that comes from the ground.
We talked a lot that week, and the following Saturday, January 31, four days after our first date, I took Sigga to dinner and returned to my apartment. As we were talking in my living room, I felt at that moment that I had to propose to her. It was neither premeditated nor prepared, but I asked her if she wanted to marry me on July 18 of that year., because it was my mother's birthday, a moment of celebration.
That moment was very special to me, in fact everything about meeting Sigga was special. And she said yes, which was very exciting. I considered myself very lucky. Then, two days after the proposal, we officially got engaged in Dublin where I had flown a plane for his painting. Sigga was one of only two passengers on board, along with the captain's wife.
She knew we both had five months to reconsider that decision, which didn't put too much pressure on us. Her parents were divorcing at this time after being together for 30 years, so we figured divorce could happen to anyone at any time, whether you've been married for just 30 or just 30 years. There's no guarantee anything will really last, but we both felt like everything was fine.
However, we both had times when we thought logically and realized that we didn't really know each other. Looking back, we didn't know each other as well as we would have liked. But we bought an apartment together in April 1998, two months before the wedding. I left for work two weeks a month before our wedding, so Sigga sent out all the invitations. Of course, we were scared, but we never thought of canceling it. I was always certain it was meant to be.
On our wedding day, I thought she was the most beautiful bride ever. I was standing with my dad and we were both smiling because the whole day was beautiful and everyone was very happy. Sigga's mother, Ingibjorg, who is an opera singer, even sang a song in the church. Once we were pronounced husband and wife, we hugged and I started laughing because I was so nervous. That night when we got home, I remember crying because I was so happy to have married her.
Sigga and I have been married for over 24 years. Life naturally has its bumpy roads and sometimes things don't always go to plan, but over the years I have continued to see the shining qualities of Sigga. She's an amazing mother. When we met, she already had a child, who was five years old, and in total we have four children now. Three of our daughters are also flight attendants with the same airline as Sigga and me.
I have seen Sigga teach our children how to be responsible, how to take care of themselves, and most importantly how to be loving human beings. This is what attracts me even more to her. Marriage is healthy because she is my best friend. I admire her because she is a hard worker and inspires those around her to put effort into everything they do.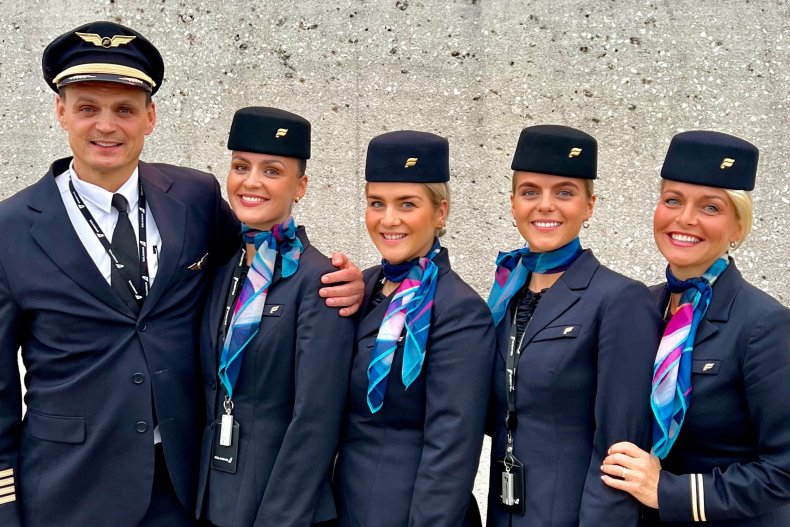 I spend a lot of time at home with my wife and children. I love being a family man. Quality time is important and family always comes first for me. Sigga and I share similar values, and that's why we work so well. We apply them in our marriage and with our children.
Sigga has been a rock to me because she has always been consistent and patient. We are very open with each other and we talk about everything. I witnessed this from his mother's side. It's very comforting because you know exactly what the person is thinking because they are expressing it, so I always know where they are and they are by my side.
Ingvar Jonsson is a pilot with IcelandAir and his wife, Sigga Nanna, is a flight attendant. Their entire family now works as cabin crew on many flights. You can find him and Sigga on Instagram at @ingvarjonsson41 and @siggananna.

All opinions expressed in this article are those of the author.
As told to Carine Harb.
newsweek
Not all news on the site expresses the point of view of the site, but we transmit this news automatically and translate it through programmatic technology on the site and not from a human editor.