Director, producer and activist Henry Martin, who died aged 70 after a long illness, created groundbreaking work depicting black British life, highlighting structural inequality and racism, but also creativity effervescence and shared experiences that have enabled black communities to thrive.
Martin began his career with the independent production company Kuumba Black Arts, which he founded with Menelik Shabazz and Imruh Bakari in the late 1970s. In Grove Carnival, a short documentary broadcast by Channel 4 in 1981, he captured the unique creative expressions of the Caribbean immigrant community in Ladbroke Grove, west London, allowing viewers to experience the intensity of its steel-pan bands and costumed masquerades, as well as the character multicultural carnival audience.
Carnival and Ladbroke Grove were also the backdrop for Channel 4's feature-length documentary Grove Music, broadcast the same year, which gave viewers an intimate glimpse into the close-knit nature of the community. The film included testimony from older Caribbean expatriates and young, first-generation black Britons, as well as invigorating performances from Aswad, Sons of Jah and Brimstone, interspersed with contextual commentary from band members and a band rehearsal band in love with Black Harmony.
Clips of archival footage underscored that the prejudice against the community ran deep. Martin said Grove Music was the film he was most proud of, due to the initial accounts provided by Ladbroke Grove residents, which revealed the hostility they frequently faced.
Martin's 1987 television drama Big George Is Dead featured Norman Beaton and Rudolph Walker as old friends reconnecting after a funeral through a night in Soho, revealing various challenges faced by Caribbean immigrants, as well as the regrets of the aging protagonists. Channel 4 commissioned the film before its script was written, and after hiring Michael Abbensetts, who had worked on the popular Empire Road TV series, Martin chose Beaton and Walker, who welcomed the opportunity to play roles free from the stereotypes they often were. battling.
With Guyanese blues singer Ram John Holder and Jamaican singer Count Prince Miller in minor roles, Big George Is Dead offered a nuanced portrait of the intergenerational tensions experienced by Caribbean migrants in Britain, as well as the opportunities inevitably left untapped in an unfriendly environment. host country.
Born in Lewisham, south-east London, to Trinidadian parents, Vida, a secretary, and Claude Martin, a civil servant, Henry moved to Trinidad as a child and grew up in Woodbrook, a bustling area in the west of Port of Spain, then at the heart of the island's creative arts scene. Growing up across from the Little Carib Theater exposed Martin to the work of notable Caribbean artists, including St. Lucian poet and playwright Derek Walcott, who held weekly theater workshops there. Martin went to St Mary's School, and its proximity to the home of the Invaders steel-framed orchestra also anchored him in local street culture.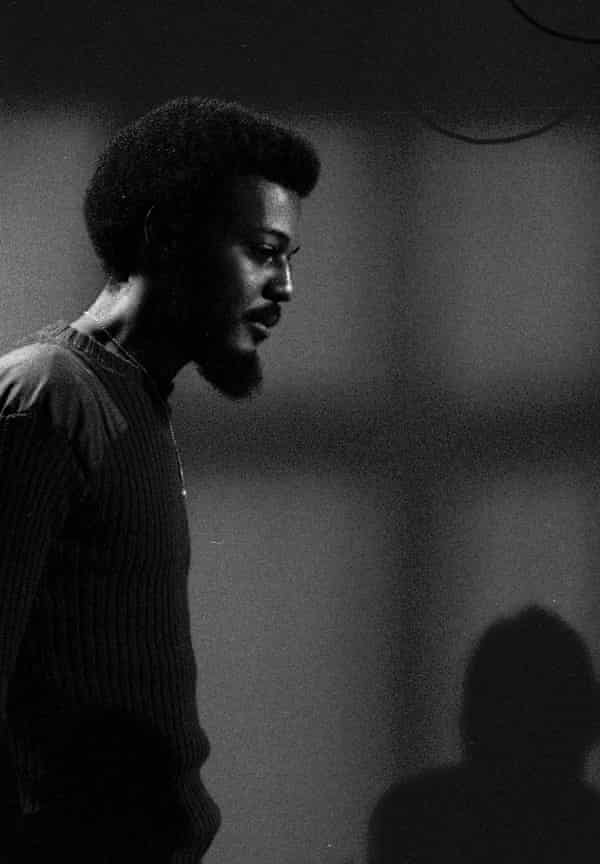 He returned to London in the early 1970s and studied at West Surrey School of Art and Design, Farnham. At that time he was a committed Pan-Africanist and anti-colonialist and found similar sentiments in Shabazz and Bakari. Kuumba Black Arts produced Shabazz's 1977 debut, Step Forward Youth, challenging the negative stereotypes faced by young black Britons, and a later Kuumba production, Blood Ah Go Run, documented the deplorable failures of the state and the damaging atmosphere exposed as a result of the New Cross fire. 1981, which resulted in the deaths of 13 black youths at a house party in south-east London.
Shabazz and Bakari then launched the Ceddo collective, with support from Channel 4 and other funding bodies, to nurture aspiring black filmmakers. Although Martin was never officially a member, he would later collaborate with Ceddo as a producer and mentor.
Maintaining a strong working relationship with Channel 4, he contributed to the educational children's series Everybody Here, presented by poet Michael Rosen, in 1982-83. The same year, Martin produced Grenada – Is Freedom We Making? and produced and directed Trinidad and Tobago – Money is not the issue.
In 1987 Martin produced The Mark of the Hand, Bakari's exploration of the art of Guyanese painter Aubrey Williams, and in 1991 Bakari's Blue Notes and Exiled Voices, about exiled South African jazz musicians who had who called Britain home after fleeing apartheid, including trumpeter Hugh Masekela, pianist Mervyn Africa and band Brotherhood of Breath. This latest film's sensitive portrayal of their debilitating struggles to adapt has made it one of the best documentaries to come out of the Ceddo workshops.
Martin was also the founding force behind Screenwrite, a screenplay development program for black writers launched by Ceddo in 1993 in association with Channel 4 and the British Film Institute, although he later retired from the film industry, frustrated with what he saw as his restrictions.
With his ex-wife, Shirley, he had a son, Kwame, and a daughter, Femi. With his partner, Paula Spencer, he had two sons, Omari and Karim. Paula and her children survive him.

theguardian Gt
Not all news on the site expresses the point of view of the site, but we transmit this news automatically and translate it through programmatic technology on the site and not from a human editor.