First cold snap of autumn next week: frost, snow at low altitude
Temperatures drop next week
After a peak of mildness expected on Sunday where temperatures will be on average 4 degrees above seasonal averages, temperatures will drop by next Thursday to be 4 degrees on average below seasonal averages. We will therefore have lost on average 8 degrees in France. Accustomed to particularly mild temperatures this fall, the transition may be difficult for some of you.
Drop in maximum temperatures between Sunday and Thursday © The Weather Channel

Appearance of the first frosts
This year, as was the case last year, the appearance of the first frosts is particularly late in France. Most cities in France, including in the northeast, have not yet observed any hoar frost this fall. On average, they occur between mid-October and early November in the northern and eastern regions.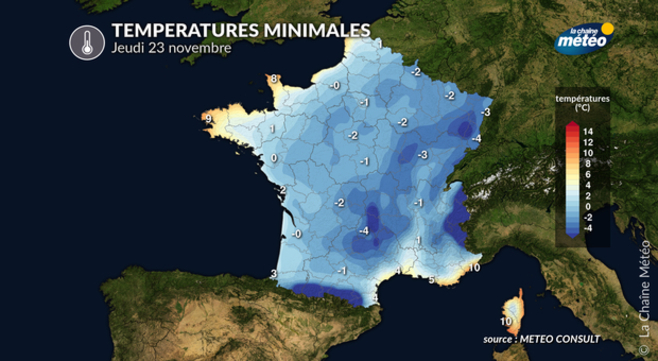 First late frosts this Thursday, November 23 © The Weather Channel

The arrival of polar air from Wednesday with the direction of the wind in the north to north-east sector will favor a sharp drop in night-time temperatures. Frosts will most often be between 0 and -3°C, a classic at this time of year.
A few flakes in the east
The polar air which will rush into the country will be channeled between an anticyclone in the near Atlantic and a low pressure system stretched from Scandinavia to the Mediterranean. In this configuration, the sky looks fairly cloudy. The instability of the air mass will be conducive to the triggering of showers, in the form of showers, or even snow at very low altitude in the northeast.
Reliability still limited over the duration of the cold
According to our thermal indicator, this first cold snap could last 3 to 4 days. However, the reliability regarding the duration and intensity of this first cold snap this fall remains to be refined.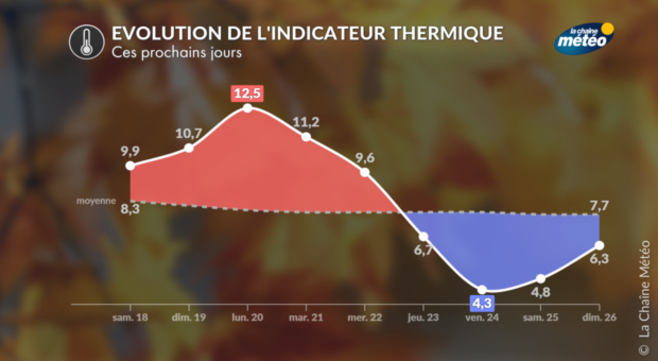 © The Weather Channel

According to certain scenarios, a maritime air mass would quickly manage to regain the upper hand with a west-northwest flow once again bringing more humidity and temperatures close to seasonal norms.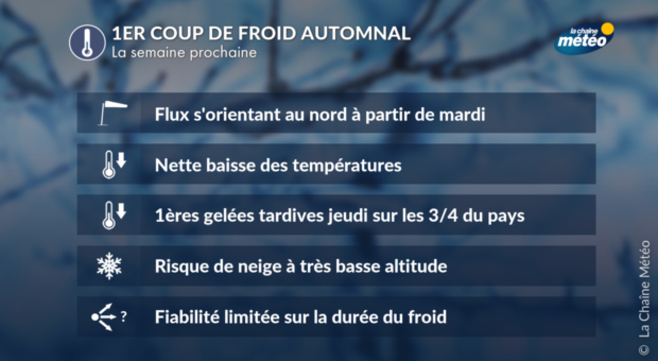 © The Weather Channel

Other scenarios envisage a fairly cold unstable northerly current with air of arctic origin. This would be conducive to showery weather with snow at very low altitudes, or even plains in the northeast. We will therefore have to closely monitor the next updates of our forecasts.
Gn Fr headline
Not all news on the site expresses the point of view of the site, but we transmit this news automatically and translate it through programmatic technology on the site and not from a human editor.