Ukraine has received extensive military and financial aid from the United States and several European countries since Russian President Vladimir Putin's invasion on February 24.
US officials said on October 27 that the Pentagon would send Ukraine a further $275 million package of additional weapons, ammunition and equipment before winter, as Kyiv mounts a counteroffensive to repel Russian forces out of the southern region of Kherson.
But how does the military aid received by Ukraine compare to Russia's overall defense budget?
Requirement
Sergiy Kyslytsya, Ukraine's Ambassador to the United Nations (UN), claimed that the total defense and security assistance provided to Ukraine for its resistance against the Russian invasion amounts to 86% of the budget of defense of Russia for 2022.
"Military aid Ukraine received in 2022 is 14% less than Russia's military budget," he tweeted on Tuesday.
"This and other information by country, including the % of its own military budget given to Ukraine, according to the Institute of World Economy in Kiel as of October 2022. We appreciate every ₴, £, $, € ", he wrote.
Facts
Kyslytsya cited data from a "Ukraine Support Tracker" organized by the Kiel Institute for the World Economy, which provides data through October 3.
According to the tracker, Ukraine has so far received 41.3 billion euros ($40.77 billion) in military assistance, with the majority coming from the United States and European countries.
Russia's defense budget for 2022 is unclear as the Russian government hasn't released much data since May 2022.
In 2021, however, Russia increased its military spending by 2.9%, to $65.9 billion, according to the Stockholm International Peace Research Institute (SIPRI).
If Russia's defense budget remained the same this year, Ukraine's military aid would amount to 61.87% of that figure.
However, Russia's military spending is unlikely to have fallen this year, amid the war in Ukraine, and as Putin has acknowledged that the country does not have enough equipment for its newly mobilized soldiers.
The Jamestown Foundation, a US defense policy think tank, has estimated that the actual amount of Russian defense spending in 2022 could well reach 5.5 trillion rubles ($90.9 billion) by the end of the year, based on data from Budget.gov .ru.
Furthermore, the think tank notes that "turmoil in Russian defense spending" will likely increase in 2023.
"The 2023 budget proposal envisages nearly five trillion rubles ($82.6 billion) for defense and 4.2 trillion rubles ($69.4 billion) for security and law enforcement. , compared to 3.6 trillion rubles ($59.5 billion) and 2.9 trillion rubles ($47.9 billion) previously forecast, respectively," the Jamestown Foundation report said.
decision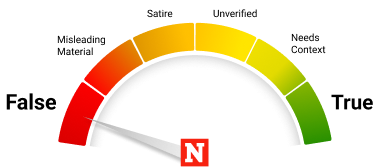 Fake.
The military assistance provided to Ukraine by its allies does not represent 86% of the Russian defense budget.
FACT CHECK BY Newsweek
newsweek
Not all news on the site expresses the point of view of the site, but we transmit this news automatically and translate it through programmatic technology on the site and not from a human editor.