Chinese defense official meets Putin amid arms transfer review
President Vladimir Putin personally met the Chinese defense chief in Moscow on Sunday, a further sign of the deepening military ties between the two countries.
Li Shangfu, whose three-day visit ends on Tuesday, is the first Chinese defense minister to set foot in Moscow since Russia's invasion of Ukraine began nearly 14 months ago. Li was greeted by Putin as well as his Russian counterpart, Sergei Shoigu, according to footage released by the Kremlin.
The 65-year-old's trip comes less than a month after Chinese President Xi Jinping paid an official state visit to Russia in an unmistakable show of political support for Putin, who days earlier had is the subject of an international arrest warrant for alleged war crimes in Ukraine.
In recent months, Western officials have said Beijing is considering supplying offensive weapons to Moscow to help its forces continue the now drawn-out military campaign, but they have seen no evidence of such transfers. Meanwhile, Ukrainian military commanders would increasingly find Chinese parts in captured or abandoned Russian hardware on the battlefields.
In brief remarks with the Russian president, Li conveyed "the warmest greetings and best wishes" from Xi, according to a statement released by the Kremlin on Sunday.
"In recent times, military and military-technical cooperation between Russia and China is developing very well. It makes a major contribution to maintaining global and regional security," he said.
Li was named defense minister last month and spent five years as head of equipment development at China's Central Military Commission. The US government sanctioned him in 2018 for acquiring Russian fighter jets and air defense systems from Rosoboronexport, Russia's state-owned arms exporter.
"I specially chose Russia, in order to emphasize the special nature and strategic importance of our bilateral relations," Li said, telling Putin, "In addition, your personal friendship with the Chinese president plays a major role." in the military-verso-Chinese rapprochement. – military links.
"We have a very strong relationship that goes beyond the military and political alliances of the Cold War era. This relationship is based on the principles of non-alignment and non-confrontation with third parties, and these principles are very stable," he said.
"Under your strategic leadership and that of the Chinese president, we are actively expanding cooperation in practical areas. Our relationship has already entered a new era," Li said.
China's Defense Ministry said last week that Li's April 16-19 visit was at the invitation of Shoigu and that he would also meet with other Russian military leaders.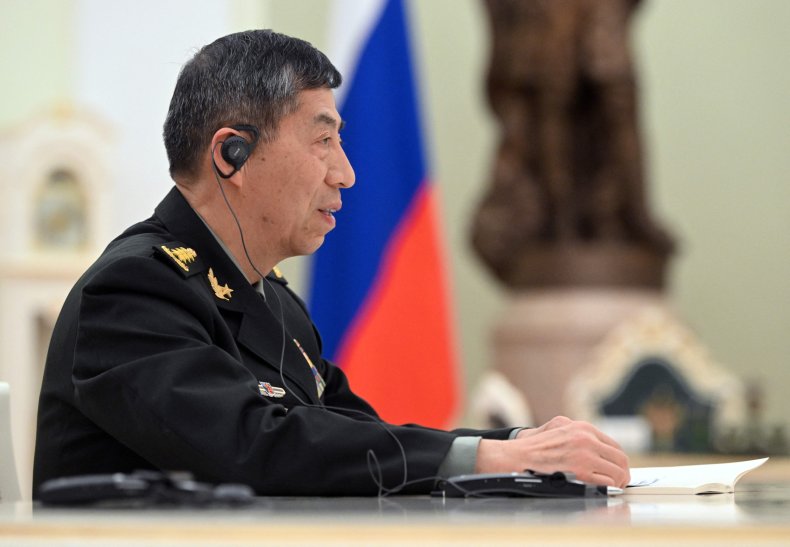 Beijing, ostensibly neutral on the war, refuses to condemn Moscow but has not officially endorsed the Kremlin's war aims either. Xi has not wanted to lean on Putin, whom he sees as his most capable partner in what is a defining rivalry with the West over the future of the international order.
So far, Kiev's own overtures to Beijing have been largely met with silence, but President Volodymyr Zelensky is content to give China the benefit of the doubt, as long as Chinese weapons don't pour onto the fields of Ukrainian battle.
Russia has increasingly turned to the Chinese economy to support various sectors amid biting sanctions from the West, which are expected to remain in place for the foreseeable future. However, as the conflict rages on, deals between China's arms and tech industries and their Russian buyers have come under scrutiny.
Vladyslav Vlasiuk, a senior adviser in Zelensky's office, told Reuters on Sunday that Ukrainian forces were finding Chinese-made dual-use technology in weapons recovered from Russian fighters. Chinese-made microchips and other electronic devices are increasingly replacing components previously made in the West, he said.
"The trend now is that there are fewer components made in the West, but more – not hard [to] guess which components made in the country. Of course, China," Vlasiuk said. "We choose [up] lots of different things, made in China."
China said in February it does not export arms to warring parties. A month earlier, the United States had blacklisted the Chinese satellite company Spacety China for allegedly gathering images over Ukraine and providing them to the Russian paramilitary group Wagner.
Speaking last week alongside his German counterpart Annalena Baerbock, Chinese Foreign Minister Qin Gang repeated China's assurance that its arms export policy was "prudent and responsible".
"China will not supply arms to relevant parties to the conflict, and will manage and control the export of dual-use items in accordance with laws and regulations," he said.
US and European leaders have in recent weeks increased their pressure on China with a collective message that Beijing's future relationship with the West is at stake.
Separately last week, the US Commerce Department added 28 companies, including five from China and Hong Kong, to its "entity list" for allegedly supporting the Russian defense industry's sanctions evasion.
China's Commerce Ministry said on Saturday that the US move "has no basis in international law and is not authorized by the United Nations Security Council." He added, "This is a typical unilateral sanction and 'long-arm jurisdiction', which seriously undermines the legitimate rights and interests of enterprises and affects the security and stability of the supply chain. world."
Do you have a piece of global news advice that Newsweek should cover? Do you have a question about China or Russia? Let us know via worldnews@newsweek.com.
newsweek
Not all news on the site expresses the point of view of the site, but we transmit this news automatically and translate it through programmatic technology on the site and not from a human editor.