Bride claims she left her own wedding after husband smashed cake in her face: experts weigh in
An anonymous bride on Reddit claimed a broken cake incident ruined her wedding, and her post led social media users and etiquette experts to debate whether the tradition could be harmful.
The bride, who claims to be 27, took to the "AITAH" subreddit where users of the app can vote on who is to blame in a civil conflict.
The bride asked if she was wrong to abruptly leave her wedding after her husband smashed the cake in her face in front of all their guests.
BRIDE WHO WENT VIRAL FOR MAKING HER OWN WEDDING CAKE RESPONDS TO CRITICISM: 'INCREDIBLE EXPERIENCE'
She wrote that she knew her husband found "smashing cake videos" funny and asked him not to do that to her because she doesn't like the tradition.
She also wrote that her family "does the cake-breaking thing" and that at age 17 she suffered a cut on her forehead with "significant bleeding" when her mother buried her face in her cake birthday. A cake decoration may have caused the cut, she said.
"I told him that if he did something like that to me, I would leave him," the bride wrote of her husband. "He started laughing but I was being real."
The bride wrote that she felt like their wedding day went perfectly, but everything was ruined when her husband picked up "a huge piece" of wedding cake and smashed it on her face. She claims to have left the scene immediately despite attempts by her husband and family to convince her to stay.
"It was supposed to be the happiest day of our lives and he embarrassed me in front of everyone for a prank he knew I hated," the bride wrote. "Plus, he ruined a $500 cake. He ruined my makeup, my hair and the top of my dress. The cake is everywhere."
The bride asked Reddit users if her departure was an overreaction, but many seem to think she had the right to leave, according to the post's 12,500 comments and 31,200 upvotes.
THE VIRAL MYTH ABOUT GUESTS WEARING RED TO WEDDINGS HAS SCANDAL SIGNIFICANCE, BUT IS IT TRUE?
"I think stunts like this deserve to be undone, but that's just me," one Reddit user wrote.
"This isn't just a cake or a prank, this is disrespectful," another user wrote.
"He had a job and that was to not smash a cake in his fiancée's face," another commenter added.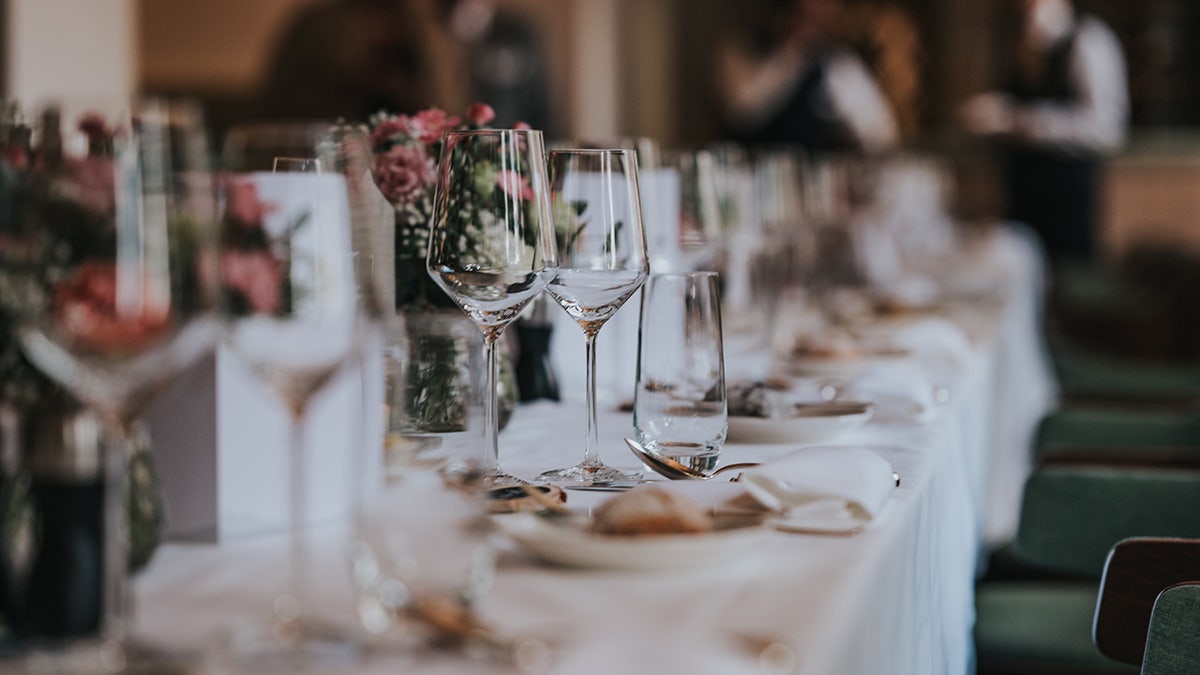 Dissenting commenters were largely dismissed, but some said they believed the bride should not have left the wedding venue.
"If all it takes is cake in the face, I don't want to be there when things get really tough," one Reddit user wrote.
SHOTGUN SHELL WEDDING LOCATIONS THAT ARE ON SALE ARE SHAMED ON REDDIT AS "TACKY" AND "TRASH"
"Why is everyone who comes here unable to do good sport," asked another user. "You blew up your life because you couldn't smash a cake in his face?"
"Yeah (the original poster) is too dramatic. Laugh about it and talk about it after the wedding," another user wrote.
Demolishing a wedding cake: experts give their opinion
Jodi Smith, etiquette expert and coach at Mannersmith Etiquette Consulting in Marblehead, Massachusetts, told Fox News Digital that engaged couples should have "lots of preemptive conversations" about logistics and preferences before the big day.
"How to cut and give the cake to each other is absolutely part of it," she said.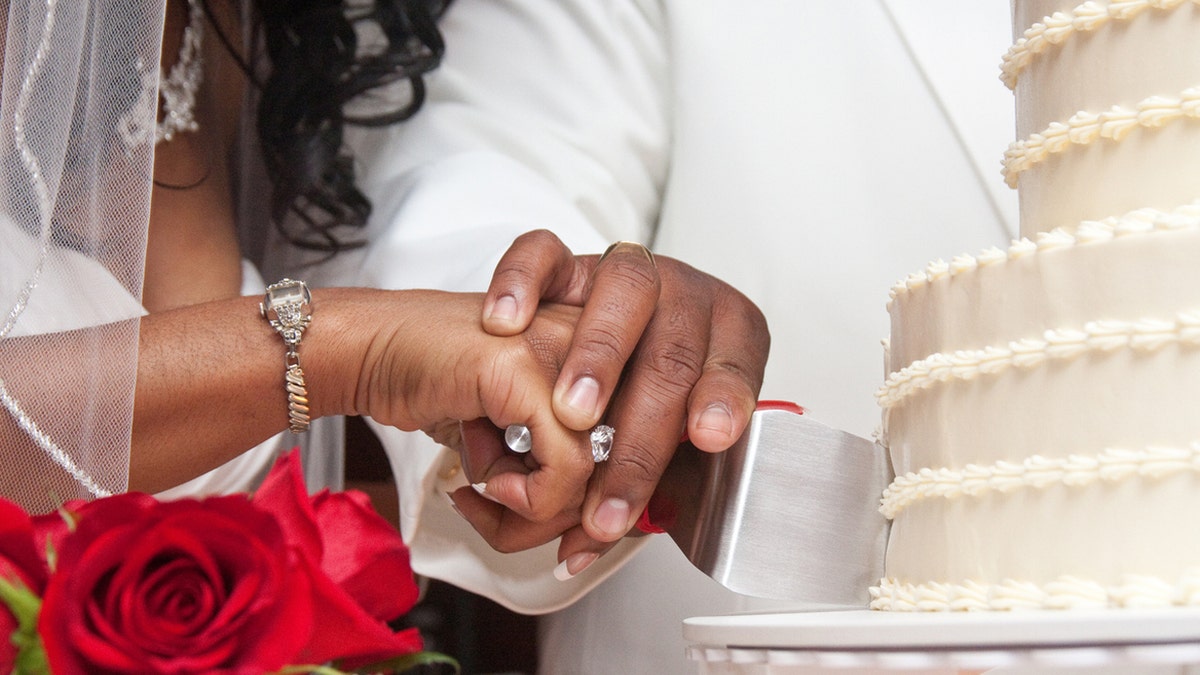 If both parties agree to smash the cake in each other's faces, they can incorporate the tradition without issue because they have agreed to do it as a couple, according to Smith.
People who try to surprise a partner with a smashed cake run the risk of upsetting their partner and damaging their relationship, Smith warned.
BRIDE ASKS FRIEND TO MAKE A WEDDING CAKE, THEN 'OFFENDED' WHEN ASKED IF SHE'S PAYING FOR THE INGREDIENTS
"The wedding day should not be the time to 'toughen up' your brand new spouse," she continued. "For most couples, trying to humiliate each other in an effort to go viral on the day they're supposed to declare their love in front of their friends and family is a giant red flag."
Smith warned that public, intentional humiliation can be emotionally "devastating" for the recipient and contribute to a loss of trust.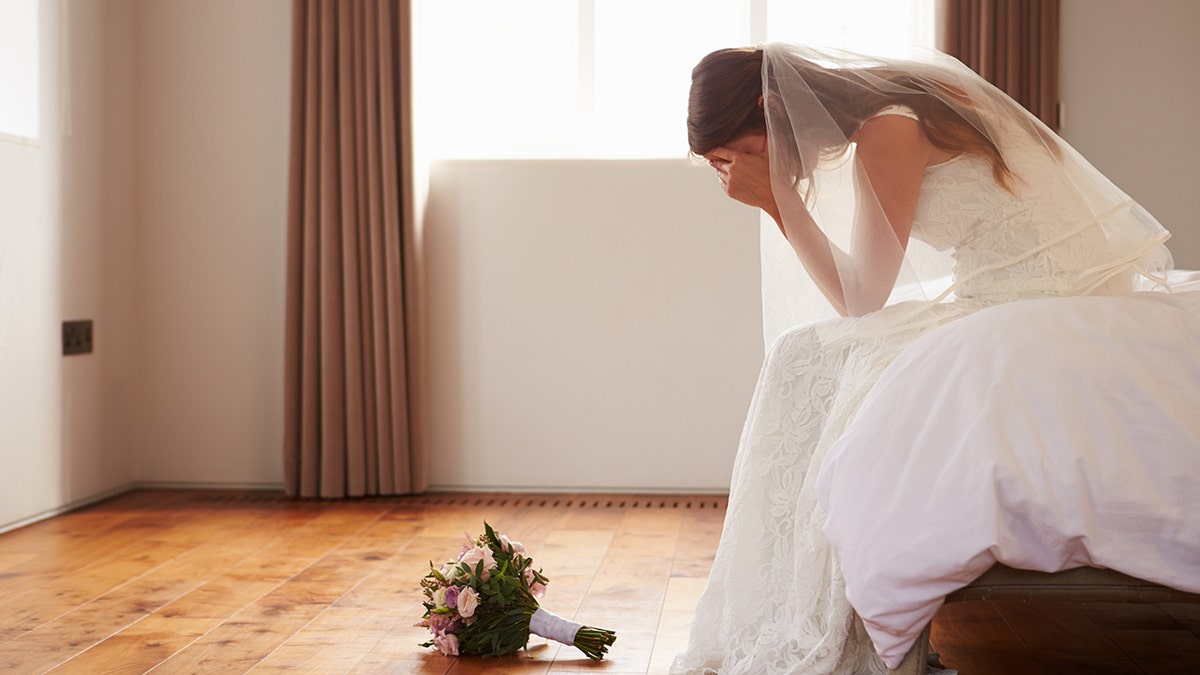 Dirty wedding outfits, accidental slips and falls and potential injuries could occur when someone smashes a cake into another person's face or pushes another person's face into a cake, it said. she noted.
"Rebuilding trust takes time," Smith said.
If a partner has upset their partner with a broken cake, Smith said the offender should "do some serious self-reflection" and sincerely apologize.
NEWLYWEDS SHAMED BY SOCIAL MEDIA USERS FOR POSTING USERNAME VENMO ON CAR WINDOW: "WHY NOT?" »
"Then the victim can, over time, decide what should happen next," she said. "For a public offense, a public apology might be appropriate. Rebuilding trust requires many small, truly respectful acts and behaviors before the damage can be repaired."
Is it common to break a wedding cake?
Zoe Burke, of London, England, a wedding expert and editor-in-chief at Hitched, an online wedding planning resource under The Knot Worldwide, told Fox News Digital that simple cake-cutting ceremonies are more popular than the destruction of cakes.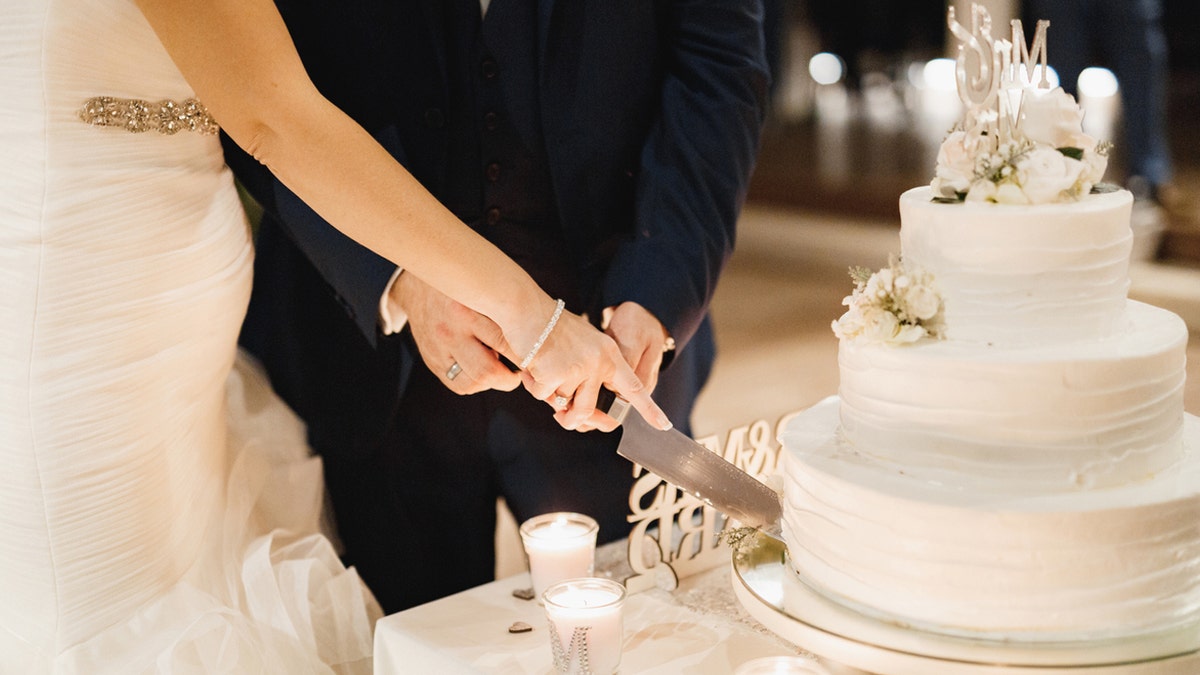 She noted that smashing wedding cakes into spouses' faces may be on the decline as the "average cost of a wedding" is "increasing year over year," with wedding cakes costing between $500 and $930 or more.
"(Cake smashing) might be something we're starting to see less and less of, as couples look to really revel in their spending rather than destroying it," Burke said.
WEDDING PHOTOGRAPHERS SAY THERE ARE 3 SIGNS A MARRIAGE WON'T LAST
At the same time, Burke has seen an increase in wedding day pranks as couples and wedding guests try to go viral on social media.
"If there weren't cameras ready to capture things like cake smashing or trends with a similar theme, I think it would happen a lot less at weddings," she said.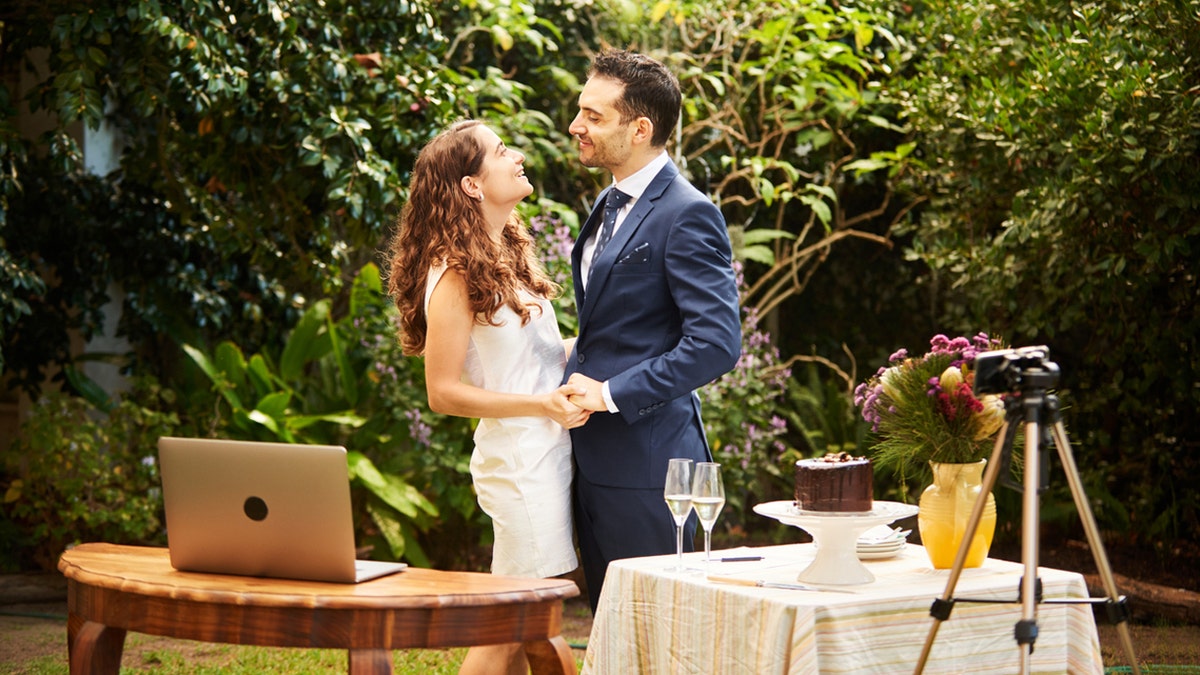 Burke said it would be best if your guests witnessed a "consensual cake smash," as opposed to an uncomfortable moment where the bride or groom gets angry, or even hurt because of the prank.
CLICK HERE TO SUBSCRIBE TO OUR LIFESTYLE NEWSLETTER
How did cake smashing become a tradition?
The origins of how smashing cake into a spouse's face became a wedding tradition are neither clear nor certain.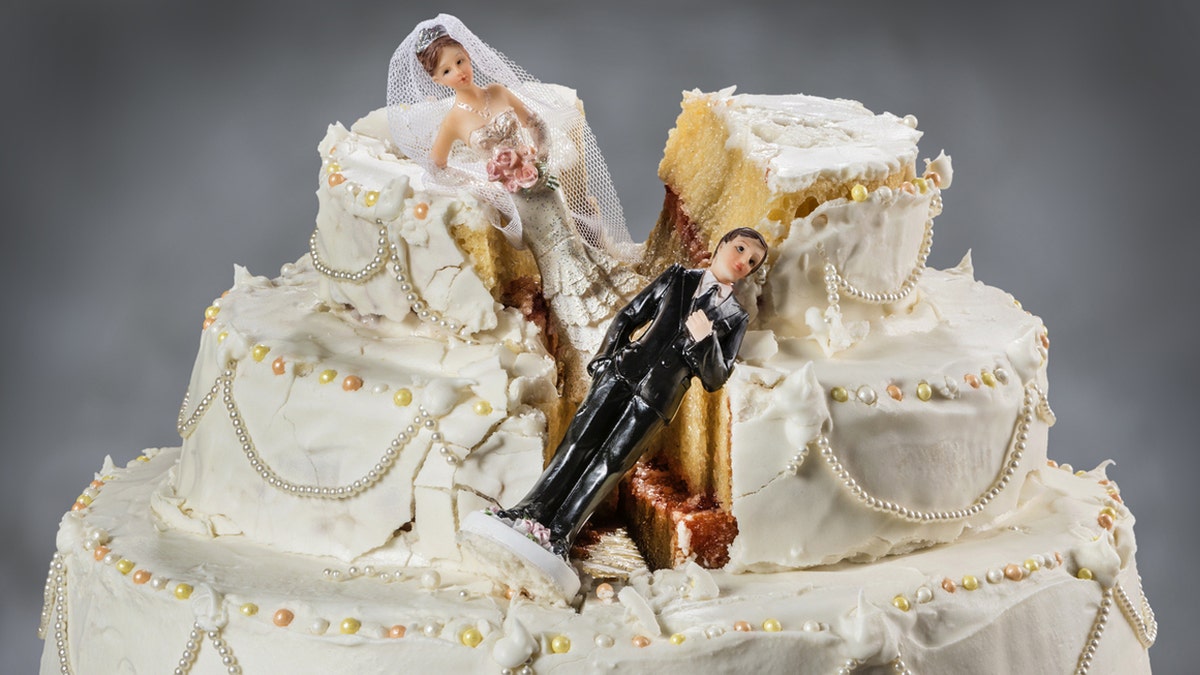 Many attribute the practice to the ancient Romans, based on a long-standing rumor that newly married couples used the cake to reflect gender roles.
FOLLOW US ON FACEBOOK FOR MORE FOX LIFESTYLE NEWS
"In ancient Rome, crumbling a cake over the bride's head by her husband was a way of imposing his dominance," Burke said, referring to the myth.
Other sources suggest that the crumbling of the cake, which may have evolved into a broken cake, was intended to symbolize and ensure fertility.
Some folklorists also cite medieval England as possible inspiration for smashing cakes.
"In medieval England, it was tradition for newlyweds to kiss for the first time on a stack of sweet rolls," said Burke, who noted that many thought couples who kissed on a plate of buns were assured of a fruitful future of wealth and happiness.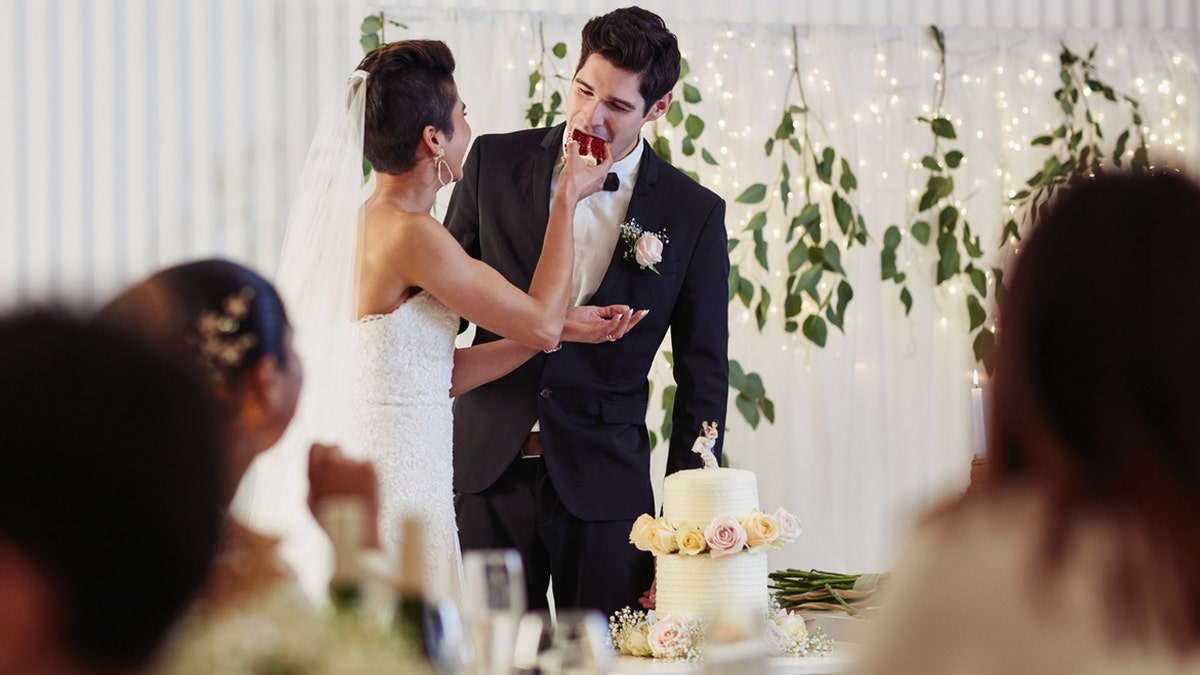 Likewise, gifting a wedding cake to a spouse during a cake cutting ceremony is a tradition considered a good start to a marriage.
CLICK HERE TO GET THE FOX NEWS APP
"Giving your other half your wedding cake was a way to symbolize their commitment to each other and show that they are willing to provide for each other for the rest of their lives," Burke said. "A sweet – pun intended – thought."

Fox Gt
Not all news on the site expresses the point of view of the site, but we transmit this news automatically and translate it through programmatic technology on the site and not from a human editor.