Bolivia's corrupt system has failed to stem femicide. Now feminists are fighting back | Women's rights and gender equality
In parts of La Paz, every surface is papered with layers of bleached and peeling posters: advertisements for events, jobs, apartments – and missing women.
In 2021, there were at least 108 femicides in Bolivia, among the highest rates in South America. Many abusers are never caught, not punished, or released soon after.
In January, the case of Richard Choque, a serial rapist and murderer under house arrest, sparked further outrage and then continued to commit crimes. The outpouring of fury over the scandal has since spurred Bolivian feminist collectives to take dramatic action in an effort to force the government to act against femicide – and the corrupt justice system that allows it.
It started with perhaps the biggest feminist protest seen in El Alto, the former satellite town that now flows into La Paz. The march began outside Choque's home in El Alto and culminated in the courts, where activists covered the walls with graffiti, red paint and the names of unpunished rapists and murderers.
"We wanted to redirect the discourse," said María Galindo, founder of Mujeres Creando, a feminist collective in La Paz. "So that it is not a victim speech, nor a tabloid nor a police speech. Because what Richard Choque shows is that the central problem is state corruption. This man was a prisoner, and yet he came out free.
Galindo has since proven the strength of the campaign to pressure the government.
She began to burst into state institutions and put officials on the spot, broadcast live on social networks. The stunt doubles she whipped them with have gone viral on TikTok. Then she teased a run to be Bolivia's ombudsman – before tearing up her candidacy in front of the cameras, in a typically flamboyant outfit of fishnet leggings, black eyeshadow and irreverent patriotic symbols, including a giant crown cap. of an Andean condor.
Meanwhile, Mujeres Creando cataloged ignored reports of gender-based violence and investigated San Pedro prison, where Choque should have been held. They found a system of corruption, where inmates bought privileges, including house arrest.
In response, the government set up a commission to reassess cases like Choque's, which, while extreme, was not unique. A further 21 people improperly released from house arrest have since been re-incarcerated, while another 50 arrest warrants have been issued. Eighteen judges face criminal charges and more than 300 of their cases are being reviewed.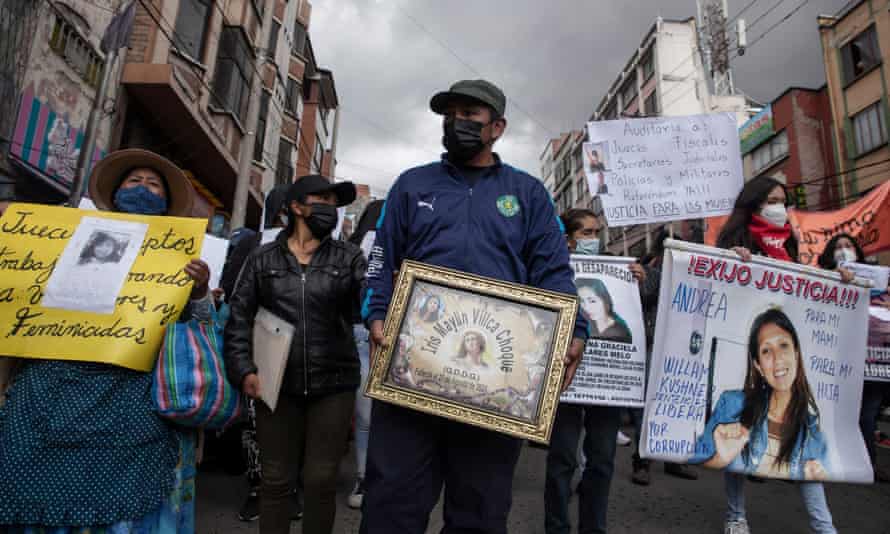 Such numbers come as no surprise to activists in La Paz and El Alto, where gender-based violence has been heightened by two factors, said writer Quya Reyn. First, the absence of the state, which creates insecurity. And second, the fact that the city attracts migrants – many of them young women – from all over Bolivia's western highlands.
These women are vulnerable to abuse. "If you go to [the centre], you will find posters looking for nannies, looking for women to work in restaurants," said Reyna. "And they're still looking for women – only women."
"You see that with Richard Choque," Reyna added. "He was going on Facebook and saying he could offer work. These young women were murdered while looking for work.
In 2013, the government introduced Law 348, which, among other things, made femicide punishable by 30 years in prison – the maximum sentence in Bolivia.
The law was welcomed as progressive legislation at the time, and Adriana Guzmán, an El Alto-based feminist activist, believes the text remains generally valid – the problem is implementation.
First, there is a lack of resources. "Right now, there aren't enough judges, there aren't enough prosecutors, there aren't enough investigators."
Then there is corruption, as the Choque case shows. "The entire justice system is corrupt – not just when it comes to crimes against women." Guzmán notes that this discriminates against the poor the most.
There is some skepticism about the ability of the government commission to tackle these fundamental issues.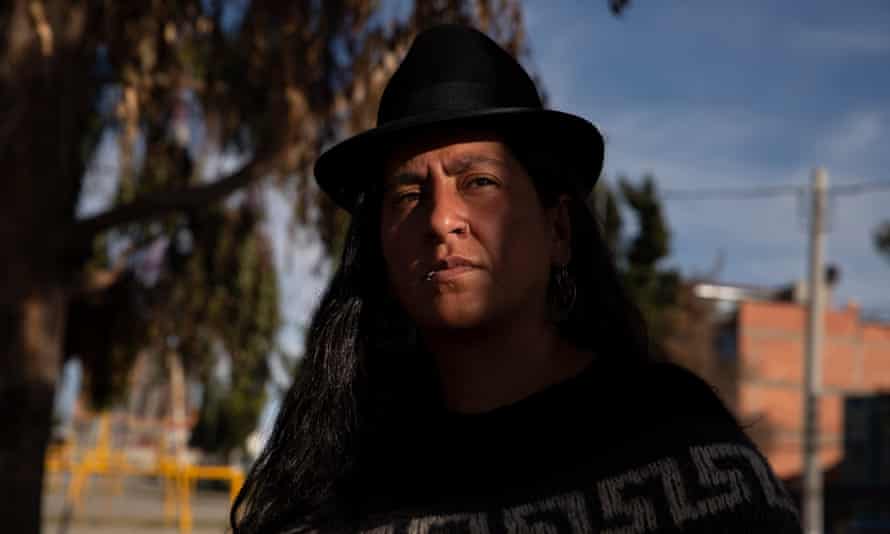 Galindo, for his part, sees the commission as an attempt to deflate their pressure campaign. "It's for the media. It is a commission for making statements, not effective policies.
Meanwhile, Guzmán says he was limited from the start, as he only reviews a fraction of gender-based violence cases. "For this to be truly a historic commission, and not a ridiculous one – because it is ridiculous that the state created a commission to send back to prison those who should already be there – the commission must end with a proposal for reform of justice and the state."
Among Bolivian feminists, opinions differ on how this type of reform will be achieved.
"The system has to be changed with enormous social pressure," Galindo said. "And we're building a movement to achieve that." She believes that the campaign that Mujeres Creando has waged in recent months has reinforced their social legitimacy: "No one can buy us. We are incorruptible.
But Guzmán is skeptical of the reach of this movement far beyond the urban middle classes. And the real forces in Bolivia, says Guzmán, are peasant and indigenous organizations. "In them, feminism is not a thing. There are a lot of prejudices against feminism.
In El Alto, meanwhile, Reyna pointed to the lack of feminists in politics pushing for reform. She believes that change will happen when a diverse new generation of women enter government and shape it from within.
"I don't want to fight the state," Reyna said. "I want to be the state.

theguardian Gt
Not all news on the site expresses the point of view of the site, but we transmit this news automatically and translate it through programmatic technology on the site and not from a human editor.