When it came to rally Finland in early October, Sébastien Ogier had no idea such an outcome. The Frenchman, who was aiming for an eighth world championship crown on Finnish roads, finally saw his lead in the drivers' standings melt away. Blame it on Elfyn Evans, her teammate in the Toyota team, author of the perfect weekend (30 points taken out of 30 possible).
With only two rallies to go, in Catalonia this weekend and in Monza, Italy, from November 18 to 21, Sébastien Ogier is only 24 points ahead of his runner-up. A gap still comfortable for the Gapençais, but much less reassuring than the 44 points of margin he had before Finland. For the first time since June, and the Sardinia stage, Elfyn Evans can believe in a turnaround.
The Welsh pilot put things in perspective on October 3 in Finland: "The reality is it's still a lot of points behind, it's unlikely to do it and it just takes a bad weekend for us and it will be over. " "Unless Sébastien is mistaken [Ogier], it's going to be complicated for Elfyn [Evans], confirms Stéphane Lefebvre, rally driver and consultant for Canal +. Especially since Sébastien is used to managing the end of championships. "
Elfyn Evans does not however lose hope of beating his teammate on the wire. "Of course the situation is better than arriving here. But it's amazing how quickly things can change ", underlined the Welsh driver after Finland, knowing better than anyone that nothing is over in advance. Last season he lost the world title in the very last rally, in Italy, due to a road accident. An error that had benefited… Sébastien Ogier.
Read also
Rally: behind the breakup of the Sébastien Loeb-Daniel Elena duo, the antagonism between co-driver and navigator
From model teammate to title contender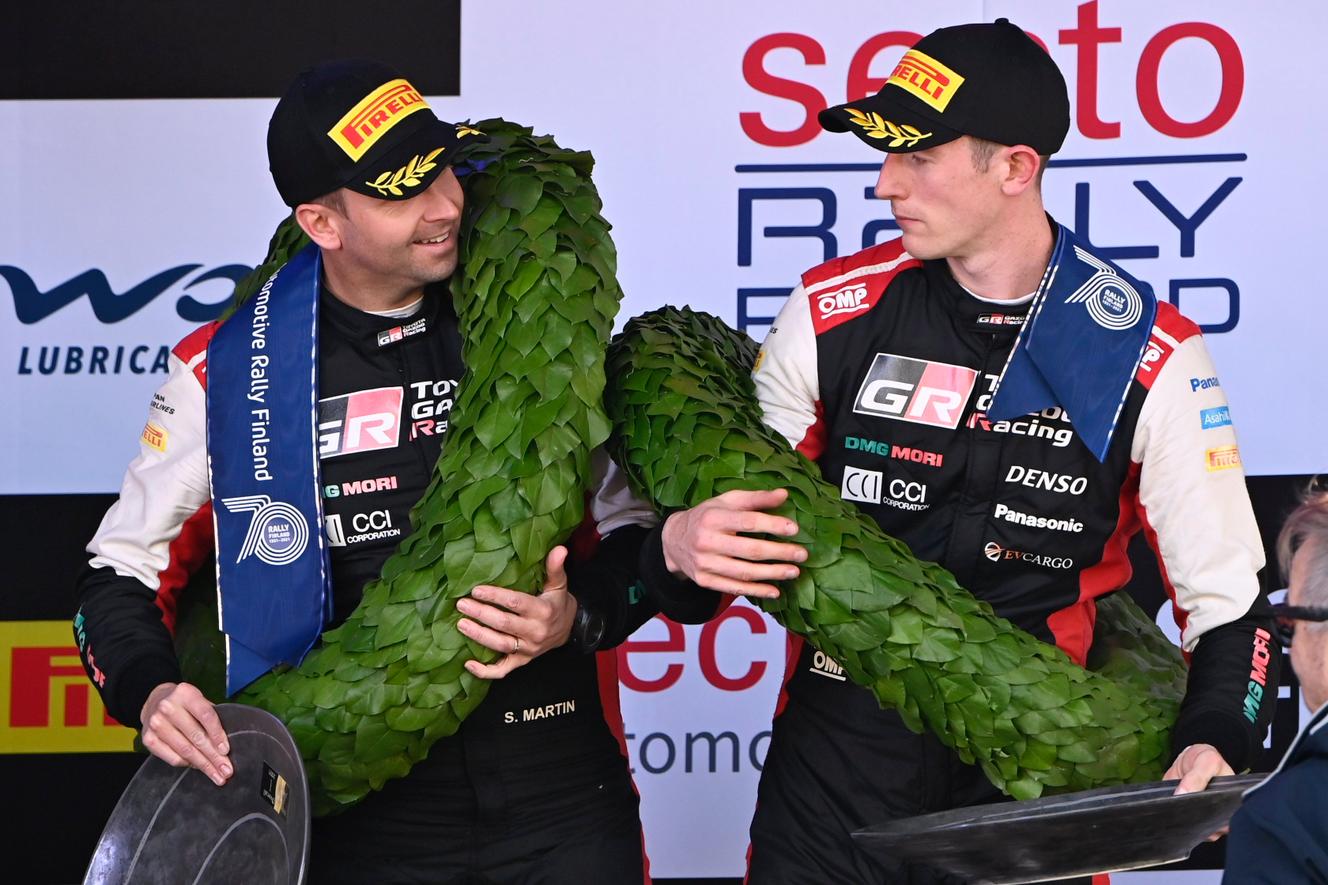 Despite everything, this competition for the world title marked a change of status for the one who, until then, had mainly been the model teammate of Sébastien Ogier, first at M-Sport, then at Toyota, where he had been recruited. , at the beginning of 2020, above all in order to contribute, alongside the Frenchman, to the reconquest of the constructor title.
"For two years, Evans has confirmed that he is fighting for the title. He is very good, very fast ", notes Stéphane Lefebvre. A rise in rank for the 32-year-old Welshman, who hatched late if we compare his performance to those of his young teammate, Kalle Rovanpera (21). Closer to the end of his career than the start, Elfyn Evans knows that all seasons count, and despite being behind Ogier in the standings he wants to continue to believe in it.
For that, the Welshman will have to count on a mistake of the Frenchman in Catalonia, and especially not to make it himself. Friday October 15 at midday, after the first three specials, he was already in the lead, Sébastien Ogier placing third. "Someone is definitely wide awake this morning, it's Elfyn!" ", commented the Frenchman.
If Elfyn Evans finishes seven or more points behind Sébastien Ogier at the end of the weekend, the Frenchman will clinch the title. The Welshman will have to shake off his previous poor performances in Spain, which have only seen him reach the top 5 once in five appearances.
No lockers at Toyota
Unlike the last few years, when it mixed asphalt and gravel, the Rally de Catalunya only takes place on asphalt. "Evans is faster on asphalt, but so is Ogier. So it will only be played on pure performance ", assures Stéphane Lefebvre.
Sébastien Ogier, who is used to managing his lead, unlike his Welsh teammate, was not very worried before this meeting:
"The advance remains comfortable. It's almost a victory in advance with two rallies to go, it's always good. "
The management of Toyota, leader of the manufacturers' classification, has decided not to give any instructions to the two pilots. "For me, it will really be a last resort. The only possibility would be that we had a catastrophic rally in Catalonia, with for example two withdrawals, and that we then had to secure the constructor's title at Monza … There, there could be instructions, but it would really be the only one. case ", explained Jari-Matti Latvala, the boss of the team, at the beginning of October.
In other words, this weekend in Catalonia will see a regular duel between the two drivers. And if the Welshman does not manage to push the suspense until the rally of Monza, he will have to wait one more season to consider winning a first world title. That's good: Sébastien Ogier has decided to retire at the end of this season.
Read also
Sébastien Ogier, one more year for a last rally title
Not all news on the site expresses the point of view of the site, but we transmit this news automatically and translate it through programmatic technology on the site and not from a human editor.