After pleading with him to return to Thailand, worker's family fears he may be among Hamas hostages
BANGKOK — Kanjana Patee had worried about her brother, a Thai farm worker in Israel, long before the current war against Hamas.
Kiattisak Patee, 35, was nearing the end of his five-year contract at a chicken farm near the border with the Gaza Strip, and Kanjana said he had told his family that his employer wanted to extend it.
Alarmed by his stories of hiding during the fighting and explosions that regularly occurred along the border, Kanjana and her mother had tried to persuade Kiattisak to return to Thailand.
But he told them he wanted to stay in Israel and work so he could send money for a house his father was building in Udon Thani province, where the family planned to reunite next year.
Kanjana now fears that her brother was among the hostages captured by Hamas during its October 7 terrorist attacks and taken back to Gaza, the blockaded Palestinian enclave controlled by the militant group.
The Israeli government said Wednesday that of the estimated 220 hostages at the time, 138 had foreign passports, including 54 Thais, 15 Argentines, 12 Americans, 12 Germans, six French and six Russians.
Thailand also has the highest combined number of foreign nationals killed and missing, with 45, followed by the United States with 39, Russia and Ukraine with 27 each and France with 24.
Thailand's Foreign Ministry said Friday it was working to verify the number of hostages with Israeli officials, and that the figure of 54 could also include people who have died or are missing.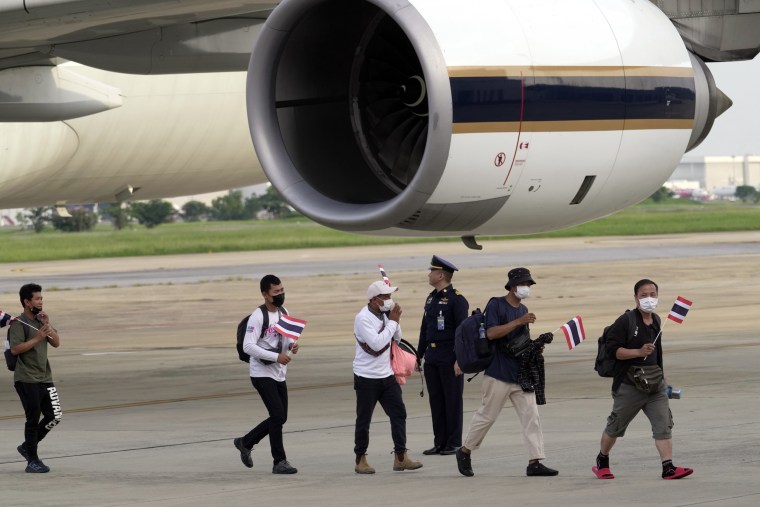 Around 30,000 Thais work in Israel, mainly in agriculture, making it one of the country's largest sources of foreign labor. As of Friday, more than 4,700 of them had been repatriated to Thailand, according to the Thai Foreign Ministry.
When she heard about the Hamas attacks, Kanjana said, she called Kiattisak but there was no response. He worked on Kibbutz Re'im, near the music festival where 260 people were killed.
"I thought maybe he was hiding in the forest or in the fields, and that's why I couldn't reach him," said Kanjana, 29, who last spoke. to his brother a few days before the attacks.
Seeking information, she posted about herself on social media, where a commenter shared a list of Thais who were allegedly taken hostage. Kiattisak's name was at the top.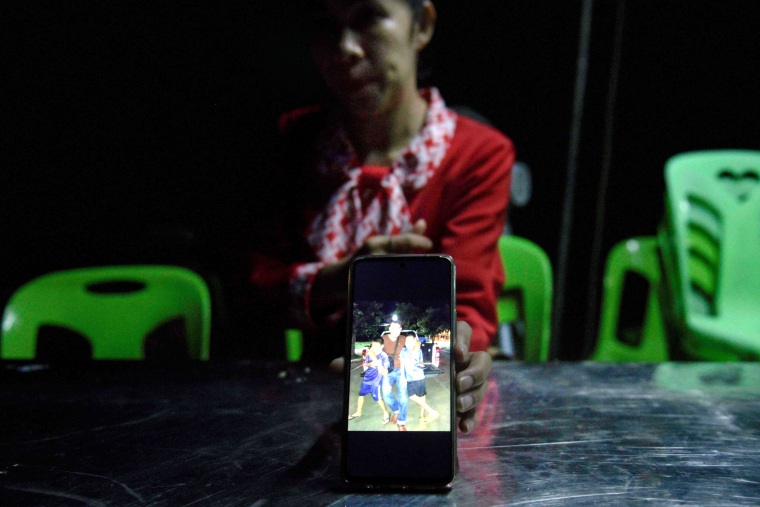 A photo purportedly of Thai hostages that has since circulated shows people Kiattisak knew and worked with, but not Kiattisak himself.
"My mother and I cry often, we are so worried about him," Kanjana said. "We are trying to call the embassy, ​​but we have not heard from the authorities regarding the status of my brother. »
The impact of the war on Thai workers in Israel has generated tensions between the two countries. Rumors that Israeli employers would delay payments until November 10 so that Thai workers would be forced to stay have drawn criticism from Prime Minister Srettha Thavisin.
"I want my migrant worker brothers and sisters who are there to think carefully about if you stay, will it be worth it? he said.
Speaking in Parliament on Thursday, he expressed concern that Thai workers were choosing to stay in Israel for financial reasons, despite the escalating conflict.
"We need to improve the state of our economy here… so that Thai people don't have to risk their lives," he said, according to Reuters.
The Israeli embassy in Thailand said this week it was doing its best to ensure fair treatment for Thai workers. He said there were no restrictions preventing workers from returning home, but he was offering them incentives to continue working.
The Agriculture Ministry agreed to immediately extend Thai work visas for a sixth and possibly a seventh year, and allocated nearly $5 million in compensation, including monthly grants to foreign workers along from the border with Gaza until the end of the year. It also set up 430 additional security shelters in Israel's agricultural areas.
"We deeply appreciate the commitment of Thai workers to preserving Israel's food supply chain during these turbulent times," Orna Sagiv, Israel's ambassador to Thailand, said in a statement. "Their dedication ensures the continued food security of all residents of the State of Israel. »
In the meantime, Kanjana says she and her mother are "worried" about Kiattisak.
"I think war is bad for everyone. People are getting hurt and killed and no one gains anything," she said. "I hope my brother is alive and well, and I hope he can be released and return home safely. »
nbcnews
Not all news on the site expresses the point of view of the site, but we transmit this news automatically and translate it through programmatic technology on the site and not from a human editor.