10 of the best pubs and bars in Nottingham | Bars, pubs and clubs
IIt's not just Nottingham Forest who are on the rise now that the Reds have reached the top flight for the first time in 23 years. Nottingham's beer scene is now Premier League quality too – the city has just launched seven Ale Trails, all named after a friend or foe of its famous outlaw Robin Hood. So as the new season kicks off, with craft beer and football fans in mind, we present our pick of the city center action – from bustling boho hangouts to traditional pubs and vintage treasures.
barrel drop
Hidden on a narrow ginnel, the comfortable Barrel Drop – rubbed tables, ephemeral beers, interesting music – has a little air of a Parisian jazz cellar. It is closely linked to Nottingham's Magpie Brewery, whose beers are a key part of Barrel Drop's 17 ranges of kegs, kegs and ciders. Beer lovers longing for the bitter, resinous era of West Coast IPAs will love Magpie's Simcoe Trailhound, while star beers like Siren, Arbor and Wild Beer cover plenty of stylistic bases. Of particular interest to football fans on the go, Magpie's Clever warehouse brewery-tap (Fri-Sat, Unit 4-6, Ashling Court) is located off Meadow Lane in Notts County, a 10-15 minute walk from the City Ground of Nottingham Forest. It opens on match days.
Pint from £3.60, magpiebrewery.com
The Kilpin and Junkyard
Named after Nottingham-born AC Milan founder Herbert Kilpin, the Kilpin shares an interior garden and property with the neighboring Junkyard. Basically, Junkyard is a trendy post-industrial bar that offers 15 ranges of all varieties of craft beer, from complex imperial stouts to fruity tart pastries. Events with state-of-the-art breweries, recently Maltgarden in Poland or Brewski in Sweden, complete this paradise for beer geeks. The Kilpin is more traditional: it looks like a pub, it broadcasts live sport and its range of beers goes as far as German and Belgian beers; try the tangy, elderflower-tinged pale kilpin, made by the aces of Nottingham Black Iris. Fans of Trappist, spirit, saisons and funky, spontaneously fermented sour beers may never leave.
Pint Kilpin from £3.70, thekilpin.co.uk
BeerHeadZ
This Edwardian-era cabbies shelter at Nottingham station is a vintage gem: a simple, paneled room with 11 taps of immaculate draft and tap ale and a compact, discerning selection of cans, ciders and beers. Pear. Local breweries, such as Totally Brewed and Lenton Lane, share bar space with the cream of British craftsmanship: Burning Sky, Buxton, Wander Beyond, Wilderness. There are a few outdoor tables, but stay indoors if you like musical surprises with your pint – Jonathan Richman on this visit.
Pint from £3.90, beerheadz.biz
malt cross
A stone's throw from Nottingham's Old Market Square (fun fact: the UK's largest public square after London's Trafalgar), this architecturally stunning Victorian music hall is now a non-profit café-bar and an event space run by the Nottinghamshire YMCA. The aptly named Malt Cross is also a strong proponent of craft beers. Its selection includes domestic frontrunners such as Marble, Kernel and Verdant, with Nottingham's Liquid Light, in particular, well represented on the cask (the Malt was pouring Veloria, a tangy blueberry and lemon radler, at the time of the drafting), and in several canned options.
Pint from £3.80, maltcross.com
Kean head
Nottingham's Castle Rock started brewing in 1997 and, as a pub group, enthusiastically supported the rise of modern craft beers. Its American-influenced, hoppy Harvest Pale was stylistically pioneering, and in its pubs Castle Rock has always showcased its beers alongside those of its international brewing peers. His beer cafe, the barley twist (91 Carrington St), or the Channellodge (a pub with a real canal running through it, 48-52 Canal St) would be worthy additions to this guide in its own right. However, the one-room Kean's Head near Saint Mary's Church in Nottingham's historic Lace Market is a place of pilgrimage for beer lovers. A screen whirring through 14 pages of bottles and cans gives you an indication of its range, even before it includes six keg lines and 18 keg lines. In the kitchen, Paajis also knocks out good food; try the Punjabi samosa chaat.
Pint from £3.90, castlerockbrewery.co.uk
the angel
This large, busy boho hangout in Nottingham's hip Hockley enclave is both a beer hall and a live music venue. you'll find shelves of vinyl records, reel-to-reel tape recorders, and a concert space, the Chapel, once home to the Arctic Monkeys, upstairs. Alongside beers from Northern Monk or Glen Affric, expect to see the Angel's four-grain pale Exodus, Archangel IPA and citrusy pale Genesis on the bar. It really is a pub where you could walk in for one, at 4pm, and find yourself dancing upstairs at midnight.
Pint from £3.80, theangelmicrobrewery.co.uk
Six Barrels Drafthouse
The draft selection at Hockley Six Barrels includes some eye-catching ales (on this visit, a 12% chilli stout from Nottingham's Navigation Brewery), but it's the bar's fridges that will have beer lovers bowing in reverence. They're packed with beers from trendy breweries (Birmingham's Dig, Derbyshire's Bang the Elephant, Edinburgh's sour specialists Vault City) covering every beer style imaginable, from dessert-inspired pastry stouts to lightly salty gose ales. If you want a 10% New England IPA from Dutch brewery Moersleutel, you've come to the right place. There is a second Six Barrels (14 Mansfield Road) near the Victoria Shopping Centre.
Pint from £3.60, sixbarreldrafthouse.co.uk
Rooster and hoop
Exceptionally, this small bar in the Lace Market Hotel gives pride of place to beer. On this flyover, it was hosting a takeover of Derby's Shiny Brewery, but don't overlook its can selection, which due to Cock's new pricing strategy (calculated by force, so a 4.1 can % of Pentrich Brewing's Little Fury would cost £4.10), can bring in some bargains. The Cock's fridge is full of goodies from breweries such as Burnt Mill and Elusive, as well as talent from Nottingham Black Iris and Totally Brewed.
Pint from around £4, lacemarkethotel.co.uk
Bunker Hill
Any pub advertising a 10% triple Evil Twin IPA as beer of the week (25% off!) is clearly serious about it, and Bunkers Hill's fridges, keg pumps and 10 keg lines (with breweries such than North, Almasty and Yonder Brewing) are full of next-level beer options. Also of note – a theme in Nottingham – the friendliness and commitment of the bar staff, sharing their enthusiasm and knowledge of good beer in an inclusive and welcoming way.
Pint from £3.70, bunkershillnottingham.co.uk
Brewery taps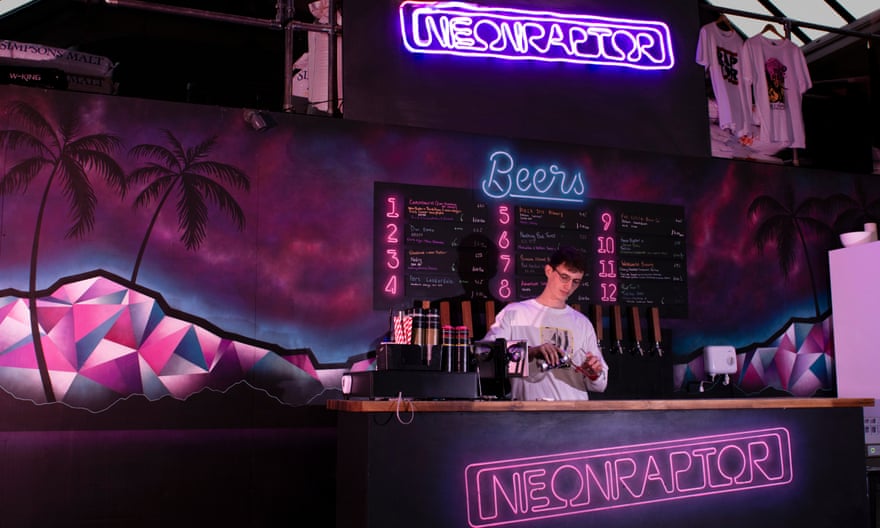 On Bunkers Hill Road, you'll find the low lanes of Sneinton Market, a 1930s wholesale market reborn as a hub of creative businesses and boutiques. The 12 lines to neon raptor the brewery tap (Friday-Sunday, pint around £5, neonraptorbrewingco.com) offers a range of pale, sour and stronger IPAs and stouts. Her IPA Dial Emma New England at 6.2% is excellent. From Neon Raptor it's a stone's throw from another of Nottingham's hottest young breweries, Liquid light. It's a lovely indoor-outdoor setup (Friday-Sunday, pint from £4.80, liquidlightbrewco.com), with street food and a gorgeous stack of vintage speakers above the bar. If you have time to venture out of the city center, the always brilliant black iris is easily accessible by tram, open to the public from Friday to Sunday, and serves 12 beers on tap and on tap (pint from £3.30, blackirisbottleshop.co.uk)

theguardian Gt
Not all news on the site expresses the point of view of the site, but we transmit this news automatically and translate it through programmatic technology on the site and not from a human editor.